Siete Palabras and The Many Crosses of Juan de la Cruz
"Pinoys no longer need to commit acts of penitence," says our SPOT.ph blogger. Every waking hour in this metropolis is a nail pounded on our sanity."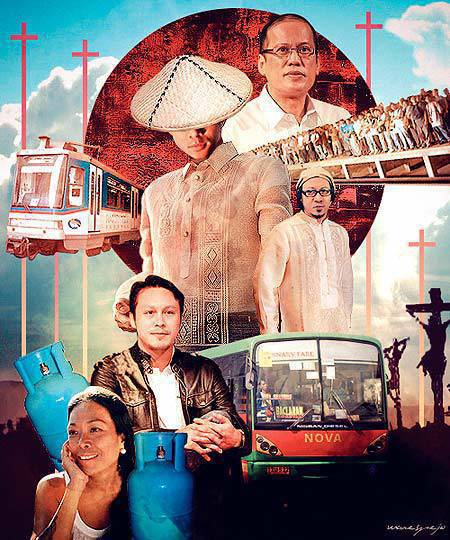 (SPOT.ph) Notice the redundancy of the title. "Juan de la Cruz"- the all-purpose nickname for the average Filipino- you know, that perennially smiling twerp wearing a salakot and a barong. In Spanish, it translates to "John of the Cross." We share the same name as the 160th century mystic saint who wrote "The Dark Night of the Soul" (Or in the even more dramatic-sounding "La noche oscura de alma").
Now, if we are to believe in feng shui, in the self-fulfilling prophecy of names, then we're fucked right from the beginning. It is widely believed that the name came from McCulloch Dick, founder of the Philippines Free Press, after noticing that it was the most common one in the blotters (Blotter pa talaga!). In editorial cartoons, the character of Juan dela Cruz was also always portrayed as small and helpless against the evil Uncle Sam.
Then, Jesus said to his disciples, "If anyone would come after me, he must deny himself and take up his cross and follow me," says Matthey 16:24.  In Luke, the same exhortation is repeated: "And anyone who does not carry his cross and follow me cannot be my disciple." The concept of penitence should be of no special significance to us Pinoys. Every day seems like a slow, endless plod to Golgotha. Every day we tread our own collective Via Dolorosas (which is not the name of a personality enhancement school, by the way). Add to that the atavistic pervasiveness of a religion that constantly reminds us of our inherent unworthiness, of how we are sinners and all that nasty stuff that threatens us with images of sulfuric lakes and dudes with horns, hooves, and tails. It's the same urge that drives us to plunge into a heaving sea of brown bodies just to touch a statue of- yegads!- a figure bearing a cross. But that's another matter altogether. Bottomline: we are all martyrs of our own personal and shared Golgothas.
ADVERTISEMENT - CONTINUE READING BELOW
What we're trying to say is this: we Filipinos-especially Metro Manilans-no longer need to commit acts of penitence. Every waking hour in this metropolis is a nail pounded on our sanity.  Those flagellants are just drama queens-or just atoning for something profoundly nasty.
Or maybe we truly, deeply like pain. It is stamped on our psyche like a National Meat Inspection Service seal on a pig's ear. Almost every aspect of our daily life is a Torquemadan exercise in agony and suffering.
You want a job? As long as you've got the necessary requirements, like the ability to read, brush your teeth, and not looking like a serial killer, fine. But try getting an NBI clearance. The sight of the slow, long lines is enough to make you faint.
Riding the MRT at rush hour is sheer masochism. Take the goddamned train if you wish to experience the sensation of being sucked in a moshpit, if you want to exchange faces and maybe some bodily fluid with random strangers. Take it if you want to experience the terror that grips a claustrophobic's mind tighter than a fat girl holding a Twinkie. What's that? I have an option? I can very well take the bus? That's probably okay, if I intend to watch three Steven Seagal movies from Cubao to Makati.
ADVERTISEMENT - CONTINUE READING BELOW
Driving, too, is such punishment. Sitting behind the wheel of an expensive European SUV? Not an assurance that you won't lose your sanity. Sure, there's the celestially quiet cabin, the fancy dashboard and all the trimmings druglord-and-jueteng-and-tax-evasion-money can buy. But good luck with the carjackers and all the Jason Ivlers and since we're at it anyway, good luck with the Nova buses (I wont tell you anymore about it; you'll just feel one crashing into your side or rear. Take note of the name: Nova Bus Line). Oh, wait, speaking of Ivler, by the way: Marlene Aguilar is about to release an album called She-Dragon: In the Name of Freedom.
In the spirit of Lent and all its attendant elements of woe and misery, here are the Seven Last Words in the context of contemporary Philippine society.
"FATHER, FORGIVE THEM FOR THEY KNOW NOT WHAT THEY DO"
Which can be very well said of everyone in many levels of society- from the prosecution panel in the Corona Impeachment Trial to some traffic enforcers who just wave and wave you by (even on a green traffic light) and right down to bus and jeepney drivers who got their lessons from the Pontius Pilate School of Driving.  The geniuses in the public works deparment and their seemingly constant inability to keep a road free from potholes, blockages, and noise. And speaking of noise, there's also noisy, noisy social media. Heck, now they're making a big deal about some ice cream brand that has a price tag that could buy two meals for construction workers.
ADVERTISEMENT - CONTINUE READING BELOW
But the prevailing theme of the first of the seven last words is forgiveness (dah). So in this light, we all must pardon one another's transgressions.
"I ASSURE YOU, TODAY YOU WILL BE WITH ME IN PARADISE."
"Paradise" being limited to the definition of anything that has an airconditioning system- everything else is hell. Or The Paradise Club in Novaliches, on Quirino Highway. The tourists will say the Philippines can be paradise- if only they fixed NAIA 1. It is paradise, if we are to believe extremely onion-skinned Pinoys who bristle at every little bit of criticism from foreigners. Especially viral YouTube videos. Sure, we don't piss in the streets and all our public toilets are immaculate. The Philippines is paradise, yeah, it's just these pesky aliens who say otherwise.
Oh by the way, according to the 2011 World Drug Report of the United Nations, the Philippines tops the list of Asian countries with the highest number of shabu users. To paraphrase Marx: Shabu is the opium of the masses. Congratulations to us.  Now let us all unite as a nation in condemning the UN.
ADVERTISEMENT - CONTINUE READING BELOW
But the original context of the passage from Luke says that Jesus addressed it to the criminal on the next cross. The point of the passage is: Even your asshole congressman or your murderous governor is not exempt from enjoying a heavenly afterlife. Now our souls cry in despair.
"WOMAN, BEHOLD YOUR SON."
Tita Cory, now your unico hijo is President and he has a silly gesture named after him, courtesy of mean leftist protestors. They allege he is lazier than a supermodel in bed. Malacanang dismissed it as nothing but a cheap gimmick undeserving of serious media attention. But in the same breath, his people instantly release pictures of him supposedly neck-deep in work. There's one where he's trying to lift a shitload of papers in front of his staff. Maybe he's demonstrating to them that he's not totally out of shape- that he doesn't really need a battalion of Ateneo graduates to lug stuff for him. But you know that's the stuff activists live for. Their life would be incomplete without slogans, bleeding-heart folk songs, cheesy interpretative dancing, burning effigies, and and placards with the template "IBAGSAK REHIMENG U.S.-___(insert surname of current President here)____." Well, he's got four more years to prove that he's not.
ADVERTISEMENT - CONTINUE READING BELOW
"MY GOD, MY GOD, WHY HAVE YOU FORSAKEN  ME?"
It is said that this is one of the more perplexing ideas in the Bible. Martin Luther once said, "God forsaking God. Who can understand it?" St. John's treatise was about the soul the journey takes toward its union with God, and the dark night symbolizes the pain and anguish experienced along the way, the doubt that traditionally besets such searching, as if God had abandoned the seeker.
Sometimes you get the feeling that somebody up there doesn't really like us that much. First, there's the weather.  There's that scary phrase at the end of the Rosary that never failed to conjure terrible visions in my once-young mind: "Save us from the fires of hell." Well, times are when Metro Manila's pavements feel like coals and we're all slabs of liempo slowly cooking without the lemongrass and soy sauce.
Around these times, our TV sets are filled with two things: 1.) Footage of bus terminals filling up with people, and treated by earnest journalists with scriptural seriousness ("Paaalala lang po ng mga otoridad...'Wag na kayong magdala ng mga tanke LPG at mga patalim!"). 2.) Interviews with artistas about the kind of swimwear they shall be wearing to Boracay. It's the same wonderfully exasperating schtick every year. Like watching DVDs of Cecille B. De Mille epics, Jesus Christ Superstar (an excuse to get stoned on Holy Week) and Eat Bulaga! lenten specials.
ADVERTISEMENT - CONTINUE READING BELOW
"I THIRST."
Which is the general sentiment of the populace when the thermometer hits 34.7 ˚C. Or maybe Baron Geisler after dinner at a restaurant with a well-stacked bar. But I'm still not touching those milk teas. I'd rather drink sour wine or vinegar.
IT IS FINISHED.
I mean this meandering, vaguely sacrilegious article, the point of which remains unclear to me. It's the heat. Oh, wait, it I opened my window and I see it just rained. Even the weather's screwed up.
"FATHER INTO THY HANDS I COMMEND MY SPIRIT.
Maybe it should start with the name. "Juan dela Cruz." Hmmm. We ought to think of a better, much more positive and uplifitng nickname for ourselves. To echo the Czech poet Czeslaw Milosz, I ask not in sorrow but in wonder.
Artwork by Warren Espejo.
CONTINUE READING BELOW
Recommended Videos
Share this story with your friends!
---
Help us make Spot.ph better!
Take the short survey
Load More Stories