Holy Wars: Top 10 Pinoy Church Smackdowns
We list the fiery encounters in the name of all that's good and holy.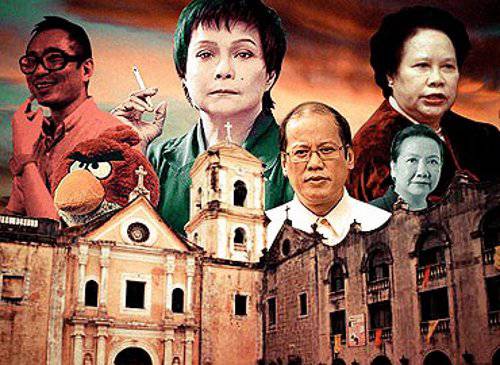 In this part of the world, the Catholic Church's opinion matters a lot. Ideally, the Church should be separate from the State. That may be the case on paper, but that's not exactly what's happening in real life. We're sure the Church always has good intentions. However, there are cases when their stance may seem baffling. Well, if, as they say, God works in mysterious ways-then maybe His representatives do, too.
That said, we've listed the fiery encounters the Church has gotten into in its bid to protect the so-called moral fiber of society from being led into temptation and unspeakable sin. The encounters on this list range from the tragicomic to the monumentally disastrous (either for the Church or the rest of us Pinoys). In most cases, the Church itself is involved, in other cases it's the Church's representative embroiled in the most recent controversial battles.
ADVERTISEMENT - CONTINUE READING BELOW
For the record, we're not taking sides here. We're merely documenting the smackdowns that got considerable media coverage in the past two years or so.

Sometimes, you really say it best when you let your actions do the talking.
10. The Church vs. President Benigno Simeon "Noynoy" Aquino III
Fight scene: Manila Bulletin Online recently reported that Manila auxiliary Bishop Broderick Pabillo-chairman of the Catholic Bishops Conference of the Philippines (CBCP) National Secretariat for Social Action (NASSA)-said that President Benigno "Noynoy" Aquino III "appears inaccessible to the poor." Pabillo went on to compare P-Noy with former President Gloria Macapagal Arroyo. "Before we were also critical of her but when we need to talk to her, we were able to do so. We have access to her. With P-Noy, we have none," he said.
Outcome: P-Noy did not respond to Pabillo's statement. Anyway, in this case, that's probably the best response.
ADVERTISEMENT - CONTINUE READING BELOW
Is it a sin to be angry-yet-adorable?
9. The Church vs. Angry Birds Toys

Fight scene: In December 2011, Catholic Bishops' Conference of the Philippines (CBCP) Media Office director Monsignor Pedro Quitorio III asked people to avoid giving "angry toys" as Christmas presents to kids. He was referring to the Angry Birds toy line, which is inspired by the game featuring cute birds enraged over the green pigs stealing their eggs. The objective of the game is to destroy the pigs. As such, Quitorio pointed out that Angry Birds toys are "inconsistent with the season's message of love and peace."
Outcome: The Angry Birds win this one, as nobody really took Quitorio's suggestion seriously. The real "sin" (if you can call it that) in this situation is the fact that a lot of the Angry Birds toys and goods that flooded the sidewalks during the Christmas season were rip-offs.
ADVERTISEMENT - CONTINUE READING BELOW
When the Superstar smokes, there's fire.
8. The Church vs. Nora Aunor
Fight scene: Father Robert Reyes, who's more popularly known as the "Running Priest," called out actress Nora Aunor for her cover shot in the October 2011 issue of YES! magazine. The black-and-white photo shows the Superstar standing and artfully holding a cigarette. Reyes directed this diatribe against Aunor: "The Filipino reading public is not dumb. If you want to be popular again, be wholesome. Gusto [mo] ba gayahin ka namin? Ang trabaho n'yo is to inspire us, not to scandalize us. Nora, you are ill-advised. You think you are moving forward, it's a step backwards."
Outcome: Aunor and Reyes made peace, but Aunor didn't promise any miracles. She did say she would work on trying to quit smoking. (At least, she's honest.) Besides, why was Reyes worried about anyone emulating Aunor? Did he really think teens (or anyone else for that matter) would look at Aunor's photo and say, "She looks cool with a cigarette, so I'll smoke, too"? She may be the Superstar, but we all know she's not a role model.
ADVERTISEMENT - CONTINUE READING BELOW
It takes a lot of balls to take on Senator Miriam Santiago in a word war.
7. The Church vs. Miriam Santiago
Fight scene: Inquirer.net reported that Fr. Catalino Arevalo-who was the spiritual adviser of the late President Corazon Aquino-said in his March 4, 2011 homily at the Our Lady of Edsa Shrine, "If you call anybody 'you fool,' you are worthy of the fires of hell.  And she called them gago, which is Filipino for fool, before millions of people." Though he didn't name who he was referring to in his homily, Arevalo later told a reporter who asked if he was indeed referring to Senator Miriam Defensor Santiago that he "did not have to name her."
Outcome: Meanwhile, in an ABS-CBNNews.com report, Santiago-who has a master's degree in theology-has shot back in a statement: "Under [the Second Vatican Council], there is no hell; but even if there is, there is nobody there. Unfortunately, some of the religious refuse to accept the changes started by Vatican 2." Santiago added that according to theology, hell "is not a geographical place" but is "a metaphor for distance from God."
ADVERTISEMENT - CONTINUE READING BELOW
Are SUVs the modern Forbidden Fruit?
6. The Church vs. The SUV Issue
Fight scene: Church officials got slammed in June 2011 when Philippine Charity Sweepstakes Office chair Margarita Juico revealed that seven bishops received pricey SUVs from former President Gloria Arroyo reportedly for "political patronage." It was revealed that, in 2009, Butuan Bishop Juan de Dios Pueblos actually wrote Arroyo and asked for an SUV for his birthday. However, former PCSO chair Manoling Morato denied the accusations, saying that the cars were utility vehicles used for church missions.
Outcome: After more explanations, Senate hearings, and the pointing of fingers, the bishops decided to returns the SUVs despite the fact that senators told them not to do so. In fact, Sen. Miriam Santiago became so impassioned while defending the prelates that her blood pressure shot to 160/100.
Dr. Esperanza Cabral stood up to the Church's anti-condom rants.
ADVERTISEMENT - CONTINUE READING BELOW
5. The Church vs. Esperanza Cabral
Fight scene: As part of a health campaign in 2010, Department of Health Secretary Dr. Esperanza Cabral distirbuted free condoms on Valentine's Day. GMA News Online reported then: "Two bishops, Lipa Archbishop Ramon Arguelles and Sorsogon Bishop Arturo Bastes, demanded her resignation as they maintained the church's stand that condoms promote sexual promiscuity especially among the youth."
Outcome: Cabral was unfazed by what the Church said about her. She did not resign from her post. However, she was appointed by President Gloria Macapagal-Arroyo. So, when President Benigno Simeon "Noynoy" Aquino III took over, Cabral was also replaced by Dr. Enrique Ona.
Is Facebook the root of all evil?
4. A Catholic School vs. Facebook Bikini Photos
Fight scene: In this case, it's not actually the Church, but a Catholic school involved. Two students (other reports say four) from Cebu's St. Theresa's College (STC) were banned from their high school graduation ceremony last month as punishment for posting their bikini photos on their Facebook accounts. The students also claimed that STC's principal called them "sluts" (among other things) for their s0-called "Facebook offense." The exclusive girls' school said that they had a rule that a rule that forbids students from posting pictures online that show "ample body exposure." Other reports also alleged that the girls had appeared to be "smoking" in the Facebook photos.
ADVERTISEMENT - CONTINUE READING BELOW
Outcome: The case was taken to court and Regional Trial Court Judge Wilfredo Navarro ruled in favor of the two teens. However, STC chose to ignore his decision and the two teens were banned from the graduation ceremony. Later on, Cebu Daily News reported that an exasperated Navarro gave up on the case.
We're all for irreverence...but this isn't funny at all.
3. The Church vs. The Crucifixion Photo Op Crew
Fight scene: This year's Holy Week ended with a controversy, as photos of people posing ala Jesus Christ on the Cross went viral. The most notorious photo was the one with the woman in "skimpy shorts." InterAksyon.com reported that the photos were taken by a local photo enthusiast in Lourdes village in Angeles City on Good Friday, April 6.
Outcome: An ABS-CBNNews.com report quoted Fr. Anton Pascual, president of Catholic church-run Radyo Veritas, who "lamented that today's youth tend to forget about Gospel values and focus more on modernism." The Church got the public's support in this fight. However, the photos have already gone viral.
ADVERTISEMENT - CONTINUE READING BELOW
Carlos Celdran was ready to take the heat for his "Damaso" act.
2. The Church vs. Carlos Celdran
Fight scene: On September 30, 2010, Celdran was arrested and detained for protesting at the Manila Cathedral. There's no doubt that his protest will continue to be a conversation piece. On that day, Celdran had dressed up as national hero Jose Rizal, approached the altar and held up a sign that read "Damaso" in protest of the Catholic Bishops' Conference of the Philippines' stand on the controversial reproductive health (RH) bill, which is still pending in Congress. He also shouted at the bishops: "Stop getting involved in politics!"
Oucome: Celdran won the battle. Unfortunately, the Church's mettle has definitely placed the RH Bill in the backburner again. Only God knows how long it will stay there.
Poleteismo certainly rocked the boat.
1. The Church vs. Mideo Cruz
Fight scene: In 2011, Cruz's mixed media installation Poleteismo, was part of the multi-artist Kulo exhibit at the Cultural Center of the Philippines (CCP). In his work, Cruz juxtaposed religious images and objects with phallic symbols and pop culture icons. This disturbed the Church and enraged religious groups.
ADVERTISEMENT - CONTINUE READING BELOW
Outcome: The Church had the last say in this matter, as the CCP Board of  Directors eventually decided to close down the entire Kulo exhibit due to the controversy. The 31 other artists whose works were featured in the exhibit got a raw deal.
Art by Warren Espejo, with photos from PEP.ph.
CONTINUE READING BELOW
Recommended Videos
Share this story with your friends!
---
Help us make Spot.ph better!
Take the short survey
Load More Stories