Dumb and Dumber Times Five
Our SPOT.ph blogger gives the 411 on this goofball comedy and why John Lapus makes it all bearable.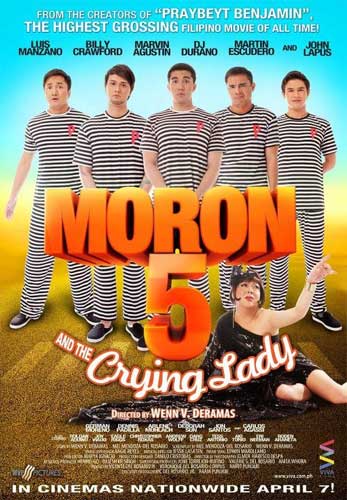 It's Day 3 of the new Viva Films movie Moron 5 and the Crying Lady and the cinema is pretty packed. I am sandwiched between couples on dates (two husky guys holding large popcorn buckets and sodas flank me) while they giggle at the 21 Jump Street trailer. I'm watching this movie because I haven't seen anything in ages, plus I wanted to support the single Pinoy movie out in theatres this week, one wee comedy competing against a bunch of Hollywood blockbusters: the young adult crossover hit The Hunger Games, the CG-heavy epic action sequel Wrath of the Titans, and that classic sinking ship disaster Titanic...in 3D (a combination I cannot stand). The title allows me to manage my expectations; after all, it has the word moron in it-and yes there are five of them-plus Wenn Deramas directs. He directed Praybeyt Benjamin, which holds the distinction of being the highest grossing Pinoy movie of all time, and the hugely popular Tanging Ina Mo franchise. I could only think: please let this be quick and relatively painless.
ADVERTISEMENT - CONTINUE READING BELOW
Well, it was a hundred minutes long and it wasn't so painful. It's basically a goofball comedy about five dumb guys who mean well, but get into all sorts of trouble. It ain't rocket science. There are a lot of routine jokes and tired gags, but at least the boys are cute. Thank goodness, too, for the talents of John Lapus, who plays the eponymous Crying Lady, Becky Pamintuan. Five guys-ironically named after different geniuses-are drawn together by their mutual stupidity. Albert (Luis Manzano) has a busy politician mom (Jon Santos, in fine form) who has no time for him. Isaac (Billy Crawford) is the underachieving son of Kuya Germs and (inexplicably) Arlene Mulach, who have many other overachieving children. Aristotle (Marvin Agustin) has a spinster aunt (Joy Viado) who berates him and beats him, literally, with a big stick, while Mozart (DJ Durano) is coddled by his spunky former Japayuki mom (Deborah Sun of Temptation Island fame), and Michael Angelo (Martin Escudero) sells street barbeque to help his father (Dennis Padilla).
ADVERTISEMENT - CONTINUE READING BELOW
Watch the trailer here.
In this movie, jokes take an entire scene to set up and predictably, the punch lines-which take forever to deliver-are not always funny. There are farting-in-prison jokes, hokey costumes, celebrity cameos, and lots of slapstick. Marvin Agustin (who, strangely enough, is looking cuter and cuter every time I see him), DJ Durano, and Billy Crawford all look too old for their roles. Lucky, este, Luis Manzano remains wonderfully fresh-faced (does he cherish his complexion?) and is surprisingly adorable as a neglected son, and it is obvious that Martin Escudero, of Zombadings fame, has a real talent for comedy and is the only actor who plays dumb really well. (I wish they had developed a comedy about the father-and-son BBQ vendor tandem with him and Dennis Padilla instead.)
The absurdist humor sometimes shines through, but it is John Lapus who carries it all with his droll drag queen persona. This movie belongs to him. Sweet swans around in lace dresses and fascinators, killer heels and false lashes, and not once falters as the vengeful bakla who wears many wigs. He plays an Imeldific character, a coiffed man-trona, and a long-haired inday wearing a French maid outfit.  Best of all, there's Becky-with an Amelie style bob for this character-and he looks as hysterical as he sounds. When Becky's evil plans are foiled in the end, she experiences a breakdown, and John Lapus really gives it his all. Award! He gets the Grand Prize for Drag.
ADVERTISEMENT - CONTINUE READING BELOW
Another award goes to Jon Santos, who finally gets to play his iconic Ate Vee on screen, and is wonderful as always. Check it:
Jon Santos portraying classic Ate Vee
P.S.
Dare I say it? I'm really looking forward to the Piolo Pascual/Angelica Panganiban comedy out in May!
CONTINUE READING BELOW
Recommended Videos
Share this story with your friends!
---
Help us make Spot.ph better!
Take the short survey
Load More Stories