SPOT.ph's Top 10 Showbiz Slip-Ups
The stars' wardrobe woes, on-stage gaffes, and other caught-on-cam accidents.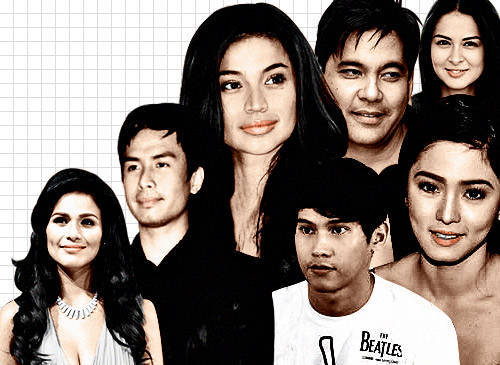 (SPOT.ph) When celebrities make mistakes, the world has a field day. There are people who are mean and think nothing of poking fun at the celebrity's gaffe. There are also a few who are more sympathetic. Either way, it's always big news when a celebrity figures in awkward or embarrassing situations. We list 10 instances (plus, one "classic") where celebrities may have found the spotlight hotter than usual.
Iza Calzado was very grateful that her new TV family saved her from a mortifying moment.
10. Iza Calzado's torn leggings
What happened: On February 26, Calzado did a split during her dance number on ABS-CBN's Sunday variety show ASAP 2012. Her black leggings followed suit. Luckily, the number was almost over when the rip materialized and the show's director Johnny Manahan only used wide shots.
The aftermath: Hardly anyone knew about the torn leggings. Calzado, however, posted a tweet expressing her relief that she had survived the ordeal. According to an ABS-CBNNews.com report, she tweeted: "Omg!!!!!!!! Major wardrobe malfunction! My leggings ripped when I did my split! Buti na lang no more lifts after :p Thankful for wide shots." Calzado should also be glad that her wardrobe malfunction didn't go viral. In fact, we couldn't find a clip of the segment on YouTube.
ADVERTISEMENT - CONTINUE READING BELOW
Award: Miss Proactive (Nothing beats setting the record straight before anyone else can say nasty things.) In any case, Johnny Manahan also deserves the Most Supportive Director Award for his kind move.
Karylle talks about her wardrobe woe, which was greatly exaggerated by some unscrupulous people.
9. Karylle's troublesome top
What happened: In April 2010, when ASAP XV was taping in Boracay, singer-actress Karylle experienced a wardrobe malfunction. Her top slipped and reportedly exposed her chest area. Some unscrupulous individuals who managed to take a photo of the incident then posted the image online. The thing was, the photo seemed to have been altered in order to exaggerate the effect of the wardrobe malfuction.
The aftermath: The photo of Karylle's wardrobe malfuction was, indeed, altered. While Karylle's top had been problematic, she was wearing nipple tape, which prevented exposure. She later went on The Buzz and revealed that she had been "stressed out by the incident." Though there are copies of the altered photo online, the public has always been sympathetic to Karylle and have remained on her side in this debacle. This is a clear example of one's good reputation acting as protection.
ADVERTISEMENT - CONTINUE READING BELOW
Award: Miss Congeniality (She's so nice and respectable that nobody wants to make her feel bad. So, shame on those who maliciously took and altered that photo.)
Angeline Quinto rose above an awkward moment.
8. Angeline Quinto slips on stage
What happened: In the January 8 broadcast of ASAP, Quinto was in a production number with fellow singers Jovit Baldivino, Yeng Constantino, and Marcelito Pomoy. While singing the Aegis song, "Mahal na Mahal Kita," Quinto moved around the stage. She slipped, but promptly got her bearings back, and stood up. If she missed a beat, it sure wasn't noticeable.
Aftermath: People marveled over the fact that Quinto remained pitch perfect even after she slipped. She sang the hell out of the Aegis song. The crowd went wild because she was such a trouper.
Award: Miss Invincible (Need we say more?)
Maxene Magalona tagged herself "Maxenetonado" after this performance.
ADVERTISEMENT - CONTINUE READING BELOW
7. Maxene Magalona sings off-key
What happened: During the January 29, 2012 live telecast of Party Pilipinas, actress Maxene Magalona and her brother Frank sang the Eraserheads' "Pare Ko." She was not quite in tune while singing the well-loved ditty and, at one point, her voice broke.
Aftermath: Magalona quickly owned up to her mistake and even tagged herself as "Maxenetonado." According to a Manila Bulletin Online report, the most vicious netizens attacked Magalona for her gaffe, rubbing it in as if she had committed a big crime. To her credit, Magalona shrugged off the hate tweets, which caused her to be one of the top trending topics among Pinoys on Twitter.
Award: The "I Can Take It Like a Man!" trophy. (She didn't resort to tears to get sympathy, nor did she make excuses for her gaffe. You have balls, girl!)
Martin Nievera earned the ire of the National Historical Institute because of how he sang the national anthem.
ADVERTISEMENT - CONTINUE READING BELOW
6. Martin Nievera's "Lupang Hinirang" rendition
What happened: On May 3, 2009, Nievera sang the "Lupang Hinirang" for the Manny Pacquiao-Ricky Hatton fight. He didn't flub the lyrics or sing off-key, but the National Historical Institute (NHI) said he sang it wrong. That meant he didn't sing it in the manner prescribed in Section 37 of Republic Act No. 8491, the 1998 Flag and Heraldic Code of the Philippines.
Aftermath: According to an Inquirer.net report, the NHI had criticized other singers-such as Kyla, Lani Misalucha, Sarah Geronimo for putting in their own flourishes to the "Lupang Hinirang." But it seemed that by the time it was Nievera's turn, the NHI had already reached boiling point. Nievera just shrugged off the criticism and chalked it up to experience.
Award: Mr. Live and Let Live (What else could he do? His perfomance was already over and done with.)
ADVERTISEMENT - CONTINUE READING BELOW
This was the song Marian Rivera was dancing to when she experienced a wardrobe malfunction.
5. Marian Rivera's wardrobe issue
What happened: In 2008, Rivera experienced a wardrobe malfucntion while doing a dance number on GMA-7's Sunday variety show. Her top slipped and one of her breasts was briefly exposed.
Aftermath: People had a field day talking about Rivera's wardrobe misfortune. There were those who uploaded clips of the dance number and tagged it as "The Marian Rivera Scandal." That, of course, was taking things too far.
Award: Miss Unsinkable (Her tube top may have failed her, but her gumption held her up.)
Enchong Dee got a lot of flak for dropping Kim Chiu during this number.
4. Enchong Dee drops Kim Chiu
What happened: In the March 25 live broadcast of ASAP 2012, Dee and Chiu paired up for a stunt-filled dance number. They started out fine, but things went wrong when Dee accidentally swiped Chiu's head with a misplaced cartwheel, and soon after, a complicated lift caused him to lose his footing. He tripped backwards, consequently dropping Chiu. Despite that, the two managed to finish their routine.
ADVERTISEMENT - CONTINUE READING BELOW
Aftermath: So many haters taunted Dee for the fumble. They're most likely responsible for uploading and making sure that the video clip of his gaffe would be spread online. Nevertheless, Dee and Chiu have to be given credit for not fanning the flames started by trolls.
Award: Mr. and Ms. The Show Must Go On At All Costs! (It takes chutzpah to keep dancing despite the embarrassment and pain.)
Anne Curtis talks about her wardrobe malfunction.
3. Anne Curtis' unfortunate slip
What happened: Manila Bulletin Online reported: "In March 2010, Curtis' breast was accidentally exposed when her top fell during the taping of her ASAP dance number with Sam Milby. Although Milby tried to cover Curtis by embracing her from behind-some people in the audience had already captured the incident on their mobile phones and cameras. The production people of the Sunday musical variety show pleaded to the audience to erase the videos and pictures of the incident, most of whom heeded the appeal."
ADVERTISEMENT - CONTINUE READING BELOW
Aftermath: Despite the ASAP production people's request, some unscrupulous individuals chose to post photos of Curtis' wardrobe malfucntion online. The photos were also printed in tabloids.
Award: The Queen of Compassion (As advised by her lawyer-father, she just waited for the whole thing to blow over.)
Claudine Barretto just did what any of us would have done as well...only it was on national TV.
2. Claudine Barretto curses
What happened: In the April 13, 2003 live broadcast of ASAP, Barretto slipped as she stepped down the multi-level stage. She didn't fall, but she ended up blurting out, "Putang ina!" The kicker? She was holding a microphone when she said it.
Aftermath: Barretto quickly said, "Sorry" after she uttered the cuss phrase. Naturally, her gaffe became the talk of the town.
Award: Fastest Recovery (She came up with on-the-spot damage control and still looked good doing it.)
ADVERTISEMENT - CONTINUE READING BELOW
It's amazing how Christian Bautista stayed charming thoughout this ordeal.
1. Christian Bautista's memory gap
What happened: GMA News Online reported in 2007: "Nerves got in the way of singer Christian Bautista as he was singing the Philippine National Anthem in a boxing exhibition match between Gerry Peñalosa and Concepcion Bernabe last Sunday, September 16, in Alabang." For some reason, Bautista failed to sing these two lines: "Buhay ay langit sa piling mo / Aming ligaya na 'pag may mang-aapi." Of course, everyone noticed.
Aftermath: According to the GMA News Online, Bautista issued an apology for his gaffe. In his statement, he said: "I apologize to the Filipino people for the lapse of memory that occurred yesterday during my rendition of the national anthem. I was recovering from a cold and the adrenalin and excitement of the moment got me through it. Unfortunately, it was at the cost of a momentary lapse on my part. I promise that my next rendition of our national anthem will be faultless."
ADVERTISEMENT - CONTINUE READING BELOW
Award: Best Apology (He said sorry and he moved on in more ways than one.)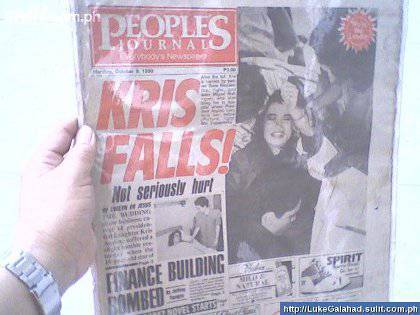 Kris Aquino steals the scene. (Screenshot of image posted by Sulit.com.ph user)
Special mention:
Kris Aquino falls from the stage
What happened: In 1990, while promoting the movie Pido Dida: Sabay Tayo on GMA Supershow, Aquino fell off the stage. The camera then panned to German Moreno, the show's host, who quickly apologized for what happened to President Cory Aquino's daughter.
ADVERTISEMENT - CONTINUE READING BELOW
Aftermath: Kris' fall was so bad that it became the banner story of at least one newspaper.
Award: Miss Scene Stealer (Her fall became big news! She was always hot copy even then. The fact that people are still talking about this more than a decade later is proof enough.)
CONTINUE READING BELOW
Recommended Videos
Share this story with your friends!
---
Help us make Spot.ph better!
Take the short survey
Load More Stories