P-Noy slams the media, Noranians vs. Vilmanians + more lowlights
Plus, Brian McKnight's X-rated ditty, the Ara Mina-Cristine Reyes feud, and more nutty tales.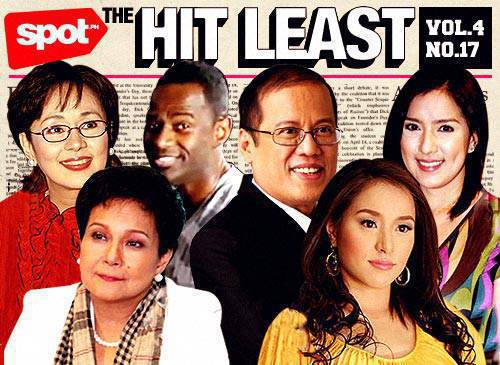 1. POLICE STILL CAN'T FIGURE OUT WHO STRAFED RETIRED UP PROFESSOR AND PHILIPPINE DAILY INQUIRER COLUMNIST RANDY DAVID'S HOUSE INSIDE THE UP DILIMAN CAMPUS. What are the chances of them ever figuring it out and then preventing anything like this from ever happening again?
2. A WATER REFILLING STATION IN ANONAS, QUEZON CITY BURNS DOWN. It's beyond ironic.
ADVERTISEMENT - CONTINUE READING BELOW
CONTINUE READING BELOW
Recommended Videos
3. INFORMAL SETTLERS PREPARE STINK BOMBS MADE FROM HUMAN WASTE TO REPEL DEMOLITION TEAMS. If you want respect, throwing shit around isn't the best way to get it.
4. FORMER FIRST GENTLEMAN MIKE ARROYO IS ALLOWED TO TRAVEL ABROAD AFTER PAYING A ₱90,000 BOND. Are we supposed to be happy for him?
5. IN THIS YOUTUBE VIDEO, BRIAN MCKNIGHT, WHO SANG "ONE LAST CRY," SINGS A SONG THAT HAS A LINE THAT GOES, "LET ME SHOW YOU HOW YOUR PUSSY WORKS." It's either he's going through a  mid-life crisis or he's on drugs. (And, no, the song is not about a cat.)
Load More Stories