The Ultimate Nora Aunor vs. Vilma Santos Smackdown: 10 Rounds With Two Icons
We pit the Superstar against the Star for All Seasons. Who comes out triumphant?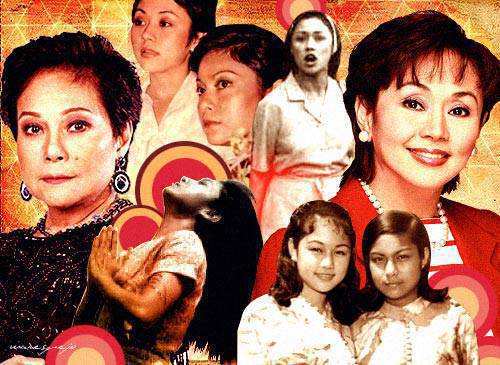 (SPOT.ph) The debate over whether Nora Aunor or Vilma Santos should be declared as National Artist rekindled the heated Noranians vs. Vilmanians feud. This time around, the enduring rivalry between the Superstar and Star for All Seasons was rekindled in Congress. Now, that's something. In the spirit of friendly debate and as our homage to the two stars, we go 10 rounds (in a manner of speaking) with the queens of Philippine drama.
ROUND 1: Origins
Nora Aunor sings "Monlight Becomes You," her winning piece for Tawag ng Tanghalan.
Nora Aunor, whose real name is Nora Cabaltera Villamayor, was born on May 21, 1953. She once worked as a vendor of cold water along the railroad tracks near her hometown in Iriga, Camarines Sur. She then went on to triumph in a series of singing contests. In 1967, she was declared "Pinakamahusay na Tuklas na Talino, Grand National Finals Champion" of the prestigious amateur singing competition of Tawag ng Tanghalan. According to her IMDB listing, she also started being cast in movies in 1967.
Vilma Santos in the 1964 movie, Ging.
Vilma Santos, whose real name is Maria Rosa Vilma Santos, was born on November 3, 1953. She broke into showbiz when she was still a kid. One fan site explains: "At the age of nine, Vilma was tapped to star opposite Gloria Romero and Rita Gomez in the movie Anak, Ang Iyong Ina. She was discovered by her uncle Amaury Agra, who was a cameraman at the Sampaguita Studios. When Vilma and her mother went to the Sampaguita compound to report for shooting, there was an ongoing audition for another movie. Seeing that there were more than a hundred kids auditioning, Vi went and watched. Dr. Jose Perez, producer of Sampaguita, saw her and asked her to join the audition." Vilma got the title role in 1963's Trudis Liit.
ADVERTISEMENT - CONTINUE READING BELOW
The round goes to: Nora Aunor. Her rags-to-riches tale is legendary and she became popular despite the fact that she did not fit the so-called typical Pinoy moviestar mold.
ROUND 2: Acting Prowess
Nora Aunor in 1976's Tatlong Taong Walang Diyos.
Nora Aunor's eyes alone are able to convery a complex range of emotions. She doesn't have to speak to be effective in a scene. Her quiet moments in movies like Tatlong Taong Walang Diyos (1976), Himala (1982), and Sidhi (1999) attest to her brilliance.
Vilma Santos in 1982's Relasyon.
Vilma Santos is a joy to watch and listen to when she's firing off some wicked lines. Her meltdown moments in Relasyon (1982), Bata, Bata...Pa'no ka Ginawa? (1998), and Dekada '70 (2002) are downright excellent.
CONTINUE READING BELOW
Recommended Videos
The round goes to: It's a draw. They're both equally great. However, in their later years, Vilma showed that she had comic timing as well. She had hilarious moments in In My Life (2009).
ROUND 3: Vocal Talent
Listen to Nora Aunor cover The Carpenters' "Superstar" in the 1973 film Impossible Dream:
Then, listen to Vilma Santos sing "Babycakes." (If you close your eyes, you'd think it's Yoyoy Villame crossed with Justin Bieber. She can carry a tune, but she won't win contests with her singing.)
The round goes to: Nora Aunor. It's plain enough to hear.
ROUND 4: Dancing Skills
Nora Aunor is a passable dancer. She's not clumsy or anything-but she doesn't exactly take your breath away with her moves. Seeing Nora dance will most likely remind you of your shy cousin being made to perform for relatives during a family reunion. Watch her performance in this production number on her variety show, Superstar:
ADVERTISEMENT - CONTINUE READING BELOW
Vilma Santos goes for broke on the dance floor. Just watch her shimmy and gyrate in character in 1977's Burlesk Queen. She also constantly wowed the crowd in production numbers on her variety shows, VIP (Vilma in Person) and Vilma!
The round goes to: Vilma Santos. She's the Star for All Dance Moves, too.
ROUND 5: Love Life
Nora Aunor and Christopher de Leon still have great chemistry even if they're no longer a couple.
Nora Aunor was once married to another award-winning Pinoy actor, Christopher de Leon. She's been linked to other actors as well. However, after all these years, she's still somewhat identified with John Rendez, who, at one point, was described by the press as an "aspiring musician." Nora was also rumored to have gotten hitched to another woman. In an interview published in Yes! magazine's October 2011 issue, Nora claimed she was probably "bisexual" and that she used to have "a big crush on Vilma Santos."
Vilma Santos and Ralph Recto: The family that runs for office together stays together.
Vilma Santos was once married to actor Edu Manzano. Their marriage didn't work out so they got an annulment. She was linked to other actors, as well. Vilma is now married to Senator Ralph Recto.
The round goes to: Vilma Santos. She has what appears to be a pretty stable love life. Plus, Nora herself has claimed that she used to have a crush on her. As they say, "Waging wagi si Vilma dito (Vilma's the real winner here)."
ADVERTISEMENT - CONTINUE READING BELOW
ROUND 6: Aesthetic Value
T-Bird at Ako (1982) synopsis: "Superstar Nora Aunor plays a sexually confused lady lawyer falling head over heels in love with a nightclub dancer played by Star For All Seasons Vilma Santos in this Danny Zialcita film written by Portia Ilagan."
When she was younger, Nora Aunor had arresting features. She was not typically beautiful, but she had striking eyes and such an intense vibe. She also had great hair and a lithe build. However, as she grew older, it seemed as if her vices caught up with her. That was why, in 2010, she underwent plastic surgery so she would "look fresh" for her comeback. Unfortunately, she later admitted that her vocal chords were damaged in the procedure. On the bright side, she does look relatively fresher.
Vilma Santos had great skin and had delicate features going for her when she was younger. She has aged quite gracefully, with those features intact. Whatever her beauty routine is...well, it's working. Perhaps, Vilma's sunny disposition and healthy lifestyle also help a lot.
The round goes to: Vilma Santos. The years have been kind to her.
ROUND 7: Politics
Does Nora Aunor still look like GMA?
Nora Aunor ran for governor of Camarines Sur in 2001. She was not successful. She is, however, credited for helping Gloria Macapagal-Arroyo snag her positions. That's because people remark that GMA got votes because she looked a bit like Nora Aunor.
Vilma Santos is every inch the governor now.
ADVERTISEMENT - CONTINUE READING BELOW
Vilma Santos is currently the governor of Batangas. Prior to that, she was the mayor of Lipa City from 1998 to 2007.
The round goes to: It's a draw. Vilma Santos may be governor, but it's something else when people vote for somebody because they look like you.
ROUND 8: Endorsements
Nora Aunor for Colgate.
Earlier in her career, Nora Aunor was tapped to endorse brands like Colgate, as well as entities like Security Savings Bank. Lately, she has not been tapped to endorse any big brands.
Vilma Santos for Bear Brand.
Vilma Santos has made a killing as an endorser. She's still with Bear Brand after all these years. She has also endorsed Eskinol, Ariel, Ponstan, Bench, and various othe products.
The round goes to: Vilma Santos. She's perceived as a woman who's got it all figured out.
ROUND 9: Controversy Control
Nora Aunor faces showbiz scribes.
In 2007, there was uproar when news broke out that Nora Aunor had married another woman, her manager and confidante Norie Sayo, in Las Vegas. A PEP.ph article revealed that upon checking the Marriage Inquiry System of Clark County, Las Vegas, Nevada, it was found that Nora C. Villamayor-or more popularly known as Nora Aunor-had married Norie Sayo on May 22, 2000. Nora didn't seem to be affected by the brouhaha.
Vilma Santos is now so comfortable in her own skin that she can brush off controversial questions.
Perhaps, the nastiest controversy that Vilma Santos has had to deal with is the infamous "Betamax Queen" issue. In the late 70s, a rumor went around that there was a Betamax tape that showed Star for All Seasons Vilma Santos and her then-boyfriend Romeo Vasquez (estranged husband of Amalia Fuentes and father of Liezl Martinez) in an intimate encounter. Santos was tagged as "Betamax Queen." In a PEP.ph story, Santos herself said, "There was a time, na-tsismis pa na nagpakamatay ako dahil sa problema ko d'yan (I was rumored to have committed suicide because of that problem)...because of the Betamax issue. But again, you know, kapag alam mong hindi totoo, matapang ka, 'di ba (if you know it's not true, you're brave, aren't you)?"
ADVERTISEMENT - CONTINUE READING BELOW
The round goes to: Nora Aunor. The deadma tactic works.
ROUND 10: Impersonators
There's probably an army of Nora Aunor impersonators.
Perhaps, because of her distinct mannerisms, Nora Aunor seems to be a favorite among impersonators. Aside from "Ate Gay," there are more Nora Aunor "clones" in comedy bars. Heck, some people even turn into "split second impersonators" each time they mouth off Nora's famous lines such as "Walang himala!" and "My brother is not a pig."
Jon Santos does a great job impersonating Vilma Santos, but then he also impersonates Nora Aunor and other personalities.
Vilma Santos is not that easy to impersonate. Comedian Jon Santos does a great job at it, but then he also impersonates Nora Aunor.
The round goes to: Nora Aunor. She's very, very "impersonatable."
THE FINAL VERDICT: We love them both. Maybe after they star in another movie together we can decide who gets to be National Artist first. (Then again, maybe Dolphy should get before either of them do. Ate Vi said so. We're pretty sure Nora would be just as gracious.)
Art by Warren Espejo
Image credits: Publicity stills from film companies, YouTube video screenshots, and fan site postings.
Share this story with your friends!
---
Help us make Spot.ph better!
Take the short survey
Load More Stories