Derek Ramsay-Angelica Panganiban break-up rumors, Isko Moreno joins Erap's party + more lowlights
Plus, Gloria Diaz "attacks," Labor Day shenanigans, and more crazy stories.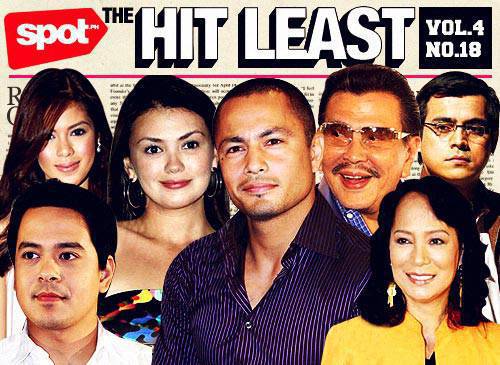 1. ON LABOR DAY, A PREGNANT MUTE WOMAN WHO "LIVES" ON BAYWALK GOES INTO LABOR BECAUSE SHE WAS BEATEN UP BY HER HUSBAND. Who needs reality TV when this is on the news?
2. SOME PETITIONERS SAY THE COMELEC'S PURCHASE OF PCOS MACHINES FOR THE 2013 POLLS IS ILLEGAL. Will you people hang on for one damned minute? (We're still suffering from "brain impacho" due to the first half of the Corona impeachment trial.)
ADVERTISEMENT - CONTINUE READING BELOW
CONTINUE READING BELOW
Recommended Videos
3. MANILA VICE MAYOR ISKO MORENO JOINS FORMER PRESIDENT ERAP ESTRADA'S POLITICAL PARTY. For some reason, we're reminded of a line from One Tree Hill: "Welcome to the dark side my friend-deception for lunch, payback for dinner, and pie for breakfast." (Yes, One Tree Hill. So sue us.)
4. LABOR DAY MARKED WITH PROTESTS, BURNING OF P-NOY'S EFFIGY. For variation, how about a Santacruzan featuring effigies next year?
Load More Stories