10 Tunes to Listen to This Month
Welcome May with tracks from Foster the People, John Mayer, Fiona Apple, Pedicab, Jessica Sanchez, and more!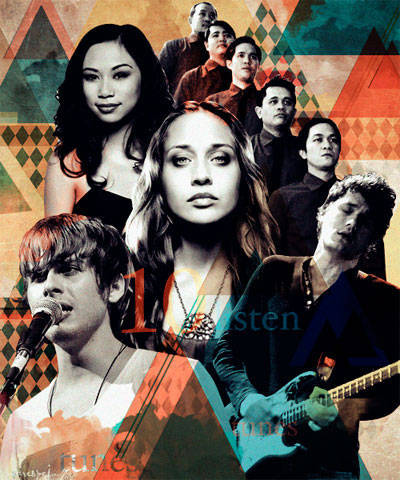 (Spot.ph) For your listening pleasure this May, we bring you Foster the People's latest music video, John Mayer's southern rock-inspired single, Fiona Apple's comeback track, Maroon 5 and Wiz Khalifa's collaboration, and Icelandic band Of Monsters and Men's chilly tune. Plus, rock with Pedicab and Greyhoundz, get sentimental with Somedaydream, and sing along to covers by Jessica Sanchez, Zia Quizon, and Markki Stroem.
Song: "Houdini"
Artist: Foster the People
The indie trio is finally out with a music video for one of its catchiest singles. Watch as Mark Foster, Mark Pontius, and Cubbie Fink bust perfectly synchronized dance moves in their "Houdini" visual, which also serves as a commentary on the music industry. The track features Foster the People's distinct dance-electronic sound, with killer synth that tops all their other singles.
Fun fact: The "Houdini" music video, which premiered on April 25, was directed by The Daniels-the same guys responsible for Foster the People's "Don't Stop (Colors on the Wall)" music video.
Song: "Apoy"
Artist: Pedicab
Pedicab fans rejoice! The Filipino rock band is out with a new EP titled Kaya Mo Mag-sando? Listen to the lead track, "Apoy," and get sucked into the band's whimsical groove while feeling the heat of summer.
Fun fact: Pedicab was formed in 2004 when four musicians and a filmmaker decided to come together to make music.
Song: "Dirty Paws"
Artist: Of Monsters and Men
Off the Icelandic band's debut album My Head is an Animal is "Dirty Paws," an entrancing, folk tune that will let you escape to a whimsical world filled with talking trees and bees at war. Check out the chilly vocals, gripping guitar sounds, and childlike chants you'll be singing, too, in no time.
ADVERTISEMENT - CONTINUE READING BELOW
Fun fact: My Head is an Animal was first released in Iceland in September 2011. With its success came a US release in April 2012.
Song: "Stuttering"
Artist: Jessica Sanchez
We can't stop listening to Jessica Sanchez's rendition of Jazmine Sullivan's "Stuttering." Her cover, which wowed the American Idol judges, gives a sweeter and more soulful sound to the R&B original.
Fun fact: Jessica Sanchez, 16, also joined the first season of America's Got Talent when she was 11.
Song: "Payphone"
Artist: Maroon 5 featuring Wiz Khalifa
Here's a taste of Maroon 5's forthcoming album titled Overexposed. The romantic, pop track brings you Adam Levine's airy falsetto paired with hard-hitting beats and an overall melody that is simple yet catchy enough to induce LSS. Watch for rapper Wiz Khalifa's rhymes (and rants), too.
CONTINUE READING BELOW
Recommended Videos
Fun fact: Immediately after its release, "Payphone" set a digital download record, according to Billboard.com. The single entered the Billboard Hot 100 songs chart at No. 3, and landed the No. 1 spot on the Digital Songs chart with sales of 493,000.
Song: "Taya"
Artist: Greyhoundz
Fans will not be disappointed with the Pinoy band's latest single. "Taya" features Greyhoundz's well-loved sound that combines rock, metal, and hip hop. The heavy guitars and drums will remind you why Pinoy rock is like no other.
Fun fact: Cousins Audie (guitar) and Niño Avenido (bass guitar) formed Greyhoundz in 1997.
Song: "Shadow Days"
Artist: John Mayer
The Grammy award-winning singer's new album Born and Raised is set to come out this month. Fans eager to hear John Mayer's latest offering are in luck with the release of his new single, "Shadow Days," with a very country music video to boot. The track features a refreshing southern rock sound fit for Mayer's effortless singing.
ADVERTISEMENT - CONTINUE READING BELOW
Fun fact: John Mayer co-produced Born and Raised, his fifth studio album, with Don Was.
Song: "Sing This Song"
Artist: Somedaydream
Electropop artist Somedaydream proves he can dish out not just upbeat, feel-good tunes but also slow, romantic tracks. Take this single for example, which features the artist's signature synth-filled sound and more mature lyrics.
Fun fact: Somedaydream, also known as Rez Toledo, was discovered by Champ Lui Pio of Hale.
Song: "Every Single Night"
Artist: Fiona Apple
Haunting yet thrilling, disturbing yet irresistible are the words to describe Fiona Apple's comeback single "Every Single Night." After a long hiatus, the singer-songwriter-pianist is back with an honest and stark track with lyrics like: "The rib is the shell and the heart is the yolk / and I just made a meal for us to both choke on."Aside from the play on words, watch for Apple's vocal stylings as she switches from crooning to whispering to chanting without missing a beat.
Fun fact: Fiona Apple's career started in 1996 with the release of her internationally acclaimed debut album titled Tidal.
Song: "Somebody That I Used to Know"
Artist: Zia Quizon and Markki Stroem
Two of today's most promising local singers, Zia Quizon and Markki Stroem, jammed to produce a soulful and jazzy rendition of Gotye and Kimbra's hit song "Somebody That I Used to Know." Stroem's smooth crooning and Quizon's unique vocals-without a doubt-give justice to the original.
Fun fact: Zia Quizon and Markki Stroem have also recently teamed up for a sexy tune titled "Steal Your Soul."
ADVERTISEMENT - CONTINUE READING BELOW
Art by Warren Espejo
Share this story with your friends!
---
Help us make Spot.ph better!
Take the short survey
Load More Stories