FOOD REVIEW: My Kitchen by Chef Chris in Paco, Manila
Our SPOT.ph food blogger gives the lowdown on a hearty, homey resto that may just put Paco in the foodie map.
My Kitchen by Chef Chris
Oasis Park Hotel 1032-34 Belen Street,
Paco, Manila
Tel. No. 521-2371
Open 7 a.m. - 10 p.m. daily

(SPOT.ph) I have this vivid memory of my childhood.
It was a Sunday, and we were in my grandparent's house just horsing around as we were wont to do on lazy days like that. Suddenly, my mom called us outside, and we boarded our car to take an unexpected trip with the whole clan and some family friends. We wound up in Tagaytay, at the Taal Vista Hotel.
All we really did was have a hotdog and halo-halo. It wasn't anything out of the ordinary, if I remember correctly-a Tender Juicy weenie, and kaong from jars-but at that time it tasted like the best thing EVER! Add that to the view, the cool air, and the happy sounds of a family gathering, and you have a picture-perfect afternoon.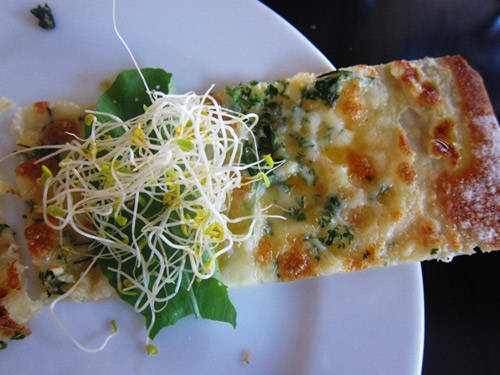 A panizza, ready for eating


ADVERTISEMENT - CONTINUE READING BELOW
And that is my earliest recollection of a destination restaurant-a place where people will drive to eat, no matter if they're a bit far out. They were few and far between back then.
Fast-forward to today's food obsessed world, where destination joints pop up in all sorts of places, and where the food hounds congregate to savor the house specialties.
One such place is C Italian over in Angeles. This Italian (duh!) restaurant, located in a busy strip in Angeles, in a structure that to me looked like a classy, air-conditioned dungeon, brought in the eaters in droves. They came mostly to try the house special panizza, a pizza with a twist by their chef, Chris Locher. The fame of Chef Chris' food reached far and wide, from Manila to even further afield.
CONTINUE READING BELOW
Recommended Videos
For one reason or another, the good chef bade adieu to Angeles, and moved to the unlikely area of Paco, Manila, to open My Kitchen By Chef Chris, at the Oasis Hotel. With the exception of the original Old Swiss Inn, Paco is not exactly known as a dining destination, but perhaps even more so as a place where you'll find a lot of foreign men with their...um...dates.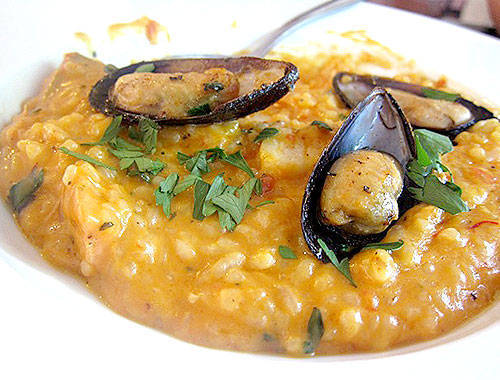 ADVERTISEMENT - CONTINUE READING BELOW
Risotto Pesce (P590)

It seems to me that My Kitchen might just change all that.
It is by no means a fancy, white tablecloth kind of place. In fact, it looks like any other small hotel coffee shop. But you will not find a club sandwich here, nor a banana split.
Instead you will find hearty, rib sticking food-with matching generous portions at that-stuff that will not just warm the belly, but fortify you for at least half a day.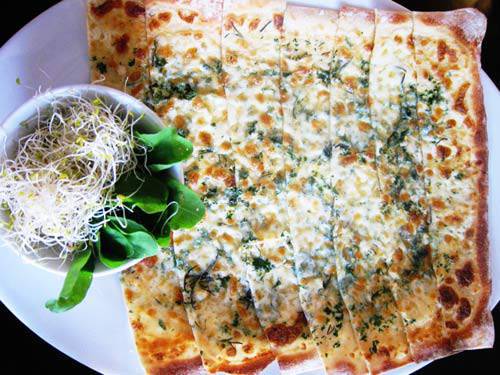 Panizza Stefano (parmesan and garlic) (P590)


Panizzas, of course, are de rigeur. I would imagine almost every table indulging in one...and really, who can resist? A flat, crispy rectangular pizza, sliced into strips; you take some arugula and alfalfa sprouts and roll it like a joint. Not that I indulge in that sort of activity.
The Kristina, with bacon, ham, caramelized onions, mushrooms and sundried tomatoes is a fan favorite. On paper alone it looks great-and I can see why the Pinoy guest would gravitate towards it. But I promised myself to make a trip back for other kinds, like the St. Jacques, with scallops and shrimp.
ADVERTISEMENT - CONTINUE READING BELOW
It has tons of flavor, with a crust that has satisfactory bite, and the arugula lends a nice bitter note as well. Many have tried to copy it, but Locher is the undisputed master (well, he kinda did create it, after all!).
But he is far from a one-trick pony. Sure, it is panizzas that have welcomed customers in droves. Too bad if you just stop there, though.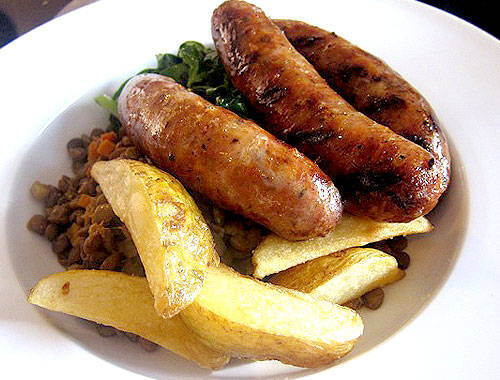 Home-made Italian Sausages and Lentils (P570)


Apparently the good chef comes from a line of butchers-he knows his meat-and this is most apparent in his simple yet delightful dish of house-made sausages and lentils. You can ask for three kinds-a combination is best-a regular Italian sausage, and one spicy and one peppery sweet variant, all resting on a bed of perfectly cooked lentils, roasted potatoes and broccolini (baby broccoli). This should give you fuel to last the whole day and then some!
ADVERTISEMENT - CONTINUE READING BELOW
My Kitchen's bistecca is a great deal as well. You can choose from several sizes of Prime Angus flank steak-a rare cut in these parts-with the smallest being quite substantial. They load this with roasted pumpkin, roasted carrots, roasted potatoes and more of that delicious Italian broccoli-which is actually one of my favorite things about eating here. It's not found in most restaurants in Manila, and I wish it were. It is really, really good. Marinated in garlic and rosemary, it is a serious meat dish for serious meat lovers.
Lamb ribs, if they're there, is a good choice as well. It lures you in by making you chomp on a crispy outer layer, and then you find yourself nibbling and sucking on the tastiest of meats around the bone. A bit sensual, don't you think? I rather like it, although if you're a put off by a slight bit of gaminess, then best to go for the sausages or bistecca.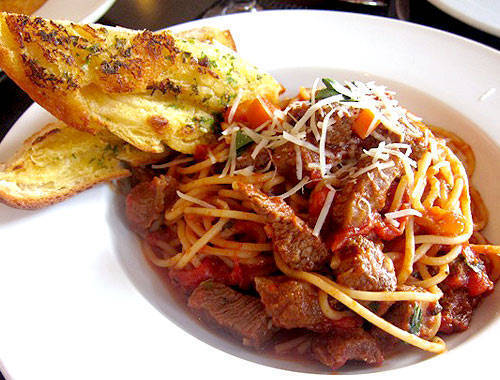 ADVERTISEMENT - CONTINUE READING BELOW
Spaghetti Ragu (P570)


If you are harboring a noodle craving, pastas are okay, although in my opinion not their strong point. A meat ragu-which the menu states as done in a classic way, with chopped beef chuck roll in a passata (a tomato puree, passed through a sieve to removed seeds)-was tasty, albeit a little too soupy for me, and although I have read about ragus made with beef chunks, I think my tastes still look for good ol' ground beef or veal. The classic Pinoy perennial favorite, carbonara, had a (*gasp*) bit of cream but I will admit to actually enjoying it (as did the rest of my party). It pushed the right buttons, flavor-wise, so yes-do go for this classic goodie if you're in the mood.
Prices may seem to be on the high side, if you're just perusing the menu, but the truth is the portions are big enough to share, so everything is actually a good deal. The top tier food cognoscenti-the bloggers, writers, chefs-have all been making a bee line for this place and spreading the word. It's a fun place-bring your big barkada and family, and eat well.
For me, apart from the grub, the best thing that it has done is to put Paco on the map once again, in its own little way. Here's to the future, then. Well done!
Rating: 3.5 out of 5 Spots •••

Share this story with your friends!
---
Help us make Spot.ph better!
Take the short survey
Load More Stories