Pacman's Bible verse brouhaha, the Derek-Angelica break-up + more lowlights
Plus, Dionisia Pacquiao parties hard, the Tulfo vs. Raymart & Claudine saga, and more nutty tales.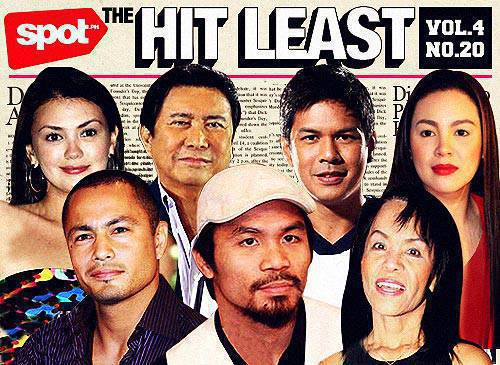 1. HARVEY KEH, LEAD CONVENOR OF OF KAYA NATIN!, GETS SLAMMED BY SEN. MIRIAM SANTIAGO FOR SUBMITTING DOCUMENTS OBTAINED FROM AN ANONYMOUS SOURCE AS EVIDENCE IN THE CORONA IMPEACHMENT TRIAL. It's like going to battle using a gun loaded with bubbles.
2. THE MMDA PLANS TO BE MORE STRICT ABOUT ENFORCING THE RULES AGAINST JAYWALKING. We thought the "Walang tawiran. Nakakamatay." sign would work-but apparently it takes more than a death threat to take down the metro's hardcore jaywalkers. (Good luck, MMDA!)
ADVERTISEMENT - CONTINUE READING BELOW
CONTINUE READING BELOW
Recommended Videos
3. THE DEPARTMENT OF EDUCATION LAUNCHES THE "SEARCH FOR THE HAPPIEST PINOY" CONTEST. We can tell you who won't win this contest: Parents who have to deal with the new K+12 program.
4. SENATOR GRINGO HONASAN WANTS TO STRIKE OUT THE 5'4" HEIGHT REQUIREMENT FOR PNP CANDIDATES. Sure, but could you raise the EQ requirement while you're at it?
Load More Stories