Every Breath U Take: I'll Be Watching You
Despite herself, our SPOT.ph blogger is really, really rooting for Piolo Pascual.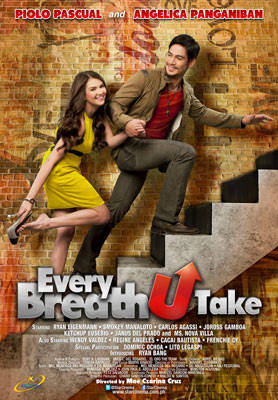 I vaguely remember meeting Piolo Pascual at a photo shoot years ago when I was working as editorial assistant for a glossy women's magazine (Happy 15th Anniversary Cosmo Philippines!) It was a meet-cute unworthy of even recounting here. Nevertheless, I've followed his career. And I find myself rooting for Piolo Pascual.
***
Dear Piolo,
They can say what they want about you, I don't care. I think you're the only Leading Man out there who is also a real star. There's just something star-like about you-the glint of the light in your eye, your perfect Christopher de Leon-esque delivery, your beautiful crying. You are enough of a character to just be yourself on screen, dreamy like Rock Hudson to Juday's Doris Day.

Dear Piolo, I want to hold your hand and watch butterflies in the afternoon with you.

In Every Breath U Take-an action rom com with a very convoluted and sloppy plot, stacked with unfunny supporting characters and dismal attempts at screwball situation comedy-you, Piolo, are the only promise of true escape from ugly reality. Your face on the screen is the only thing we want to see. Honestly, the only funny parts in this movie are mostly the work of your luscious co-star, the newly single Angelica Panganiban. She is the perfect foil for you because she's both truly hot and funny, you are the debonair dreamboat to her giddy nymphet. That girl has real comedic timing and years of experience to back up her acting chops. I adore Ms. Panganiban and I believe that Every Breath is really Angelica's movie and you're the trophy male, the beefcake, which only means they lit you nicely and showed off your abs to perfection. But I watched this movie for you.
ADVERTISEMENT - CONTINUE READING BELOW

(Well, for Angelica too. She's so awesome.)

I think you will find your matinee idol image unaltered in the hearts of your fans. This is why I'm sure this movie will make a ton of money at the box office. Why deviate from a formula that works: heavy marketing and promotion plus sheer star power, a pop song title, a clever trailer (even better, I dare say, than the actual movie itself), and a Big Star. That's you, of course, Piolo Pascual with your shiny hair and tight shirts, bright white teeth and soulful eyes.
CONTINUE READING BELOW
Recommended Videos

The romantic comedy is truly your natural habitat as an actor because you're required to be dashing and romantic and not much else. Honestly, I would love to see you in more unconventional projects. Show off your acting muscle instead of your wonderfully solid biceps.
Dear Piolo, please come up with more movies like Kimmy Dora and Manila. You have the clout to make your own content. You don't have to keep making these fluffy movies that glorify your superstar status and pretty boy image but not much else. We already know you're all that and a bag of chips, but I want to see you in unexpected roles like the ones in Cesar Hernando short Kagat ng Dilim or even Mel Chionglo's Lagarista, which I actually really liked. Now that you're in your mid-thirties and after paying your dues in show biz, you can do what you want. Dear Piolo, surprise us. Delight us. Give us a performance that will give a glimpse of the real you.
ADVERTISEMENT - CONTINUE READING BELOW
Share this story with your friends!
---
Help us make Spot.ph better!
Take the short survey
Load More Stories