BEST IN SHOW: The NKOTBSB Concert Highlights
Two boybands, two decades...one concert. We recap the best moments.
(SPOT.ph) On June 3, loyal fans of the New Kids on the Block (NKOTB) and Backstreet Boys (BSB) trekked to the Mall of Asia Arena to see the objects of their teenage dreams come to life. Performing together in Asia for the last time, the nine men gave their all as they collectively sang 32 of their most popular hits accompanied by a spectacle of lights and sounds. From best to most best, these were the night's greatest moments.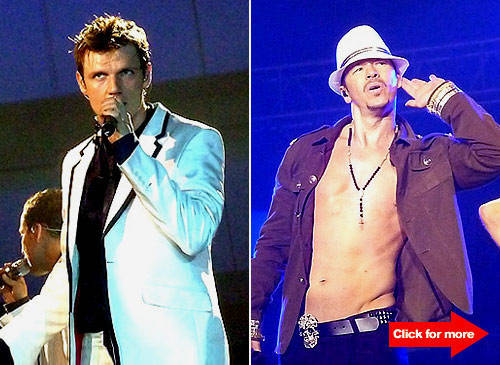 NKOTB + BSB + You = a grand old time. Click for more.
10. The Opener
NKOTBSB opened the show to an interesting mash up of their tunes "Single" (NKOTB) and "The One" (BSB) interlaced with the string melody from Coldplay's "Viva La Vida". Since the song was slow and steady, we were all given the chance to ogle... er, appreciate how fine the men looked in their sleek yet tough all-black ensembles.
ADVERTISEMENT - CONTINUE READING BELOW
9. Joey Works It
The crowd went wild for NKOTB's youngest member, Joey McIntyre (still looking mighty fine at 39!), when he began singing the first few lines of his sweet ballad "Please Don't Go Girl" in a cappella. We couldn't help singing along and pleading the boys (through song) not to leave us.
8. Maike + Nick
Not to be outdone, the Backstreet Boys searched for four lucky ladies to be serenaded onstage. A true-blue BSB fan girl made a "Pick me!" sign for Howie Dorough, so it was no surprise when Howie chose her. Model Maike Evers earned the ire of some Nick Carter fans when the singer showered her with too much attention as they sang "I'll Never Break Your Heart". He touched her nose, played with her hair, and even put his head on her lap. Flirty much?
CONTINUE READING BELOW
Recommended Videos
7. Call Nick Maybe?
Speaking of Nick, it was hilarious to see him flapping his arms around and acting like a girl while mouthing the lyrics to Carly Rae Jepsen's "Call Me Maybe". At times, his energy was over the top, but the crowd absolutely loved it and screamed for more.
6. The Dark Knight
NKOTB's lead singer Jordan Knight proved to everyone that he still has "the right stuff" by doing his exact solo dance routine from the "Step by Step" music video and singing his falsetto parts in "I'll Be Loving You Forever" flawlessly. It's no surprise that his name became a top trending topic in the Philippines minutes after the concert wrapped up.
ADVERTISEMENT - CONTINUE READING BELOW

The boys rehearse for their concert series in this video.
5. Sharing the Spotlight
We loved the T-shaped stage which allowed the guys to move freely around the venue and effectively get closer to the fans. The Backstreet Boys even performed "All I Have to Give" at the edge of the catwalk and played musical chairs of sorts as they took turns moving to the center and taking the lead.
4. Donnie Wow-hlberg
We literally screamed our heads off when New Kids' resident bad boy and rapper Donnie Wahlberg ripped his shirt off to expose his well-defined abs. He must be getting effective workout tips from his younger brother, actor Mark Wahlberg, whose physique is equally impeccable.
3. Paging the Fans
NKOTB surprised audiences when they headed out to various sections of the arena to sing "Tonight" alongside their fans. BSB followed the lead and crooned "Shape of My Heart" from the back of the concert site, slowly working their way up the stage.
2. The Boys Are Back
It was endearing to see that these men were still kids at heart. At one point, BSB's Brian Littrell jumped as high as he could in an effort to shake hands with the people from the lower box area, while A.J. McLean poked fun at himself by ripping off his pants to reveal leopard-printed leggings. (In the encore, Joey pretended to be A.J. by wearing the same getup!)
1. Awesome Ensemble
The concert ended on a high note when NKOTBSB stepped back onstage wearing blue jackets (with the word Philippines emblazoned at the back) and performed an encore consisting of the tunes "Backstreet's Back," "Hanging Tough," Queen's "We Will Rock You," and "Everybody." White confetti rained down on the boys as they jumped around in a circle and gave each other bear hugs to officially mark the end of their joint Asian tour. The love between the two bands was just so palpable (as evidenced by their big smiles and thank you speeches to each other) that it won't be a surprise if they decide to team up again soon. Perhaps they can bring along Kevin Richardson in the next NKOTBSB tour?
ADVERTISEMENT - CONTINUE READING BELOW
Photos by Macy Alcaraz and Audrey Tiu
Share this story with your friends!
---
Help us make Spot.ph better!
Take the short survey
Load More Stories