Kimmy Dora and the Temple of Kiyeme: I Love Pa-Kiyeme
Did this sequel live up to expectations?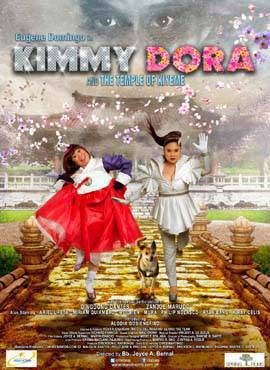 I simply can't decide which of the Go Dong Hae twins I like more.

Kimmy (Eugene Domingo), the older one, is a royal bitch. But what's a girl with brains, balls, and billions to do but step on other people? She's the only one in this town who can shove celebrity photographer Raymund Isaac on the red carpet, throw her poor executive assistant Gertrude (Miriam Quiambao) out of the lunar gray Jaguar after a minor fuckup, and run the family empire while dating a hunky farmer Barry (Zanjoe Marudo) at the same time-and get away with it. She's fabulous and she knows it. Juan Sarte does her makeup, Jing Monis does her hair, and Paul Cabral dresses her. And who else has the fashion sense to match her purple and magenta outfit with the decorations for her own event? Who else can fire a hundred people on the spot when she's upset? I've always regarded Kimmy G. with equal parts inggit and admiration.

But I also have a very special spot for Dora, the more low-key twin, the younger sister. Despite her arrested development Dora Go Dong Hae is really coming into her own, stepping out of her overbearing ate's shadow.  She's dating the preppy hottie Johnson (Dingdong Dantes) and been appointed head of the decorating committee for the Go Dong Hae parties. She's nice to her yaya, has a small pink car, and loves her dog, carbs, shopping. She sounds just like the kind of girl I would like to hang out with.

In their latest adventure Kimmy Dora and the Temple of Kiyeme (written by Chris Martinez and directed by Bb. Joyce Bernal) the Go Dong Hae twins are haunted by an aswang-like spectre hovering over their Dasma mansion one night. Kimmy wears a floor length powder-blue satin negligee with a very long train to bed; Dora, a baby pink onesie complete with hoodie and ears. The ghost (who looks a bit like Erich Gonzales from the recent aswang movie Corazon) is pale, skinny and shrewish in a tattered dress and teased hair. It screeches and only Kimmy can hear her and as she flies through the night sky only Dora can see her. The spectre makes her way into the bedroom of their father Luisito (Ariel Ureta) and literally sucks the living daylights out of him. And that's just the cold open.
ADVERTISEMENT - CONTINUE READING BELOW

Behind the scenes of Kimmy Dora
This sequel is a fun ride and I, for one, am glad to see the Go Dong Hae twins back in full force. Kimmy and Dora are so chica. They stand by their men. They join forces with their dead mother Charito (also played by Eugene Domingo) to banish the Korean aswang (Aloida Gosiengfiao, who is like a hot Lilia Cuntapay).

Thank goodness Eugene Domingo is very consistent in everything she does. Some people might think she's overrated but I think she's awesome, especially when she's doing material written for her by Chris Martinez. Their last collaboration was Ang Babae sa Septic Tank, a satire on indie filmmaking which was written by Chris and directed by Marlon Rivera. In it, Eugene essentially plays herself, poking fun at diva-hood and showbiz and poverty porn-and not once does she miss a beat, even when she's submerged in a septic tank. What is a trooper! Here's Eugene Domingo is at the Asian Film Awards in Hong Kong, funny as hell even when receiving an award onstage with Andy Lau. Winner!
CONTINUE READING BELOW
Recommended Videos

Eugene Domingo at the 6th Asian Film Awards
KD uses some of the old tricks (celebrity cameos and hilarious costumes) along with new ones that come with a larger budget like clever special effects and shooting in foreign locations. Good for Spring Films: I'm certain they made money on the first one and I'm just as sure they will make money on the sequel which is going to rake in even more, thanks to the massive marketing machinery of co-producer Star Cinema. Well, why shouldn't everyone win in the end? It's a rare thing, but possible after all.
ADVERTISEMENT - CONTINUE READING BELOW
Share this story with your friends!
---
Help us make Spot.ph better!
Take the short survey
Load More Stories