Philip Salvador vs. Daniel Fernando, Mon Tulfo's legal revenge + more lowlights
Plus, Manny Pacquiao's new chopper, James Yap's love life, and more nutty tales.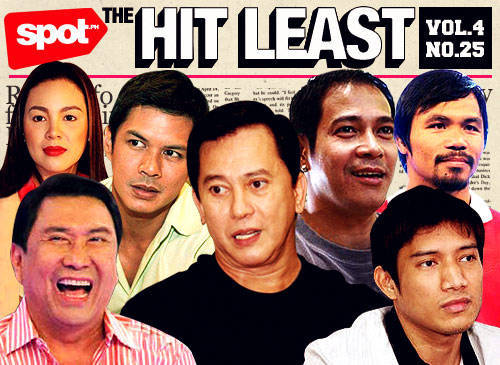 1. STILL SMARTING FROM THE CONTROVERSIAL DECISION IN HIS FIGHT AGAINST TIM BRADLEY, MANNY PACQUIAO BUYS A HELICOPTER. Nothing like splurging to make some of the pain go away.
2. THERE AREN'T ENOUGH CLASSROOMS IN PANGASINAN'S PUBLIC SCHOOLS. They don't need the "K+12 Program," they need the "K+Classrooms Program.
ADVERTISEMENT - CONTINUE READING BELOW
3. IN A TRAFFIC ALTERCATION IN QUEZON CITY, A VAN DRIVER SHOOTS A TRICYCLE DRIVER, AS WELL AS THE TRICYCLE'S PASSENGER-A 12-YEAR-OLD BOY. If the pollution doesn't kill you, some idiot who's caught in an action film inside his head will do it. (Thank God, the tricycle driver and the boy survived.)
4. TWO POLICEMEN ALLEGEDLY USE STREET KIDS TO STEAL FOR THEM. Are we having fun yet?
5. WHITENING PRODUCTS THAT ARE ALLEGEDLY FROM CHINA HAVE HIGH MERCURY CONTENT. They ban our bananas and yet we love their (allegedly) dangerous beauty products.
Recommended Videos
Load More Stories