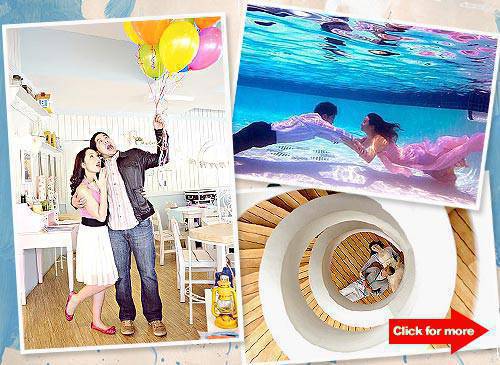 Planning your photoshoot has never been this easy. Click for more.
(SPOT.ph) The wedding is perhaps the most important day of your life as a couple, but it's still only one day in your relationship. Recount your memories and show it off to your guests through a series of photos that best encapsulates your romance.
Prenups have traveled leaps and bounds from simply standing and posing at a studio to taking cheesy portraits on your family porch. On-location prenup shoots are the latest trend in wedding photography.  While some couples pack up to scenic beaches and gardens hours away, we say: Save the gas money and out-of-town fees! The city has a wealth of gorgeous spots that scream "photogenic."
We want to help alleviate your prenuptial stress so, as a gift to our betrothed readers, we did the legwork for you. We suggest 12 favorite prenup themes and where to shoot them in Manila. Telephone numbers, contact persons, e-mail addresses, and even prices (and potential photographers!)-we have them all. From rustic chic to zombie themed, Alabang to Quezon City, you'll definitely fall in love over again in these locations.
ARTSY 
Nothing speaks of sophistication more than being surrounded by beautiful artwork. These couples bond over Van Gogh, Rembrandt, and Cezanne; their honeymoon is already set to Paris where they'll visit, what else, The Louvre. Roll chic-ness, elegance, and ingenuity all in one in an artsy shoot.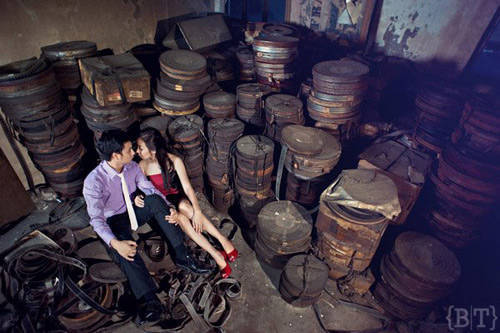 ARTSY Ang Pambansang Museo ng Pelikula 
Opt for kitschy and celebrate the art of filmmaking in this museum. 
Mowelfund Plaza, 66 Rosario Drive, Cubao, Quezon City 
Contact Nos.: 727-1915, 410-4545, 0916-984-5255 (look for Mr. Edwin Joaquin)
E-mail: mfi@yahoo.com or edjoaquin@hotmail.com 
Prenup Price: P4,000 for four hours with P500 for every excessive hour and another P500 for the caretaker fee. Additional fees may also be charged. 
Photo by Benjie Tiongco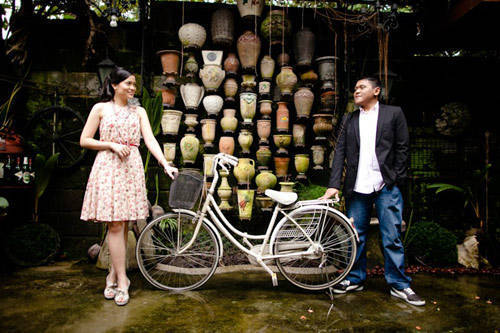 ARTSY The Heirloom Manila 
Go for Old World glam in this art deco-styled locale. The Heirloom has that well-worn feel that's both on the vintage and artful side. 
Diliman, Quezon City 
Contact Nos.: 0916-724-7542, 0933-614-2766, 928-6093 (look for Ms. Paz)
E-mail: theheirloomphilippines@gmail.com 
Price available upon request. 
Photo by Really Awesome Weddings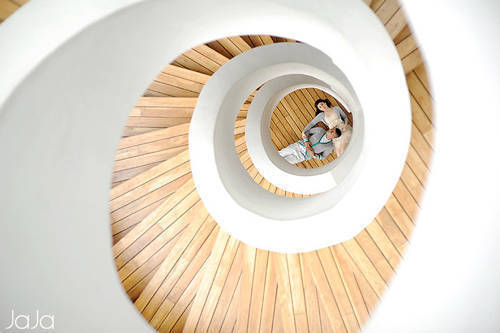 ARTSY Ronac Art Center 
The minimalist-modern interior speaks for itself. We can hardly believe the Japanese-styled architecture was inspired by a mattress. 
Ortigas Avenue, Greenhills, San Juan, Manila 
E-mail: ronacartcenterinfo@gmail.com 
Prenup Price: P1,000 per hour 
Photo by Jaja Samaniego
FAIRYTALE 
Fairytale themes have become default for most romantic brides. But after years of dreaming and imagining, reality might fall short of their expectations, especially when geography's not exactly at their favor. So, we scoped out three scenic locations-which we think can live up to that vision-that are so gorgeous, we were hard-pressed to believe they're smack in the middle of the city.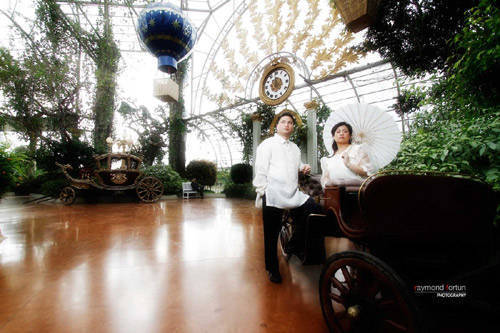 FAIRYTALE Fernbrook Gardens 
Emulate Aladdin-like decadence in this majestic palace. 
Portofino South, Daang Reyna, Las Pinas, Manila
Contact Nos.: 710-8545, 710-8608, 0917-564-3159 
Prenup Price: P14,000 for five hours inclusive of VAT and a free bridal room for costume changes. 
Photo by Raymond Fortun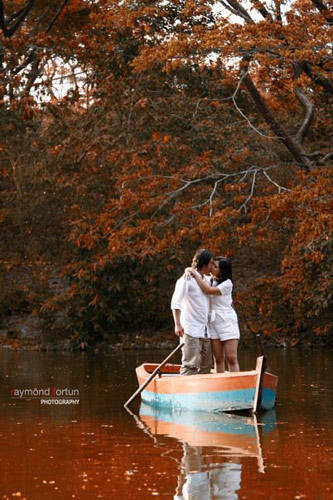 FAIRYTALE La Mesa Eco Park 
With its lush greenery, forest, and lake, you can easily channel your inner Disney princess. 
La Mesa Dam Compound, Greater Lagro, Quezon City
Contact Nos.: 430-5207, 430-4051, 0915-780-2445 (look for Mr. Randy P. Castro)
E-mail: randy.castro@abs-cbn.com 
Prenup Price: Just the P20-P40 entrance fee. Additional rates may apply, however, for some amenities like the pool, pavilion, etc. Also, print out a letter addressed to the park administration (to be given on the day of the shoot) stating that none of the photos will be used for commercial purposes. 
Photo by Raymond Fortun
FAIRYTALE Ninoy Aquino Parks Wildlife Center 
It's Manila's own version of fairyland complete with fluttering butterflies. 
Diliman, Quezon City
Contact Nos.: 924-6031 to 35; Fax 924-0109 
Email: planning@pawb.gov.ph 
Prenup Price: Just the P8 entrance fee for adults (with parking fee of P25) 
Photo by Raymond Fortun
BEACH (in Manila!) 
Okay, so Manila can't compete with surf, sea, and sand. But it does have places that offer the same soothing, sort of tropical ambience.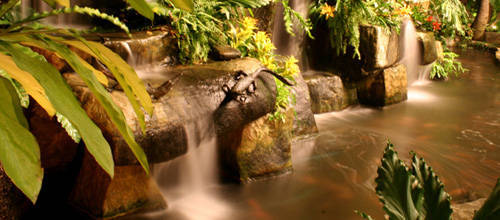 BEACH (in Manila!) Gazebo Royale 
This venue exudes a rustic yet serene charm.
Rona's Garden Compound, 29 Visayas Avenue Extension, Quezon City 
Contact No: 920-6503 
E-mail: info@gazeboroyale.com 
Prenup Price: Booked clients are given a complimentary two-hour shoot. For non-clients, P5,000 will be charged for two hours, and P1,000 for every extra hour. 
Photo by Lorenzo Gallery from the Gazebo Royale website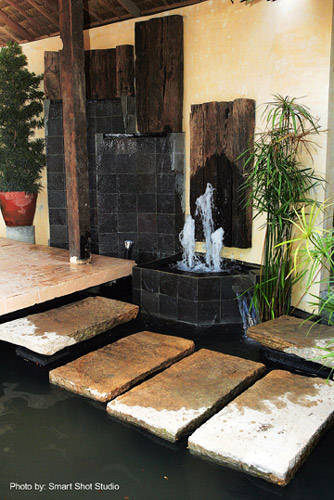 BEACH (in Manila!) The Grand Terrace 
This Balinese-style space complete with palm trees will soothe the city stress away. 
5 Villanueva Drive corner Commonwealth Avenue, Quezon City 
Contact Nos.: 937-1037, 932-7408, 932-7409, 461-6182; Fax 037-4980 
E-mail info@grandterrace.com 
Price available upon request. The Grand Terrace prioritizes couples booked in the facility for weddings or receptions. 
Photo by Smart Shot Studio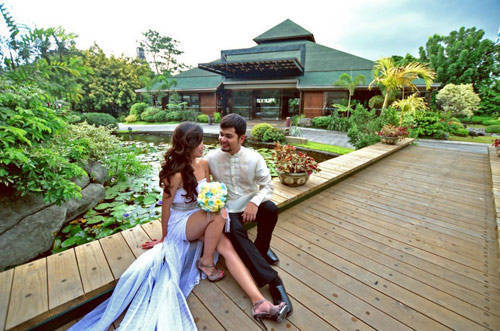 BEACH (in Manila!) Oasis Manila (The Pavilion) 
Enjoy the zen-like view of this paradise. 
169 Aurora Boulevard, San Juan, Metro Manila 
Contact Nos.: 721-4585, 724-5016 
E-mail: info@oasismanila.com 
Prenup Price: Free for clients booked in Oasis Manila 
Photo by Nice Print Photography
HIPSTER 
Here, personal style is key. Nothing generic, nothing overused, and especially nothing conventional. These venues leave room for the couple's unending ingenuity, quirks, and their closet of skinny trousers.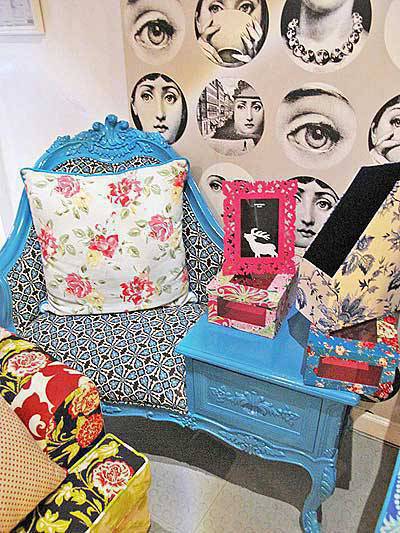 HIPSTER Heima Store 
Be cute and quirky in Heima Shop 33.
Cubao Expo, General Romulo Avenue, Araneta Center, Quezon City  Contact Nos.: 0917-810-HEIM, 377-45-27 (look for Ms. Joana Jotojot) 
Suite 229 LRI Design Plaza, 210 N. Garcia Street, Bel-Air II, Makati City  Contact Nos.: 798-0027, 0915-638-5572 (look for Ms. Joana Jotojot) 
E-mail: inquire@heimastore.com 
Prenup Price: Package A consists of P2,000 per hour for a minimum of two hours on weekdays; P3,000 on Saturdays. Maximum of six people only. An additional P500 for use of electricity outlets. Cash payments only. Click the link for more packages and rates.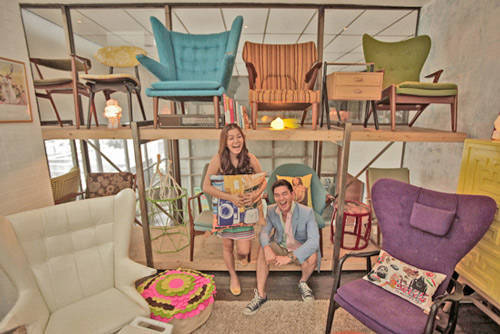 HIPSTER Space Encounters 
Let your creativity run wild in this diverse space. 
Unit B Mezzanine, Padilla Building, F. Ortigas Jr. Road, Ortigas Center, Pasig 
Contact Nos.: 910-8031, 0917-795-6739 (look for Mr. Bong Jailani) 
E-mail: info@spaceencounters.net or bong.spacenc@gmail.com 
Prenup Price: P2,000 per hour with a maximum of 7 persons including photographer with 4 hours minimum usage of electricity. A 50% downpayment is needed to make a reservation. (venue remains open to the public) 
Photo by MangoRed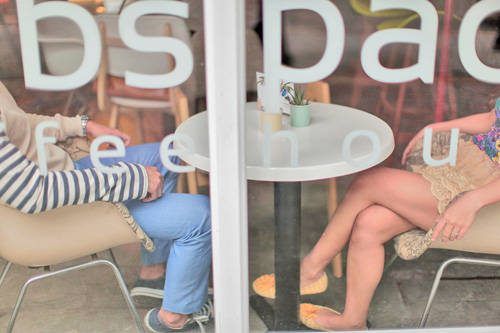 HIPSTER Subspace Coffee House 
Show off your sense of fun at Space Encounters. 
Ground Floor, Grand Emerald Tower, F. Ortigas Jr. Road, Ortigas Center, Pasig
Contact No.: 655-7077
E-mail subspacecoffee@gmail.com 
Prenup Price: P1,000 per hour if shoot requires the store to be closed. 
Photo by MangoRed
EERIE 
Not so much for tradition? In the mood for a little fun? After the Left 4 Dead, Walking Dead, and PvZ craze, zombie-themed prenups are all the rage lately. Our sample photos may not show it, but with the right styling, these haunts will add haute eeriness to your wedding.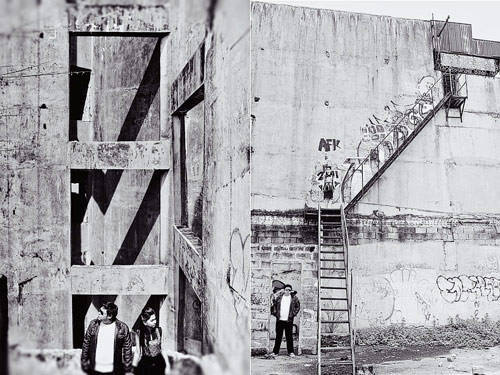 EERIE Abandoned structure across the Betty Go Belmonte LRT station and along Aurora Boulevard 
Push for grunge in this "deconstructed" edifice. Just drop by, but be careful. 
Photo by Chestknot Studios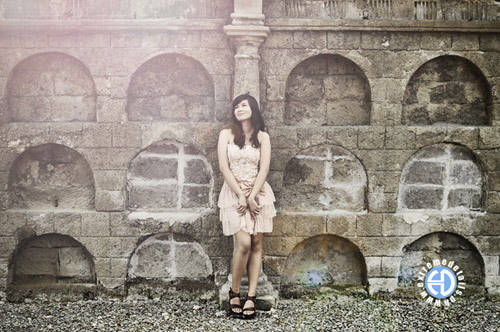 EERIE Paco Park, Manila 
Kamikazee frontman Jay Contreras wed his wife Sarah Abad in a goth-inspired black wedding at Paco Park. Get their look! 
959 San Marcelino Street, Paco, Manila 
Contact Nos.: 480-7062, 302-7374 (Look for Ms. Cathy Guadalupe) 
E-mail pacopark@nationalparks.ph 
Price available upon request (depending on duration and concept). Send a letter addressed to Ms. Juliet H. Villegas, Executive Director of the National Parks Development Committee, indicating intent and shoot details. 
Photo by Edu Cortez and Mherl Angelie of Extreme Details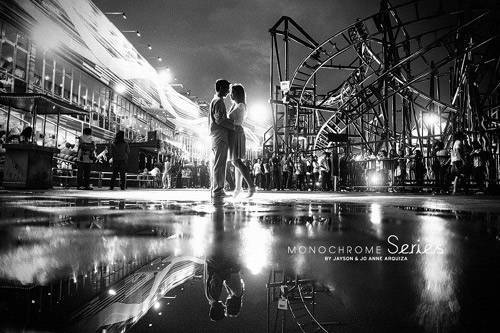 EERIE Star City 
What is it about carnivals and amusement parks that make them a favorite zombie attack destination (case in point: Zombieland, Dark Carnival) 
Sotto corner Jalandoni Streets, CCP Complex, Roxas Boulevard, Pasay City
Contact Nos.: 832-3249, 833-4484, 555-3495 to 96 (Sales and Marketing Department)
Price available upon request. Prenup shoot is subject to approval by the administration. Fax a letter to 833-4484. 
Photo by Jayson Arquiza
COSMOPOLITAN 
Symbolisms are always fun. Let these photos mark the start of your journey together, wandering through the map of life, and experiencing new adventures. Pretty deep stuff may lead to pretty awesome photographs.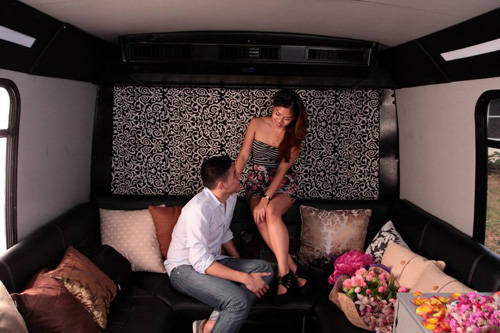 COSMOPOLITAN The Black Fleet 
Journey through life in style. 
Contact No.: 0949-499-1919
E-mail: reservation@theblackfleet.com.ph; visit www.theblackfleet.com.ph 
Price available upon request (depending on distance). The Black Fleet is also available for weddings and events. 
Photo from The Black Fleet's Facebook page.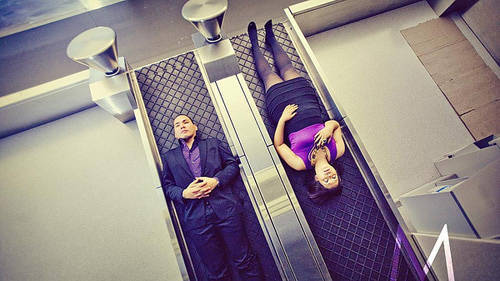 COSMOPOLITAN NAIA 3 
Start coursing through your new journey together aptly in our national airport. 
Bordered between Pasay and Parañaque
Contact Nos.: 854-0015; 877-1109 (local 3103) (look for Ms. Jenny Kay Franco or Ms. Ayra Noveno) 
E-mail; miaa_media_naia@yahoo.com. 
Price available upon request. 
Photoshoots are subject to approval by the Media Affairs Division. Submit a letter of intent as well as a list of equipment and participants addressed to Ms. Ma. Consuelo Bungag, media affairs manager two weeks before date of shoot. 
Photo by Oly Ruiz. 
For more on this prenup, visit Bridalbook.ph.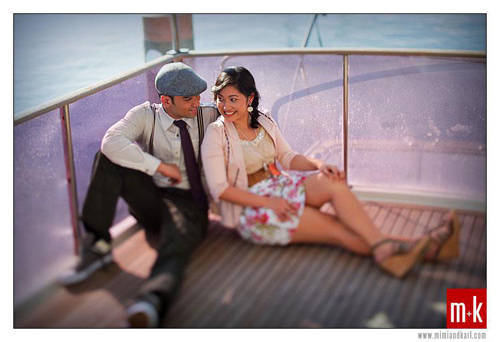 COSMOPOLITAN Yacht (commissioned by Realship Corp.) 
Try understated elegance with a posh nautical motif. Realship Corporation
CCP Complex Bay Terminal Building B., Roxas Boulevard, Pasay, Manila 
Contact Nos.: 832-5424, 211-0946 
E-mail: info@realshipcorp.com 
Prenup Price: P6,000 (Mondays to Thursdays) and P8,500 on (Fridays to Saturdays, holidays) for three hours (docked) without electricity and maximum of eight people only. All cameras should be battery operated. 
Photo by Mimi + Karl
HISTORICAL 
Make your prenup double as a sightseeing tour. History buffs will have a kick posing with some of the country's most monumental structures and places.  These war-torn sights add a nice rustic, even romantic charm to the photographs, as well.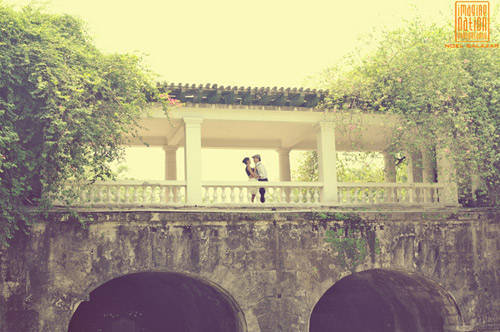 HISTORICAL Intramuros 
There's nothing more picturesque than Old Manila. Choose from Casa Manila, Plaza Moriones, Fort Santiago, Baluarte de Dialo, Baluarte de San Andres, Baluarte de San Diego, Jardin de Padre Blanco, Puerto Real Gardens. Here are just some things to take note of when booking a shoot on this historic ground. 
Send a letter of request to Mr. Jose Capistrano Jr., Intramuros Administrator, and deliver it to the 5th floor, Palacio del Gobernador corner General Luna and Aduana Streets, Intramuros, Manila. Make sure to spell out your intent and preferred three locations around the area. 
You and your fiancé/fiancée should sign the request, confirming that the photos are not to be used for commercial purposes. (Commercial shoots demand a different type of permit and a fee of P12,000.)
The request may take two to three working days to process. Once approved, a fee of P2,000+ must be given in cash or check. Shoots are allowed from 8 a.m. to 12 p.m., Mondays to Saturdays only. Moreover, some locations require additional fees. 
Photo by Noel Salazar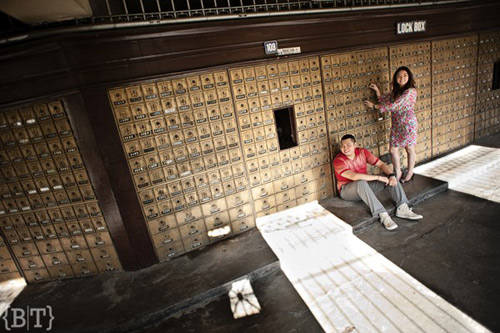 HISTORICAL Manila Post Office 
An architectural masterpiece, this scenic Greco-Roman structure is a favorite among couples. 
Liwasang Bonifacio, Manila
Contact No.: 527-0067 
E-mail: info@philpost.gov.ph 
Just drop by-only make sure you don't disrupt day-to-day operations. 
Photo by Benjie Tiongco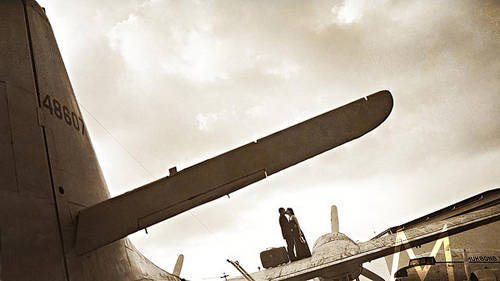 HISTORICAL VillamorAir Base (AFP Museum) 
Whip out your aviators and be cosmopolitan and vintage at the Villamor Air Base Villamor Air Base, Pasay City 
Contact Nos. 853-5023 (local 6629 or 6529) 
E-mail: pio@paf.mil.ph Price upon request. 
Photoshoots are subject to approval. Fax a letter of request to Col. Miguel Ernesto G. Okol, PAF (GSC) indicating intent and shoot details. 
Photo by Oly Ruiz
STREET CHIC 
Nothing too overwrought, nothing too glamorized. Just simple and organic. This type of couple believes their love needs no frills. They only want to preserve their sweet, candid, casual moments together-albeit in a stylized fashion.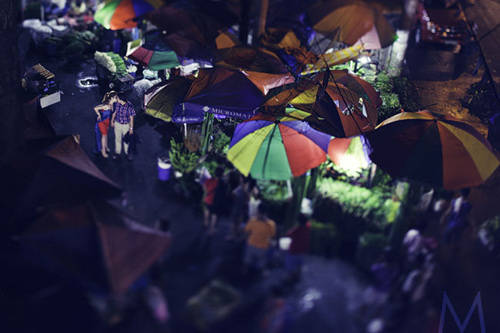 STREET CHIC Dangwa Flower Market 
Picture this: A man and a woman fall in love amid the billions of people in the planet. Now isn't that what love stories are made of? Encapsulate this ideal in a photoshoot where the two of you "find" each other in a busy crowd. 
Dos Castillas and Laong-Laan Streets, Sampaloc Manila
Prenup Price: Just a brazen face and the courage to shoot with strangers watching. 
You might also want to source your wedding blooms here just to save a trip. 
Photo by Oly Ruiz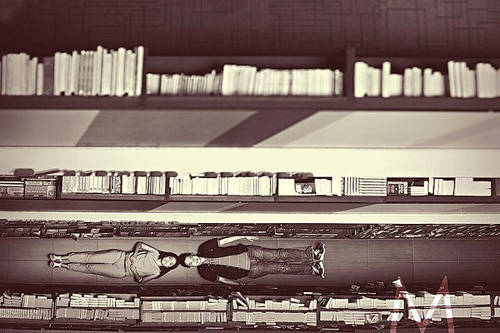 STREET CHIC Fully Booked (Bonifacio High Street branch) 
Let your romance be inspired by your literary heroes. 
B6 902 Bonifacio High Street Global City, 1634 Taguig 
Contact No.: 858-7002 (look for Ms. Loraine Sanchez) 
E-mail: lorainesanchez@fullybookedonline.com 
Prenup Price: P2,000 per hour. Submit a list of people attending and equipment to be used. Shoot must be scheduled before opening hours. 
Photo by Oly Ruiz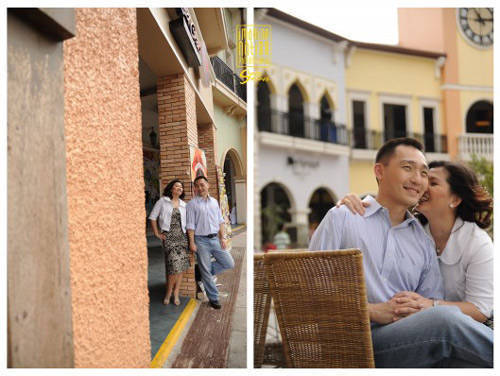 STREET CHIC The Piazza at Venice 
Step inside Venice-Pinoy style-and capture Italian amore in this idyllic plaza. 
McKinley Hill, Taguig City 
Contact No.: 709-1111 local 159 (look for Ms. Camilla Bontogon) 
E-mail: camilla@megaworld-commercial.com 
Prenup Price: P4,000 (7 a.m. to 12 p.m.), P5,000 (12 p.m. to 8 p.m.), P7,000 (whole day). 
Photo by Shyla Sanchez for Imagine Nation
VINTAGE RETRO 
Vintage themes are a favorite because they can be sophisticated yet totally offhand. Plus, there's tons of room for personality.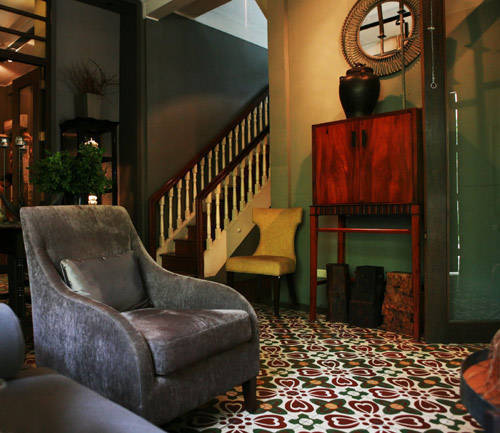 A-11 Showroom Gallery 
A-11's elegant vibe may channel hot '20s glam, but its vintage furniture keeps it modest and homey. It can easily pass as a warm 1950s American home. 
2680 F.B. Harrison Street, Pasay City 1300 
Contact No.: 832-9972; Fax 832-9489 (look for Ms. Jane Ilao Respicio) 
Prenup Price: P12,500 for five hours with an additional P2,500 for every excessive hour 
Photo from AlwaysSaturday.com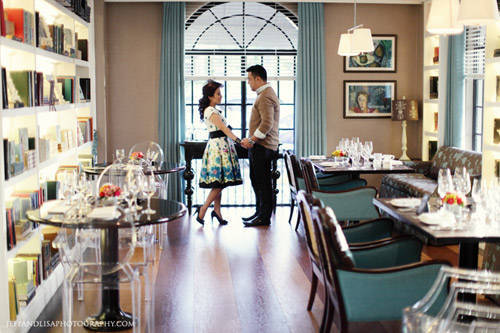 VINTAGE RETRO Café 1771 
Add a poodle skirt, tease your hair, and you'll be zoomed to Stepford in a flash. 
El Pueblo Real De Manila, ADB corner J. Vargas Avenue, Ortigas Center, Pasig City 
Contact Nos.: 631-7339, 0917-866-0442 
E-mail: cafe1771@yahoo.com 
Prenup Price: P10,000 which includes use of a private room, access to shoot from 3 p.m. to 6 p.m. at Cafe 1771, Winebar, and Sidebar, a special set meal for three to six people, and a bottle of wine. 
Photo by Jeff and Lisa Photography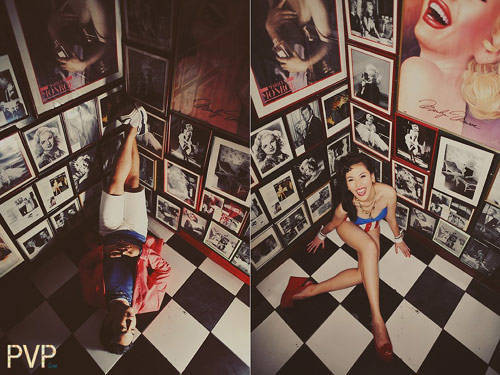 VINTAGE RETRO The Filling Station 
A snazzy shoot in this '50s-style diner will surely set a groovy mood. 
Burgos Street, Makati City 
Contact No.: 897-2053 
Prenup Price: P5,000 consumable for food and drinks and an additional P1,000 for miscellaneous fees 
Photo by Paul Vincent
SWEET AND RUSTIC 
Go for the old-fashioned approach. Warm and casual never fails to highlight romance and at a very sweet and organic level at that. When opting for quaint and charming, all you really need is love to make your photos shine.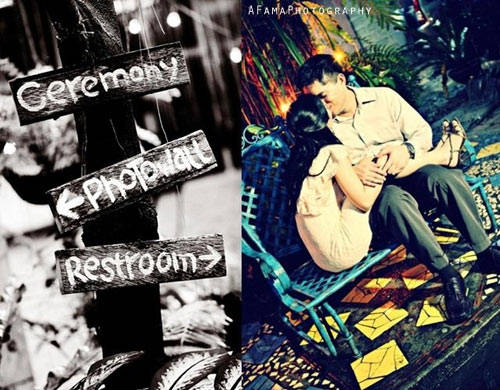 SWEET AND RUSTIC  Isabelo Garden Restaurant 
Country with a touch of quirk, Isabelo is a conventional garden setup with kitschy and peculiar décor made mostly of recycled scrap materials. 
11 Isabelo Mendoza St. San Roque, Marikina City 
Contact Nos.: 510-6914, 0908-740-1645 
Prenup Price: P5,000 (waived if wedding/reception is held at Isabelo) 
Photo by Afama Photography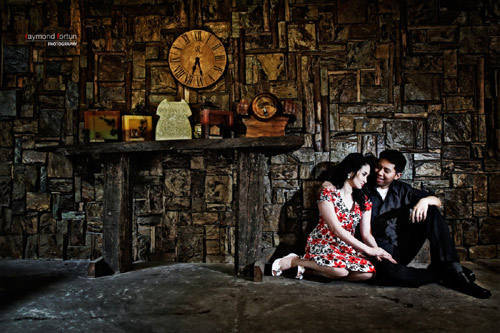 SWEET AND RUSTIC Pan de Amerikana (Marikina) 
Try being whimsical and rustic at the same time with Pan de Amerikana's bucolic setting and giant chessboard. Set a date (weekdays and non-holidays only), time (from 9 a.m. to 11 a.m. and 2 p.m. to 4 p.m.) in advance. No pets allowed, don't bring food from outside, hair and makeup must be done prior to the shoot.
92 General Ordoñez corner Maroon Streets, Marikina Heights, Marikina City 
Contact No. 475-2398 
Prenup Price: It's free so long as you eat there (minimum of P100 per head). 
Photo by Raymond Fortun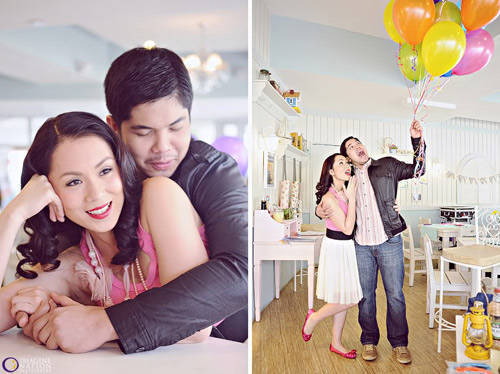 SWEET AND RUSTIC Stacy's 
Sugar and spice and everything nice. Your lovable personality will complement perfectly with Stacy's cute and cozy interiors. Make sure you get a shot of the pink refrigerator. 
Capitol Greenstreet Commercial Center, Capitol Hills Drive, Quezon City 
Contact Nos.: 0917-528-5978 (look for Ms. Gelique Castro) 
E-mail: abynachura@gmail.com 
Prenup Price: P3,000 per hour from Monday-Thursday; For exclusive use of the restaurant, it's P20,000 for three hours. 
Photo by Nicolai Melicor


VOGUE 
For some couples, the prenup is an opportunity to fulfill childhood modeling aspirations. Complete with a stylist, mood boards, edgy poses (and pouts), these types of shoots are styled a la fashion pictorial. While conceptually, an editorial can be taken anywhere, our suggestions will add dramatic flair to your stylish love story.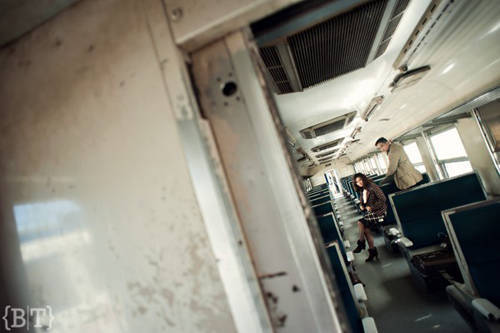 VOGUE PNR 
Remember Michael Cinco's epic "trash" shoot in America's Next Top Model? We're not about to ask you to celebrate your love in a dumpsite but why not go for chic contrast? Glam up at the fashionably mottled trains of PNR. 
PNR Executive Building, Mayhaligue Street, Tondo, Manila 
Contact Nos.: 319-0041 (local 117), 3190047; Fax 319-016 (look for Ms. Scarlet Sagmit) 
Prenup Price: P3,000 (three hours) with P1,000 for every excessive hour. Shoot are allowed on weekends only and a two-hour refundable cash bond is required upon photoshoot approval. Send a letter of intent addressed to Mr. Junio M. Ragragio, PNR General Manager. 
Photo by Benjie Tiongco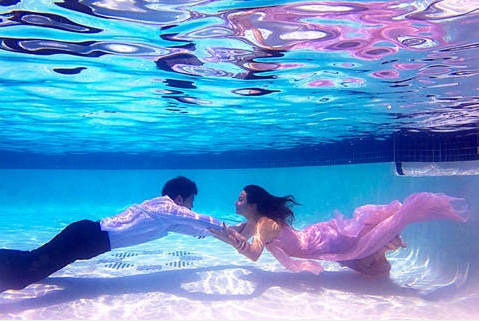 VOGUE Underwater 
Employ a dreamy atmosphere underwater. Besides, all you need is a dramatic dress and diving gear for your photographer. For less experienced divers, we suggest your friendly neighborhood swimming pool. Rent basic scuba gear (tank, regulator, Buoyancy Compensator) at Nautilus Dive and Sports Center 839 A. Arnaiz Avenue, Midland Mansion, Makati City 
Contact Nos.: 812-2848, 817-7293 
E-mail: nautilusphilippines@gmail.com 
Rental Fee: P300 to P600 per day 
Photo by Mark Cantalejo. 
For more on this prenup, visit Bridalbook.ph. Note: We recommend a photographer who's an experienced diver for safety reasons.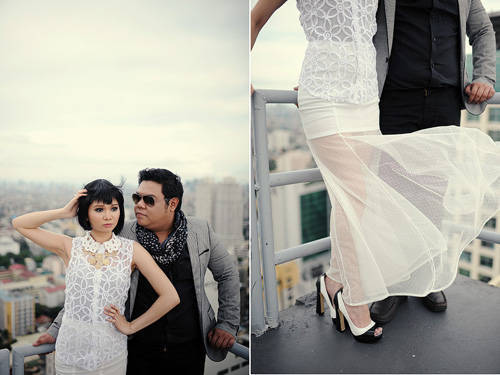 VOGUE Roof top (Hyatt Manila)
Conquer new heights together atop a tower. 
Hyatt Manila 1588 Pedro Gil corner M.H. Del Pilar, Manila 
Contact No.: 245-1234 
Prenup Price: P5,000 for guests not booked in Hyatt; P3,000 for  guests booked in Hyatt but without a reception; free for guests booked for a reception. Rooftops shoots require approval from management. 
Photo by Chestknots Studios


ALL-IN-ONE 
Can't decide what you want? Multiple themes in mind? These places can cater to practically any theme you can think of.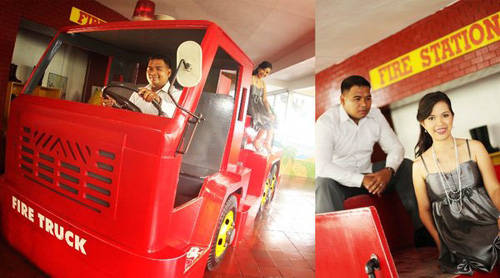 ALL-IN-ONE Museo Pambata 
A train? A kitchen? A ship? A castle? Experience childhood nostalgia and use the museum's fun and vibrant exhibits to provide varied backdrops. 
Museo Pambata Foundation, Inc., Roxas Boulevard corner South Drive, Manila 
Contact Nos.: 523-1797 to 98 (local 101 and 102), 536-0535, 0918-382-2212; Fax 522-1246 (look for Ms. Irene Dionisio or Yang Abrina from the Marketing Department) 
E-mail: info@museopambata.org 
Prenup Price: P1,000 for a maximum of four people only. Each extra person will be charged P100. An additional P300 will be charged for use of electricity. Prior notice should be sent for couples wanting to shoot in the outdoor area near the US Embassy (location of playground and Peace Helicopter) to allow time to notify the US Embassy Security. 
Photo by Pictratto. For more on this prenup, visit Bridalbook.ph.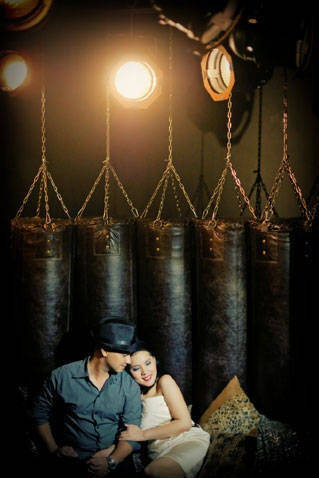 ALL-IN-ONE Salon de Ning 
Rev up the sophistication in this ritzy abode. Salon de Ning boasts of stylishness with an Oriental charm. Channel elegance at all forms in its Le Boxing Room, Shoe Room (complete with an exorbitant amount of footwear), Zeppelin Room, (designed with airships), and the Shanghai Room. 
Ground floor, The Peninsula Manila, corner Ayala and Makati Avenues, Makati City 
Contact No.: 887-8888 (ask to be connected to the Events and Marketing Department) 
E-mail: pmn@peninsula.com 
Complimentary for couples holding their wedding and/or reception at Penn. 
Photo by Francis Perez for Pat Dy Photography.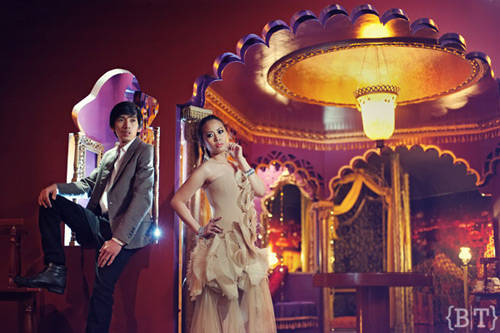 ALL-IN-ONE Victoria Court 
Aim for playful eclectic in Victoria Court's themed suites. Be Jean and Scott in Cerebro, groove as Austin Powers in the Austin Party Room, or "come what may" at the Moulin Rouge Lounge. You can also travel the "world" in their Niagara Falls, Oval Office, Cleopatra rooms. Victoria Court has 10 branches in Manila. 
Click here for the addresses and contact numbers. 
Prenup Price: Standard rates for VC's thematic rooms start at P8,105 
Photo by Benjie Tiongco
*Note: Some places may be used for alternative themes depending on the styling. For your wedding needs, visit Bridalbook.ph.
Share this story with your friends!
---
Help us make Spot.ph better!
Take the short survey
Load More Stories