SPOT.ph's Top 10 Pinoy Wedding Movies
Take a walk down the movie aisle with us.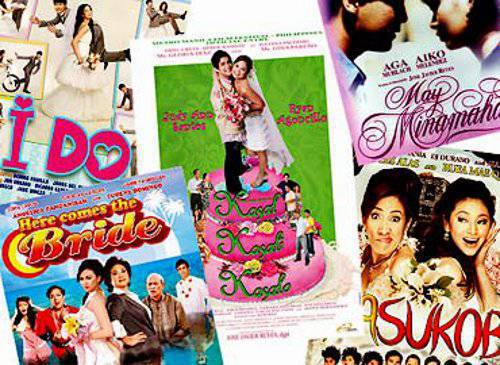 (SPOT.ph) To mark the month that's one of the most popular ones for weddings, we've listed some of the most interesting or infuriating Pinoy wedding movies. Mind you, getting hitched is a big deal in Philippine cinema. There was a time when a Pinoy movie seemed incomplete without a wedding scene. Here are 10 movies that may either convince you to tie the knot or make you decide to stay single for life.
10. TUM: MY PLEDGE OF LOVE (2011)

The couple: Ravaan (Robin Padilla) and Linda (Mariel Rodriguez)

The wedding: Before anything else, this story is set in India. Ravaan and Linda have to get hitched to fulfill the directives in the will of Ravaan's father. Once they get hitched, Ravaan will have full control of his father's fortune and Linda will have control over a school. The movie showcases an attempt to inject new Bollywood-inspired elements in a Pinoy movie. We appreciate the effort and we'd aprpeciate even more if we could understand where the heck the story was going. At least, the wedding scene was cool.
Lesson learned: Marrying for convenience is very, very easy when you're already attracted to the person you're commanded to marry. Otherwise, it's a sad fate.
9. BABY LOVE (1995)

The couple: Andie Palanca (Anna Larrucea) and Ira Martinez (Jason Salcedo)

The wedding: Remember when you threw pretend weddings in kindergarten? Well it's sort of like that-only in scenic Baguio and with a horse. But unlike preschool play where kissing is "yucky," this one ends with a sweet, conservative pre-teen smooch. Andie, 10, is distraught about her father wanting to move to New York to marry another woman. Ira, 12, on the other hand, feels he's slowly losing connection with his newly remarried mother. Andie and Ira soon discover that together, they can fill each other's emotional needs. But their young romance was met with disapproval and everyone knows the best way to earn parental support is to defiantly elope before you turn 13. Jobless. Naïve. And barely out of puberty. Outraged, Andie's father, Benny (Edu Manzano), beat the crap out of his 12-year-old "son-in-law." Baby Love is a sweet tale of young love, innocence, and possibly child abuse. But Ira, next time you propose, please make sure you can feed your wife (and the kid that might come along). Needless to say, the wedding ceremony in this movie is not legit.
ADVERTISEMENT - CONTINUE READING BELOW
Lesson learned: Ang batang malandi, sumasabit (A young person who is frisky, gets in trouble). But seriously folks, there's really no need to rush anything, especially love.
8. WEDDING TAYO, WEDDING HINDI (2011)
The couples: Maribel (Toni Gonzaga) and Oca (Zanjoe Marudo), the young couple; and Precy (Eugene Domingo) and Ben (Wendell Ramos), the "old" couple

The wedding: Maribel is a starry-eyed bride-to-be and her friend Precy is a disillusioned married woman. While the former is planning her wedding and latter is thinking about ending her 18-year marriage. In the end, both women have their happy endings. The nice-enough premise makes the somewhat predictable ending almost forgiveable. Almost.
CONTINUE READING BELOW
Recommended Videos
Lesson learned: It doesn't hurt to seek advice from tell-it-like-it-is married folks before you take the plunge yourself. It takes stamina to stay married.
7. MY KUYA'S WEDDING (2007)
The couple: Devoted big brother Jeff (Ryan Agoncillo) and pretty young thing Heidi (Pauleen Luna)

The wedding: Jeff and his sister Kat (Maja Salvador) are all alone the world, with their mom dead and their father out of the picture. Jeff has practically raised Kat. Soon, he goes overseas to work so he could provide for her and ensure that she gets a good college education. When it's time for her to graduate, he comes home and shocks her with the news that he's set to get married to his fellow OFW Heidi. Kat does everything to break up Jeff and Heidi. She fails.
Lesson learned: A sibling who doesn't like you is worse than an ex who refuses to go away. So, make sure you make an effort to befriend your partner's brothers and sisters. (Unless he or she hates them, of course.)
ADVERTISEMENT - CONTINUE READING BELOW
6. MAY MINAMAHAL (1993)
The couple: Nice guy Carlitos (Aga Muhlach) and streetsmart Monica (Aiko Melendez)

The wedding: Carlitos is the de facto breadwinner of his family (his mom and sisters) and Monica is the de facto mother figure of her family (her father and brothers). The movie fleshes out all the uncomfortable scenarios that could happen when you meet and try to get along with your future in laws. In the end, love conquers all. Unfortunately, it did not apply to the then real-life couple Aga and Aiko. One of the best performances in the film is Ronaldo Valdez's portrayal of Cenon, Monica's macho dad.
Lesson learned: If you don't like your future in laws, at least be civil to them. Like it or not, you're "marrying" them, too.
5. SHAKE, RATTLE, AND ROLL XI (2009): "UKAY-UKAY"
The couple: Fashion-forward Kayla (Ruffa Gutierrez) and yuppie Harold (Zoren Legazpi)

The wedding: While planning for her wedding, Kayla chances upon a "vintage" wedding dress in a secondhand shop. Soon after, the dress begins a murderous rampage, ultimately killing Kayla's couturier friend (John Lapus) but not before he could say, "Fashion designer ako, gown ka lang!" causing the frock to be more aggrieved. Apparently, the dress was originally owned by her father's vengeful-even-after-death ex-lover who resented him for  refusing to marry her.
Lesson(s) learned: First, ensure that your relatives and groom have no former lovers (living or dead) who want to exact revenge. Second, don't scrimp on your wedding dress. Besides, isn't there a rule you're never supposed to wear someone else's wedding gown?
ADVERTISEMENT - CONTINUE READING BELOW
4. I DO (2010)
The couple: Hopeless romantic Mayumi "Yumi" Punongbayan (Erich Gonzales) and not-yet-a-man Lance Tan (Enchong Dee)

The wedding: Yumi and Lance hook up. They have unprotected pre-marital sex and she gets knocked up. Despite their immaturity, they decide to get married. There's a problem: Lance is from a Chinese-Filipino clan who wants him to end up with a girl from a similar background. This causes Lance to chicken out on his wedding to Yumi. At some point, Yumi has the baby. Eventually, she and Lance get back together again. However, Lance chickens out several times and Yumi takes him back each time so they end up rescheduling the wedding over and over again. They put stickers on wedding invitations to keep up with the ever-changing date for the grand day.
Lesson learned: Safe sex or abstinence will save you from a whole lof trouble.
3. HERE COMES THE BRIDE (2010)
The couple: Stephanie (Angelica Panganiban/Eugene Domingo) and Harold (Tom Rodriguez)

The wedding: Stephanie, her (future) grandfather-in-law Lolo Bien (Jaime Fabregas), her beautician-ahem, Image Stylist (John Lapus), her ninang (Eugene Domingo), and the yaya (Tuesday Vargas) are all making their way to the beach for Stephanie and Harold's fairy tale wedding when they're hit by some serious magic mojo. "Souls" are switched and hilarity ensues until Kuya Kim Atienza provides the answer to all their problems. It's like a five-way Freaky Friday mixed with just enough gay lingo, love stories, and a trip down the aisle to keep you glued to your seat.
ADVERTISEMENT - CONTINUE READING BELOW
Can somebody please give Angelica Panganiban more roles like this? We've always wanted to see a gay man get married, albeit in a bride's body. And who doesn't love a Spanish speaking John Lapuz?
Lesson learned: Huwag magpakasal sa araw ng eclipse (Don't get married when there's a solar eclipse.) But most importantly, that Kuya Kim has the answer to all your problems.
2. KASAL, KASALI, KASALO (2006)
The couple: Type A personality Jed (Ryan Agoncillo) and down-to-earth Angie (Judy Ann Santos)
The wedding: Jed and Angie prove that opposites attract. However, that's not necessarily the case with their families. The couple plan a typical Filipino wedding that's within their budget, but their respective parents quickly fight over the crucial decisions about the ceremony, the reception, and even the guests. The stress of planning a wedding nearly tears the couple apart. In the end, though, they go through with it. The movie successfully dramatizes the chaos involved in bringing together two very different families. It's got the right amount of comic and touching moments. Angie's mother Belita (Gina Pareño) and Jed's mom Charito nearly steal the show.
Lesson learned: Sometimes it's better (not to mention a whole lot cheaper) to just elope and get married before a judge. Besides, the ceremony is not the end-all and be-all of a marriage.
1. SUKOB (2006)
The couples: Sandy (Kris Aquino) and Dale (Wendell Ramos), the city couple; Diana (Claudine Barretto) and Brian (Bernard Palanca), the barrio couple
ADVERTISEMENT - CONTINUE READING BELOW
The weddings: There are, of course, two weddings. Diana and Brian are married in a small ceremony in a far-flung barrio while Sandy and Dale get married in a large church somwhere in Metro Manila. Sandy sees a ghostly flower girl during the ceremony. Brian dies shortly after the wedding, leaving Diana widowed and pregnant. After consulting with a psychic cousin, Joya (Maja Salvador), Sandy learns that she's been cursed. The Filipino belief of sukob tells that it's bad luck to get married so soon after a relative's death or the wedding of another sibling. Diana and Sandy are actually half-sisters. However, for most of the movie, they don't know that they're related since their dad (played by Dante Rivero) didn't confess that his infidelity bore fruit (Diana). If people had begun to dismiss sukob as mere superstition, this movie made sure that the belief wouldn't die just like that.
Lesson learned: It pays to have "a telenovela mindset." Ask your parents about any possible "surprises" before you get married. Then again, traditions take root from experience, so it may be better to be safe than sorry.
Tip: If you get spooked by Sukob, you can always watch its spoof, Pasukob (2007), which stars Ai-Ai de las Alas and Ruffa Mae Quinto as the unlucky sisters.
Graphics by Warren Espejo, with movie posters.
Share this story with your friends!
---
Help us make Spot.ph better!
Take the short survey
Load More Stories