Jimmy Kimmel amused by "cheesy" burger, Grace Lee moves on + more lowlights
Plus, the Tom Cruise-Katie Holmes split and more nutty tales.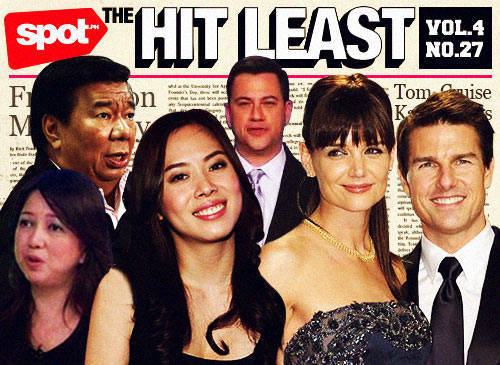 1. PAMPANGA'S FIRST DISTRICT REP. CARMELO LAZATIN WRITES TO THE PEOPLE WHO RUN DISNEYLAND AND ASKS IF ONE COULD BE SET UP IN CLARK, PAMPANGA. That's a cute idea-but don't you have anything better to do?
2. A TRUCK TRANSPORTING PIGS BREAKS DOWN ON SLEX AND THE PIGS ESCAPE AND RUN ALL OVER THE PLACE. (LATER ON, THE POLICE OFFICER BEING INTERVIEWED ABOUT THE INCIDENT TRIES NOT TO LAUGH.) Sometimes truth is really stranger than fiction.
ADVERTISEMENT - CONTINUE READING BELOW
CONTINUE READING BELOW
Recommended Videos
3. CLASSROOMS IN CAPIZ'S PRESIDENT MANUEL ROXAS MEMORIAL HIGH SCHOOL GET FLOODED WHILE STUDENTS ARE IN CLASS. When things like this happen, it becomes painfully obvious that this country's priorities are all screwed up.
4. SEN. KIKO PANGILINAN LAMENTS THE SLOW RESOLUTION OF CASES IN THE COUNTRY. Can you picture molasses in the snow? It moves slower than that.
Load More Stories