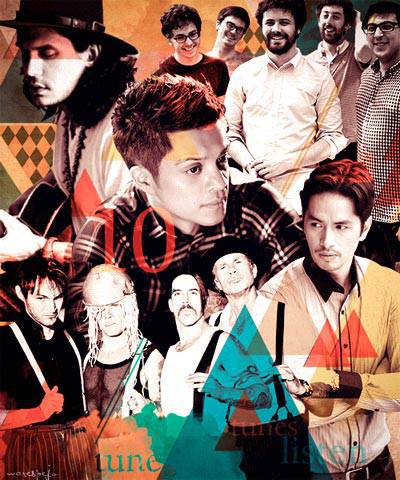 (SPOT.ph) Our playlist suggestions this July: John Mayer's stripped-down single, the Red Hot Chili Peppers' tribute ballad, Passion Pit's energetic release, Matchbox Twenty's catchy track, and Minus the Bear's dance-y rock tune. Plus, listen to Bamboo's contemplative song, Rico Blanco's dark ditty, Ciudad's dreamy offering, Ramon Jacinto and Ely Buendia's funky duet, and Rocksteddy's solid ballad.
Song: "Queen of California"
Artist: John Mayer
John Mayer's "Queen of California" is another simple and stripped-down single off his new album, Born and Raised. The bluesy song sets off with a gentle acoustic and progresses into a sweet mix of light vocals, pianos, and more guitars.
Fun fact: The cutesy lyric video was created using Draw Something by Brainbow Inc., a print and motion graphics team, and was posted by John Mayer on his Tumblr account  on June 26.
Song: "Ikot ng Mundo"
Artist: Bamboo
Bamboo's latest single is easy to love. It's clean and simple, contemplative and every bit OPM. The slow tempo and lyrical composition will convince you that the single is worth listening from start to finish.
Fun fact: On his Facebook page, Bamboo posted about the single's music video: "The video reminded me of times when I would simply walk for hours...with nowhere to go....no destination...just to clear the cobwebs...to get out and just think...slow things down...sorta miss those days.."
Song: "Brendan's Death Song"
Artist: Red Hot Chili Peppers
A tribute to the Red Hot Chili Peppers' late friend and The Masque club owner, Brendan Mullen, "Brendan's Death Song" is a stirring ballad combining mid-tempo beats and vocalist Anthony Kiedis' somber singing-a break from his signature rap-and-sing style.
ADVERTISEMENT - CONTINUE READING BELOW
Fun fact: It was in 1983, according to Rolling Stone, when RHCP's Anthony Kiedis and Flea scored an opening gig through Mullen after making the club owner listen to their demo.
Song: "Amats"
Artist: Rico Blanco
Rico Blanco's "Amats" exudes a dark and eerie mood that will surprise you. Feel the danger in the track's haunting pianos, deep vocals, screeching synths, and tribal drums.
Fun fact: The single "Amats" was released on iTunes worldwide last June 12, in time for Philippine Independence Day. The album GalactikFiestamatik, wherein the single is included, is set to come out in CD and digital formats this July.
Song: "I'll Be Alright"
Artist: Passion Pit
"I'll be Alright" opens with a blast of high-speed synths, samples, and drums. Frontman Michael Angelakos' falsetto gives life to the lyrics that are all about breaking up-hidden behind the track's pumping and cheery melodies.
Fun fact: The American electro-pop band, formed in 2007, is composed of Michael Angelakos (vocals and keyboards), Ian Hultquist (keyboards and guitar), Zander Singh (synthesizers and samplers), Jeff Apruzzese (bass and synthesizers), and Nathan Donmoyer (drums).
Song: "There's a Lonely Road to Sunday Night"
Artist: Ciudad
Ciudad is welcoming July with the release of their fifth studio album, Follow the Leader. The clean and dreamy single will make you anticipate what the rest of their latest record has to offer.
Fun fact: Ciudad started in 1994 and released their debut album titled Hello! How Are You, Mico the Happy Bear? in 2000.
CONTINUE READING BELOW
Recommended Videos
Song: "She's So Mean"
Artist: Matchbox Twenty
Matchbox Twenty's new single off their latest album, North, is reminiscent of their '90s sound. There are no surprising elements here, but it's catchy enough to get your attention and keep it.
Fun fact: North, Matchbox Twenty's first album in 10 years, is set to come out in September. Billboard has the complete tracklist.
Song: "Presyo"
Artist: Ramon "RJ" Jacinto featuring Ely Buendia
Master guitarist and entrepreneur RJ Jacinto teams up with none other than Ely Buendia in this funky ditty. Listen to smooth guitars accompanied by slick sax in this refreshing OPM offering.
Fun fact: RJ Jacinto's album, RJ Duets, celebrates his 50 years in the music industry and features other artists like Jose Mari Chan, Raimund Marasigan, Noel Cabangon, Richard Poon, John Ford Coley, and more.
Song: "Lonely Gun"
Artist: Minus the Bear
Playful guitars and fully-charged electronics make this dance-y rock tune from American indie band, Minus the Bear. Lyrics centering on loneliness and springing from depression are masked by the track's pumped mood.
Fun fact: Their forthcoming album, Infinity Overhead, is set for release in August.
Song: "Matutuhan Mo Rin"
Artist: Rocksteddy
Rocksteddy's latest offering is a solid rock ballad with extra-sentimental lyrics and an LSS-inducing chorus.
Fun fact: Rocksteddy-composed of Jeff Cucullo (drums), Christian Sindico (bass and vocals), Juven Pelingon (guitars), and Teddy Corpuz (lead vocals)-was formed in 2003.
Share this story with your friends!
---
Help us make Spot.ph better!
Take the short survey
Load More Stories