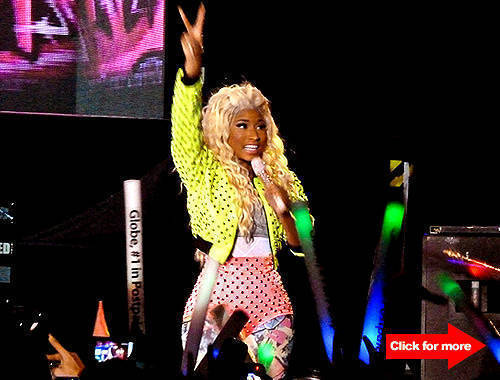 The crazy-sexy-cool diva painted the down pink! Click for more. (All photos by Mike Dee)

(SPOT.ph) Badass Nicki Minaj didn't need a Polly Pocket-esque stage or a giant candy cane foam gun to amaze the 20,000 fans that trooped to the SM Mall of Asia Arena on Wednesday night, July 11. She hooked us with her megawatt smile, ratatat-speed rap skills, and famous, uh, asset. Check out the highlights of her "Minajesty's" performance last night to see why Filipino fans are still singing, "I wish that I could have this moment for life."
10. She Drops the D word. Nicki's "Roman Holiday" opening number was strong. But it was the second song, "Did it on 'Em," that got her viewers roaring in approval. When she declared, "If I had a dick I would pull it out and piss on 'em," peace signs and glow sticks went up in the air as 20,000 fans grooved to this steady, bass-heavy track.

9. Sound Check. New material alert! Nicki performed her yet-to-be-released house-pop song "Pound the Alarm" to an excited, fist-pumping crowd. Her dancers formed a conga line and she brought 'em (and the house) down with a flirty, powerful butt move!
8. Channeling Miss Monroe. After several high-energy songs, Nicki changed into an iconic Marilyn Monroe-inspired outfit and said, "I wanna slow down a bit. Thank you for coming to my Barbie dream house. Have you ever had your heart broken? I've been heartbroken once and I wanted to kill him. I wouldn't have been wrong 'bout it, right? He deserved it." She surprised her fans with her soulful delivery of the ballad, "Fire Burns." The girl can actually sing.

ADVERTISEMENT - CONTINUE READING BELOW
7. In this Very Moment... Thousands felt so alive. The inspiring lyrics of "Moment 4 Life" resonated with fans of all ages.
6. Party in the Back. The concert-goers got a very good view of Nicki's famous derriere when she performed club favorite "Dance Ass." She titillated the crowd her crazy-sexy booty shaking!
The crowd got a natural high from Nicki Minaj. (YouTube video posted by vinceme29)
5. Girls Gone Wild. When the rapper asked, "Is it true that the Philippines has the most beautiful women in the world?" A thunderous "yes!" filled the arena and Minaj upped the ante by performing her smash hit, "Starships." Girls of all ages were singing, "Starships were meant to fly-y-y" at the top of their lungs!
4. Surprise Guests. The crowd went gaga when Minaj stopped mid-song and announced that she needed some support on stage! She pointed at two teens and said, " These girls have been giving me so much light tonight!" and "You in the curly hair!" In the end four lucky chicks were brought onstage and Nicki asked them to play back-up dancers as she sang "Bedrock."
3. The Naomi and Nicki Showdown. Not to be outshined by the superstar, lucky fan Naomi showed off her dance moves and a visibly impressed Nicki joined her for a short but super memorable showdown to the tune of "Bedrock." The money shot: Each fan called onstage got a hug and a photo-op with the hip-hop star.
2. Boombadoomboomboombadoomboombass! The pint-sized singer wrapped up the night by telling her Pinoy fans, "I'll never forget you. You're gonna be in my heart forever." The crowd went wild when Nicki playfully teased, "Okay, I have to go. Is there something I forgot to sing?" She performed her quadruple-platinum hit Superbass while pink and blue confetti rained on the crowd! To quote one concert-goer, "Oh my God! Parang magigiba yung Arena!"
CONTINUE READING BELOW
Recommended Videos
1. The Sweetest "Encore." Nicki heard the deafening "We want more!" clamor and went back out in her pink bathrobe to give in to her fans' request. A few minutes later, she tweeted, "I think manila had the loudest encore screams I've ever heard! 'WE WANT MORE, WE WANT MORE!!!!' So I ran bak out in my new pink robe! Ha!" Come back soon, Nicki!
All photos by Mike Dee.
Share this story with your friends!
---
Help us make Spot.ph better!
Take the short survey
Load More Stories