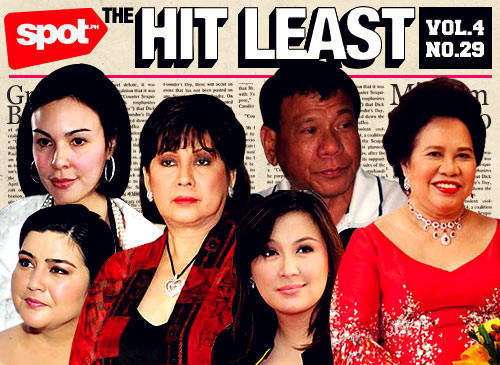 1. DAVAO CITY VICE MAYOR RODRIGO DUTERTE DENIES MAKING SWINDLER EAT FAKE DOCUMENTS, SAYS THE GUY ACTUALLY ATE CHEWING GUM. We're confident that he'll get through this sticky situation.
2. AMERICAN IDOL SEASON 7 WINNER DAVID COOK IS BACK IN THE PHILIPPINES FOR A CONCERT. Let's face it, this guy isn't that hot anymore but you gotta love him because he keeps coming back to Manila. (Third World love, FTW!)
3. NBA IDOL DENNIS RODMAN'S PHILIPPINE-BASED DAD, PHILANDER (WHO ABANDONED HIM WHEN HE WAS CHILD), NOW WANTS TO MEET UP WITH HIM SO TV NEWS SHOWS TALK ABOUT THEIR POSSIBLE REUNION. There should be a law against forcing people to reconcile with their no-good relatives.
4. IN THE WAKE OF ROAD MISHAPS INVOLVING BUSES, BUS DRIVERS UNDERGO TESDA TRAINING AND THEN TAKE WRITTEN AND PRACTICAL DRIVING EXAMS TO PROVE THAT THEY'RE FIT TO DRIVE. This is pretty much like putting on a condom after doing the deed repeatedly.
5. OFF-DUTY QUEZON CITY COP WHO REFUSED TO GIVE WAY TO P-NOY'S CONVOY DOESN'T HAVE A DRIVER'S LICENSE AND CAN'T PRODUCE A CERTIFICATE OF REGISTRATION FOR HIS VEHICLE. We thought we were having a bad day but we felt much better after we watched this clip.
6. NADIA MONTENEGRO AND GRETCHEN BARRETTO END THEIR THREE-YEAR RIFT. Because there's no point in going on with the show if nobody's watching.
7. SEN. MIRIAM SANTIAGO GETS INTO A TENSE SITUATION FOR USING THE WORD, "MONGOLOIDS" TO REFER TO HER ENEMIES, BUT SHE SAYS SORRY FOR IT. Sticks and stones may break your bones, but Miriam's words can kill you.
ADVERTISEMENT - CONTINUE READING BELOW
8. TALENT MANAGER ANNABELLE RAMA SAYS SHE ONLY CAUSED A SCENE AT DOLPHY'S WAKE BECAUSE THE REPORTER SHE HAD ENCOUNTERED LOOKED LIKE HE WAS ABOUT TO HIT HER WITH WHAT LOOKED LIKE AN IPAD. Have pity on the iPad!
9. CHITO ALCID, THE REPORTER WHO HAD A RUN-IN WITH ANNABELLE RAMA, CLAIMS IT WAS THE LATTER WHO HAD MADE THE FIRST HOSTILE MOVE BY BRANDISHING WHAT LOOKED LIKE A KNIFE. Look on the bright side: Now we know that it's possible to survive the wrath of Rama.
10. SHARON CUNETA VENTS ON TWITTER ABOUT THE CONTROVERSY OVER HER LATE FATHER'S ESTATE. As one of our friends said, "There are some people who never should have been introduced to Twitter."
Graphics by Warren Espejo, with photos from PEP.ph.
Share this story with your friends!
---
Help us make Spot.ph better!
Take the short survey
Load More Stories