Rodrigo Duterte's "chewing gum" defense, Annabelle Rama's drama + more lowlights
Plus, basketball idol Dennis Rodman's Philippine connection, and more nutty tales.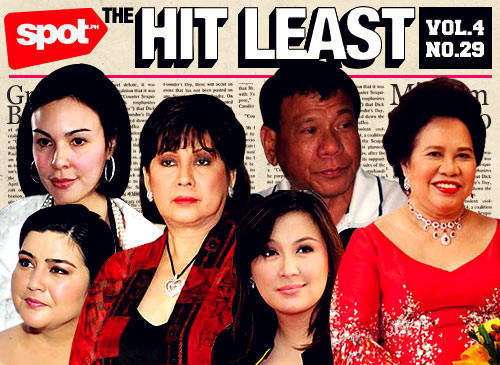 1. DAVAO CITY VICE MAYOR RODRIGO DUTERTE DENIES MAKING SWINDLER EAT FAKE DOCUMENTS, SAYS THE GUY ACTUALLY ATE CHEWING GUM. We're confident that he'll get through this sticky situation.
2. AMERICAN IDOL SEASON 7 WINNER DAVID COOK IS BACK IN THE PHILIPPINES FOR A CONCERT. Let's face it, this guy isn't that hot anymore but you gotta love him because he keeps coming back to Manila. (Third World love, FTW!)
ADVERTISEMENT - CONTINUE READING BELOW
CONTINUE READING BELOW
Recommended Videos
3. NBA IDOL DENNIS RODMAN'S PHILIPPINE-BASED DAD, PHILANDER (WHO ABANDONED HIM WHEN HE WAS CHILD), NOW WANTS TO MEET UP WITH HIM SO TV NEWS SHOWS TALK ABOUT THEIR POSSIBLE REUNION. There should be a law against forcing people to reconcile with their no-good relatives.
4. IN THE WAKE OF ROAD MISHAPS INVOLVING BUSES, BUS DRIVERS UNDERGO TESDA TRAINING AND THEN TAKE WRITTEN AND PRACTICAL DRIVING EXAMS TO PROVE THAT THEY'RE FIT TO DRIVE. This is pretty much like putting on a condom after doing the deed repeatedly.
5. OFF-DUTY QUEZON CITY COP WHO REFUSED TO GIVE WAY TO P-NOY'S CONVOY DOESN'T HAVE A DRIVER'S LICENSE AND CAN'T PRODUCE A CERTIFICATE OF REGISTRATION FOR HIS VEHICLE. We thought we were having a bad day but we felt much better after we watched this clip.
Load More Stories