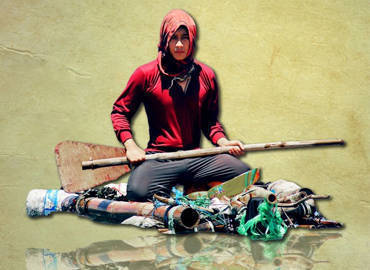 (SPOT.ph) I walked out of Lemuel Lorca's second feature Intoy Shokoy sa Kalye Marino smitten, positively smitten, with JM de Guzman who plays the eponymous hero in this unexpectedly moving film. I think Intoy Shokoy is this year's sleeper hit at Cinemalaya, and I think JM de Guzman is a star. This film is special. It almost never happened, because they didn't make it to the final ten films Cinemalaya picked for the competition. It was only at the last minute when they got the green light because another film pulled out of the festival.
Although it is not the most stylistically consistent or the most technically polished, the story (screen play by Jerry Gracio based on a short story by Eros Atalia) has something almost Brocka-esque about it. It is, on one level, sort of a gritty melodrama with tragic characters victimized by circumstance and broken by poverty. But on another level it is poetic and a most poignantly observed film set in the murky waters near Sangley Point, Cavite.
There Intoy is abandoned by his slatternly mother when his drunkard father drowns one night. He has nothing to look forward to but the tahong diving, drinking gin bulag with his friends and watching the sunset with sweet Doray (LJ Reyes), who has problems of her own.
The trailer for Intoy Shokoy sa Kalye Marino
Everyone has problems on Kalye Marino. The whores are not picky, taking fish instead of cash so they can sell the fish at the market. Intoy saves every peso so that he can ask Doray to run away and start a new life somewhere else. But instead of a fairy tale ending, Intoy and his friends all have to deal with the harsh cruelty of living on Kalye Marino-hopes dashed and dreams thwarted, Intoy has nothing except the girl he loves and the sea.
ADVERTISEMENT - CONTINUE READING BELOW
Lem Lorca coaxes fine performances from his young cast (particularly Joross Gamboa and Arnold Reyes), who all manage to fully imbibe their characters. The screen play sounds natural falling from their lips, thankfully free of that weird hammy cadence actors often use in local movies. Also it's wonderful to see everyone in this film really look the part-no one looks too makinis-JM is deliciously brown, and delicate LJ Reyes looks lovely as the tragic morena beauty. Intoy and Doray are the post modern versions of that other pair of doomed lovers, Julio Madyaga and Ligaya Paraiso. Their slow and ultimately unconsummated courtship on screen is compelling to watch, they are both expressive actors but in different ways. I've always liked LJ Reyes since I saw her in a Chinese ghost movie called The Leaving and I think she's an overlooked and underrated actor, perhaps not after this role.
But Intoy Shokoy is all about JM de Guzman, isn't it? It's not such a surprise that he's a good actor because he gets a decent amount of work in mainstream movies, television, and independent cinema. He was cute and funny in last year's Babae sa Septic Tank and was praised for his work in Pintakasi. But his performance here is something else. He is vulnerable and hopeful at the same time, which makes him half endearing, half pathetic. I read somewhere that JM de Guzman says he was depressed after shooting this film because he was so torn up, stripped naked (not literally, ha) for the role. Well, I'm not sure what his actor's process is, but it does look like it worked.
CONTINUE READING BELOW
Recommended Videos
It just all works in this creeper of a film. While there are some things that can still be improved (like sound) there's a really amazing story here that cuts deeper into the audience's consciousness than any technical concern about filmmaking. It's a difficult thing to make a film funny, scary, and sad but I think this one succeeds. It is not a fairy tale but it ends with a kiss.
Share this story with your friends!
---
Help us make Spot.ph better!
Take the short survey
Load More Stories