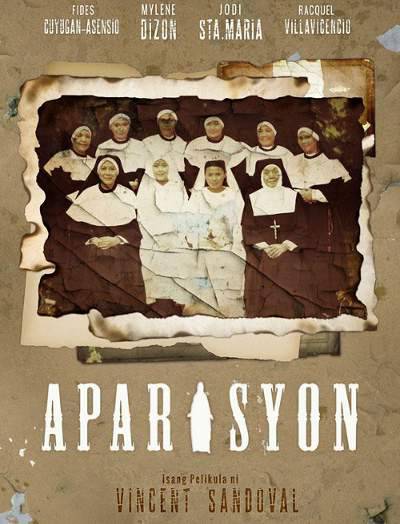 I have a lifelong and morbid fascination for nuns, in real life and in cinema. I cannot deny the influence of that cheery romantic musical version of novice-hood, The Sound of Music (1965), which became my irrefutable proof of triumphant goodness in a world of Nazi soldiers and cool blonde baronessas who might steal away The Captain. On the opposite end, another iconic nun movie from my childhood is Norman Jewison's film version of Agnes of God (1985). Almost unconsciously that film has stayed with me all my life: Sister Agnes (Meg Tilly) in a habit, the doves, the bell, and some dark, decrepit secret I was too young to comprehend-it was altogether a complex and disturbing piece unsuitable for an impressionable nine year old convent school girl.
It is not surprising, then, that upon first viewing I was deeply appreciative of Vincent Sandoval's new film Aparisyon which was screened at the Cinemalaya Independent Film Festival this year and is among the flicks featured in Cinemalaya Goes UP, which begins on August 1. A young novice Sister Lourdes (Jodi Sta. Maria) walks through a forest with her face filled with innocence and purity. She enters a convent of cloistered nuns where she is welcomed by stern-faced Sister Vera (Raquel Villavicencio) and Mother Superior (Fides Cuyugan-Asensio). Sister Lourdes meets another young nun, Sister Remy (Mylene Dizon) who quietly scrubs the convent floors and secretly years to help her activist brother who has run into trouble with the government. Sheltered by the convent, the good sisters of Adoration have to weather the political tumult happening outside, the country is on the verge of martial law and chaos threatens to engulf the land. Finally when a terrible thing happens one night deep in the forest, their serene lives of prayer and contemplation are shattered, never to be the same again.
ADVERTISEMENT - CONTINUE READING BELOW
The trailer for Aparisyon
Vincent Sandoval's taut thriller is at the very core a disturbing tale of conspiracy, injustice, and tragedy, swathed in heavenly light and haunted by dark shadows. It is not easy to make the lives of cloistered nuns into compelling cinema, but this film succeeds at doing just that. It takes a strong plot framed by relevant recent history, a great cast, and the director's clear image of this apparition. Without a formal background in film, but armed with sheer love, (as producer Darlene Malimas put it on gala night), they had the gumption to assemble some of the best talent out there to work on Aparisyon.
The actors are pitch-perfect in every role, all of them virtuosos in their own ways. Mylene Dizon is at her finest as the nun torn between her vows and her family. Jodi Sta. Maria-who reminds me of a young Vilma Santos-seemingly channels Meg Tilly with her damaged innocence and an untouchable core of strength. Raquel Villavicencio, a magnificent scene stealer in everything I see her in, gives another nuanced performance that is perhaps the most convincing one of all. The great Fides Cuyugan-Asensio is wonderfully restrained as Mother Superior Ruth, her face a perfect replica of a saint's-carved in ivory, steeped in piety and pain-which Jay Abello's cinematography captures so well. The light in this film beautifully details the story's descent from pristine monastic life into nightmare. Meanwhile Teresa Barrozo's score is understated and creepy, and never lingers too long, and Jerrold Tarog's tight editing allows the story to flow effectively with room to breathe. The sum of these parts is an exercise in taste and vision.
CONTINUE READING BELOW
Recommended Videos
But the message remains chilling. It asks us: could a sin of omission be as great as a sin of commission? And if terrible tragedies fade into dirty little secrets, isn't it time to break the silence with a scream?
***
Catch Aparisyon's Cinemalaya Goes UP screening on August 1, 5 p.m., at the University of the Phiilippines Film Center in Diliman, Quezon City. For more information on the screening schedules of other Cinemalaya films, check out the Cinemalaya Goes UP Facebook page.
Share this story with your friends!
---
Help us make Spot.ph better!
Take the short survey
Load More Stories