10 Tunes to Listen to This Month
Press play on tunes by No Doubt, The Killers, Frank Ocean, Maude, Tarsius, and more!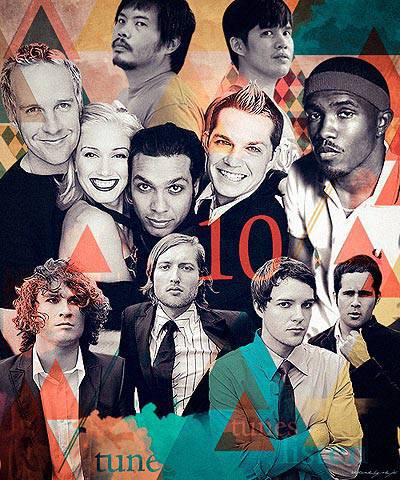 (SPOT.ph) Kick off August with our playlist recommendations: No Doubt and The Killers' comeback releases, Frank Ocean's eargasmic concept piece, The xx's raw single, and Carly Rae Jepsen and Owl City's catchy ditty. Plus, take a listen to Maude's indie-pop offering, Tarsius' infectious electronic track, Jensen Gomez's poignant composition, Alessandra De Rossi's debut single, and Somedaydream, Champ Lui Pio, and Luigi D'Avola's collaboration.
Song: "Settle Down"
Artist: No Doubt
After a decade of waiting, No Doubt fans can rejoice with the '90s band's comeback album, Push and Shove. The first single packs a lot of reggae punch and dance kicks, accompanied by Gwen Stefani's accented vocals. The lyrics' positive notes-I'm fine (and nothing's gonna knock this girl down) / I'm feeling positive for real, I'm all good no / I'm fine (And nothing's gonna knock this girl down)-reinforce the track's feel-good mood, a solid statement that the band hasn't lost its touch.
Fun fact: Push and Shove is set for release in September.
Song: "Eve"
Artist: Maude
Indie music lovers might remember this foursome as Orange Cartel, the group responsible for the crowd pleaser, "Grab." Maude's first single is a breezy, indie pop delight meant to brighten up the rainy and dull days of August. We especially love this raw, acoustic version showcasing playful guitars and Luis Azcona's slick vocals.
Fun fact: Maude-composed of Luis Azcona (vocals and guitar), Dane Policarpio (drums), Glenn Calingasan (bass), and Mong Rodriguez (guitar)-recently joined Terno Recordings, sharing house with bands like Radioactive Sago Project, Sleepwalk Circus, Up Dharma Down, Encounters With A Yeti, Musical O, The Charmes, and Hidden Nikki.
ADVERTISEMENT - CONTINUE READING BELOW
Song: "Runaways"
Artist: The Killers
Another favorite that's making a comeback are The Killers with their forthcoming album, Battle Born. The first single, "Runaways," will remind of you of good old '80s rock and roll and Bruce Springsteen. Brandon Flowers sings of a tragic romance against a background of rock-solid guitars and cascading melodies.
Fun fact: Battle Born-the band's first album in four years-is set to come out in September.
Song: "Deathless Gods"
Artist: Tarsius
This trippy electronic track from the Tarsius Duo-Diego Mapa (also of Pedicab) and Jay Gapasin (also of Radioactive Sago Project)-is way too infectious. Listen to the perfect marriage of Mapa's laptop beats and synths and Gapasin's spot-on drums.
CONTINUE READING BELOW
Recommended Videos
Fun fact: "Deathless Gods" is part of Marie Jamora's first feature film and Cinemalaya 2012 finalist, Ang Nawawala's soundtrack.
Song: "Pyramids"
Artist: Frank Ocean
R&B gem Frank Ocean's major label debut, Channel Orange, features a mind-blowing, nearly 10-minute concept piece titled "Pyramids." The track is engaging in so many ways-from its images of ancient Egypt to depictions of a modern-day strip club, from its club feel to sexy slow jam transition. Plus, watch for the psychedelic guitar finish.
Fun fact: Early in his musical career, Ocean was a ghost writer for artists like Brandy, Justin Bieber, and John Legend.
Song: "Umpisa"
Artist: Jensen Gomez
We first fell in love with Jensen Gomez's "Umpisa" while watching Emerson Reyes' indie hit, MNL 143. The first single off his album, Understatements, is simple yet exceptionally poignant. Within the mix of delicate acoustics and painful lyrics is the young singer-songwriter's refreshing voice-definitely something to watch for in the local music scene.
ADVERTISEMENT - CONTINUE READING BELOW
Fun fact: "Umpisa" is the official soundtrack of MNL 143. According to Gomez, this is his first Tagalog composition.
Song: "Angels"
Artist: The xx
Previewing The xx's forthcoming album, Coexist, is this raw and ethereal single. Vocalist Romy Madley Croft sounds more intimate than ever as she sings through whispers. The guitars sound atmospheric and the touches of percussion are pleasantly surprising.
Fun fact: The xx are currently on a North American tour. Coexist drops in September.
Song: "Make It Better"
Artist: Alessandra De Rossi
Actress Alessandra De Rossi takes on a new persona in her album, Adrift, featuring the single "Make it Better." The electronic track is echo-loaded and dreamy, with De Rossi showcasing her vocal chops.
Fun fact: Adrift can be downloaded for free via Mediafire.
Song: "Good Time"
Artist: Carly Rae Jepsen and Owl City
Carly Rae Jepsen is at it again, this time dishing out an LSS-inducing track with Owl City (Adam Young). The catchy, cutesy, and danceable collaboration is the ideal tune for moments of carefree and brainless fun.
Fun fact: Owl City's new album, The Midsummer Station, comes out this month.
Song: "It's Your Life"
Artist: Somedaydream and Champ Lui Pio featuring Luigi D'Avola
Somedaydream, his manager Champ Lui Pio, and newcomer Luigi D'Avola teamed up for this single combining electronic and alternative rock elements. The track mixes synths with occasional army drums, and the three musicians' effortless singing.
Fun fact: According to Champ, "It's interesting for people to see how I infuse my background from alternative rock and how Somedaydream is coming from electro pop, and how this young artist, Luigi, will infuse his youth and young music into this collaboration."
ADVERTISEMENT - CONTINUE READING BELOW
Graphics by Warren Espejo.
Share this story with your friends!
---
Help us make Spot.ph better!
Take the short survey
Load More Stories