The Healing: Put a Bird on It
Our SPOT.ph blogger says Vilma Santos delivers in this scream-inducing flick.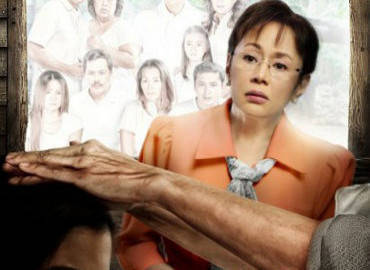 Fifty years in showbiz and Vilma Santos still has it. In Star Cinema's latest horror flick The Healing, she plays Seth, a woman who takes her sick father (Robert Arevalo) and ailing friends to visit a faith healer (Daria Ramirez) who lives at the foot of a mystical mountain.
Vilma Santos is an icon and it is cool that she is accessible to a new generation of movie-goers. Ate Vi, this time without the benefit of long monologues or cinematic crying, proves her virtuosity as an actor in a horror movie, a genre she's not really known for. But the good governor is indisputable as the leading lady within a great ensemble cast, including Joel Torre, Alan Paule, Janice de Belen, Cris Villanueva, Kim Chiu, and Pokwang among others. Look closely and you'll find her photographed lovingly (by cinematographer Charlie Peralta) in almost soft-focus-is that what they call a two stocking shot?-running around in her platform mules and designer handbags. She's awesome at looking surprised and seemed suitably spooked when a black crow flies in her face. (I will not mention any plot spoilers because the story is way too convoluted to summarize here, but I will say that yes, there is an ugly black bird in this movie.)
ADVERTISEMENT - CONTINUE READING BELOW
The trailer for The Healing
The prolific and award-winning director Chito Roño, certainly an icon himself, is quite an expert at scaring an audience in their seats. The Healing, which comes after a string of horror box office hits such as Feng shui (2004), Sukob (2006) and T2 (2009), bears his signature touch, from opening scene to curtain call. The perfectly timed scares and gory prosthetics are great-generous and visceral-watch out for the massage parlor rub-out (pardon the pun) and the Buddhist monk massacre. It's enough to satisfy anyone's blood lust. Unfortunately there's a hilarious computer generated cartoon-y "evil eye" that sort of ruins the horror and channels Who Framed Roger Rabbit more than anything else. Despite the unintentionally funny effects, The Healing is a solidly entertaining horror movie. Based on audience participation (that is, how loud they could scream), it is a hit.
CONTINUE READING BELOW
Recommended Videos
Another film, another hit on another level, Cinemalaya's Best Film this year, is Diablo by Mes De Guzman. In cinema circles, it is fashionable to call him underrated and also misplaced in the New Breed category of Cinemalaya-although perhaps now he is not that underrated if he won Best Director, too. Diablo is vastly understated, ambiguous and beautiful, chilling to the core. It is also so much the festival film, winning major awards including Best Actress for veteran theater actress Ama Quiambao and the cinematography award for Tristan Salas. Personally, it was hard to sit through, because I kept expecting evil to take an obvious form in this film (like, maybe a black crow?) but in this film, evil manifests in the living. I have a friend who likes to say: Takot ka sa patay? Mas matakot ka sa buhay. It applies.
ADVERTISEMENT - CONTINUE READING BELOW
The single truth is that these are good times for the audience, who finally has a range of choices from mainstream horror to art house independent films and everything in between. The experience of Philippine cinema has not been this rich or varied in a long time. I hope the audience takes full notice.
***
Cinemalaya 2012 goes to UP!  Check the screening schedules on the Cinemalaya Goes UP Facebook page.
Share this story with your friends!
---
Help us make Spot.ph better!
Take the short survey
Load More Stories