Aga Muhlach's political move, Mitos Magsaysay's "heavenly" statement + more lowlights
Plus, Mark Barriga's loss, Imelda Marcos' anti-flood charm, and more nutty tales.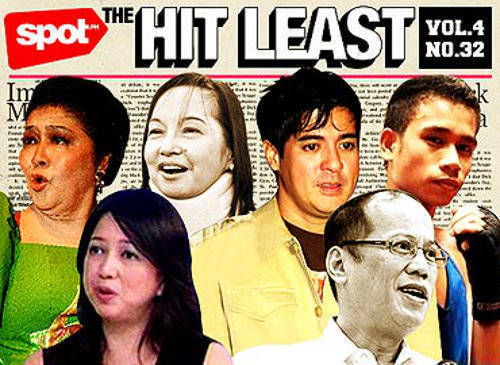 1. AGA MUHLACH JOINS THE LIBERAL PARTY AND WILL RUN FOR CONGRESS NEXT YEAR. Aren't you too young for a midlife crisis? (For the love of God, just buy a ridiculously expensive sports car or something.)
2. WHEN QUEZON CITY MAYOR HERBERT BAUTISTA IS ASKED ABOUT THE FLOODING IN E. RODRIGUEZ SR. AVENUE, HE SAYS THE FLOODING "NATURAL" SINCE THERE ARE BODIES OF WATER CLOSE BY. What's natural about a flooded hospital?
ADVERTISEMENT - CONTINUE READING BELOW
CONTINUE READING BELOW
Recommended Videos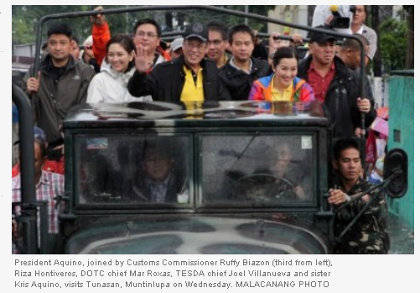 3. P-NOY AND COMPANY VISIT MUNTINLUPA TO HAND OUT RELIEF GOODS-AND GET FLAK FOR A PHOTO THAT LOOKS LIKE THEY'RE ON THE CAMPAIGN TRAIL. Well, they do say that a picture paints a thousand words. (Screenshot of photo as posted on InterAksyon.com)
4. REP. MITOS MAGSAYSAY ALLEGEDLY ATTRIBUTES THE DELUGE THAT WREAKED HAVOC ON METRO MANILA AS GOD'S RESPONSE TO THE RH BILL MOVING ON TO THE NEXT STEP IN THE LEGISLATIVE PROCESS, TWEETING, "HEAVEN MUST BE CRYING, WE SHOULD UNDO WHAT HAS BEEN DONE." What if heaven is crying because it's taking so damn long for anything to happen to the bill? (She later said it was an "innocent" comment. Ma'am, we're afraid you can't untweet what has been tweeted.)
ADVERTISEMENT - CONTINUE READING BELOW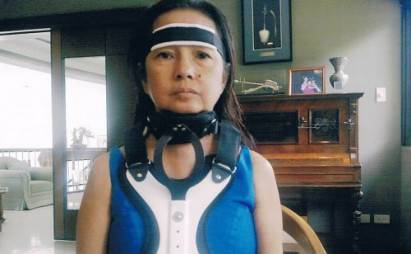 5. FORMER PRESIDENT AND CURRENT PAMPANGA REP. GLORIA ARROYO, WHO IS STILL WEARING A NECK BRACE, GOES TO DISTRIBUTE RELIEF GOODS TO HER CONSTITUENTS IN PAMPANGA. Her tenacity is legendary...unfortunately so are her other not-so-cool qualities.
6. BOXER MARK BARRIGA LOSES HIS OLYMPIC BID DUE TO A CONTROVERSIAL DECISION. There's always 2016, kid. (We think you're already a winner.)
ADVERTISEMENT - CONTINUE READING BELOW
Load More Stories