Quezon City Day Special: Must-See Spots That Make It Stand Out
You don't know QC if you don't know these places.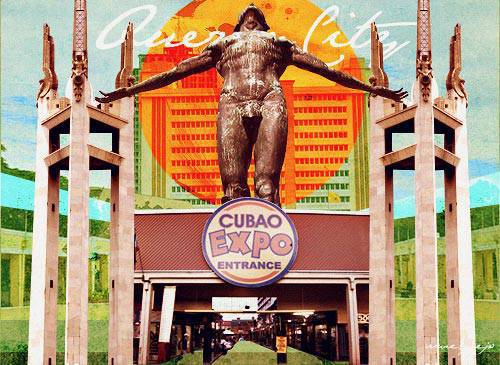 (SPOT.ph) On August 19, Quezon City celebrates the 135th birth anniversary of the late President Manuel Quezon. This year-specifically on October 12-the city is also set to celebrate its 73rd founding anniversary. As city years go, QC is relatively pretty young. But boy is the city bursting with character!
If QC were a person, he or she would be an artist-cum-activist who enjoys history-based intellectual stimulation as much as he or she enjoys cheap thrills.  Here are QC spots that will attest to that. Of course, they're not all that QC has to offer, but they're usually where you start when you start listing the best things about the city.

1. Warm welcome. You know you're already in QC territory when you see the Mabuhay Rotonda. It's where three of Metro Manila's busiest roads meet: Espana Boulevard in Manila, Quezon Avenue, and E. Rodriguez Avenue in Quezon City. So, it's basically where Manila ends and QC begins. Built in 1948 by Architect Luciano Aquino, the marker was meant to serve as the gateway to QC. Its main purpose is to greet the visitors of the then-newly established capital. Yup, QC was the Philippines' capital from 1948 to 1976. It was renamed as the Mabuhay Rotonda in 1995.
2. Monument math. The Quezon Monument is the dubbed as the centerpiece of the 25-hectare Quezon Memorial Circle. Designed by architect Federico Ilustre, the monument is made up of three vertical plyons, which stand for Luzon, Visayas, and Mindanao. It's 66 feet tall, representing Quezon's age when he died. The more elaborate monument details are the three mourning angels holding wreaths of sampaguita, which were created by Italian sculptor Francesco Riccardo Monti, who lived in the Philippines from 1930 to 1958.  The contruction of the monument began in 1952, but it was only completed in 1978 (and just in time, too, since it was the centennial of Quezon's birth that year). Well, as they say, good monuments come to those who wait.

ADVERTISEMENT - CONTINUE READING BELOW
The Quezon Memorial Circle, also has the mausoleum containing the remains of Quezon and his wife, Aurora.  These days, the most high profile Quezon many of us know is the late president's grandson, Manuel Luis "Manolo" Quezon III, the undersecretary of the current administration's Presidential Communications Development and Strategic Planning Office. Then again, the majority of Pinoys are still more familiar with his grandfather via the ₱20 bill.
3.  Starry spots. QC is the home of TV networks. TV5, ABS-CBN, GMA-7, TV5, GEM TV, UNTV, Net 25, and PTV all hold office in the city. This is probably one of the reasons why there was once an attempt to brand QC as the "Hollywood of the Philippines." Fitting when you realize the city's current mayor was a child actor and starred in the Pinoy pop culture favorite Bagets. Try hanging out at chow spots and eateries on Tomas Morato Avenue, along Timog Avenue, or Mother Ignacia Avenue and your chances of running into a Pinoy telenovela cast member or variety show regular increases dramatically. These avenues are in the proximity of the turfs of known arch rivals ABS-CBN and GMA-7.  Fans also flock to ABS-CBN's Pinoy Big Brother House, located at Eugenio Lopez Jr. (ELJ) Drive corner Mother Ignacia Avenue so spot artistas.

CONTINUE READING BELOW
Recommended Videos
Here's another showbiz spot worth visiting: Broadway Centrum in New Manila, QC. from where Eat Bulaga! the country's longest-running noontime variety and game show is broadcast. Think of it as the place where Senator Tito Sotto is his fun, non-controversial self. If you want to think about him at all, just think of Broadway Centrum as the place where That's Entertainment used to air from. Oh, please, you only think it's baduy until you're in the audience screaming for Vic Sotto to sing "Ocean Deep" or asking people if they remember where Lotlot and Monching used to hang out.
ADVERTISEMENT - CONTINUE READING BELOW
4. Universal universities. Though it's not the first University of the Philippines campus-that honor belongs to UP Manila-UP Diliman in QC has been the dubbed the main campus and UP's seat of administration since 1948, after the Manila campus got bombed during the war. The nation's premier state university, whose main entrance is marked by the famous Oblation Statue, has spawned presidents and other so-called movers-and-shakers. UP is also famous for the Oblation Run (when selected guys from the Alpha Phi Omega fraternity run naked for a cause), the UP Lantern Parade (a parade of mostly-oversized lanterns and floats created by UP's various colleges which is held before the Christmas break), and the Sunken Garden (the center of the 2.2-kilometer UP Academic Oval). Many pop music fans think of UP as the "birthplace" of the Eraserheads. Sure, the school's basketball team hasn't won the UAAP championship since 1987 (the era of Ronnie Magsanoc and Benjie Paras), but, hey, it more than makes up for that fact with the legendary taste of  Mang Larry's isaw alone.
Aside from UP, the Ateneo de Manila University, and Miriam Collage are also located in Diliman-both also known for their own brand of activism. There must be something in Diliman's water that fires up social consciousness.
5. Scouts' streets. It's unfortunate that scouting doesn't seem to be as popular as it once was, but in QC there's always something to remind us about its noble endeavors. The 11th World Scout Jamboree Memorial Rotonda, which is located on Tomas Morato corner TimogAvenue, was created in honor of the members of the Philippine contingent who all died in a plane crash (United Arab Airlines flight 869) in 1963. They had been on their way to Bombay, India en route to Marathon, Greece, the venue of the jamboree that year.  Twenty-two of the streets in what is now called the "Scout Area" is named after them. There's even an 11th Jamboree Street.
ADVERTISEMENT - CONTINUE READING BELOW
Another tragic event that's more directly associated to the area is the 1996 Ozone Disco Club fire, where 162 people died and 95 others were injured. The disco had also been located along Timog Avenue corner Tomas Morato Avenue. The fire has been called the worst in Philippine history.
6. Extraordinary expo. If you're a hipster, a history buff, a bookworm, a foodie, an artist, or simply an incorrigible hoarder-you'll probably think you've died and gone to heaven when you get to Cubao Expo or Cubao X. The place, which used to be Marikina Shoe Expo along General Romulo Avenue, is now a complex populated by nifty little novelty shops, specialty stores, and dining spots such as Thank You Today x Future, Heima, The Vinyl Dump, Karma, STOiC, Genshiken, and Sputnik Comics.
Of course the Cubao X spot that's literally made a lot of people fall in love is the Italian restaurant, Bellini's. With "La Dolce Vita" murals as part of its interiors, the place trumps most Italian restaurants because its Italian owners love interacting with the patrons. Bellini's has been immortalized in Pinoy pop culture via the well-loved John Lloyd Cruz-Bea Alonzo flick, One More Chance, which shot some scenes in the restairant.
7. Prime parks. If you're a fun-loving (as opposed to the super intense) tree-hugger, then you'll love La Mesa Eco Park. Like we said before, it's one of those places where you can spend an entire day and not run out of things to do. Located at the outskirts of Quezon City in East Fairview, it's a serene nature enclave features horseback riding, boating, swimming, paintball, and butterfly-watching activities, plus picturesque picnic areas. This park has, in fact, become a favorite for prenuptial photo shoots.
ADVERTISEMENT - CONTINUE READING BELOW
For those who find Fairview "too far," there's always the Ninoy Aquino Parks and Wildlife. The 80-hectare nature preserve is located along the Elliptical Road in Diliman, Quezon City. It's near the Quezon Memorial Circle. The place boasts of some caged animals (such as a hornbill, a heron, and a peacock), a playground, a man-made lagoon, and promenades.
8. Cool coliseum. If you're a bona fide QC resident, you should at least have attended one event at the Araneta Coliseum before you die. Dubbed as "The Big Dome," it's a clear span, indoor multi-purpose arena located in the Cubao area of Quezon City, Philippines. Its contruction began in 1957 and was finished in 1959. With a dome diameter of 108 meters, it boasts of a total land area of almost 40,000 square meters and has a floor area of 23,000 square meters. The first-ever coliseum event was held on March 16, 1960- a boxing match between Pinoy champ Gabriel "Flash" Elorde and American Harold Gomes. At stake back then was the World Junior Lightweight crown. Elorde won. Another notable event was the 1975 "Thrilla in Manila" boxing match between Muhammad Ali and Joe Frazier.
These days,  the coliseum is where the National Collegiate Athletic Association (NCAA), the University Athletic Association of the Philippines (UAAP), and the Philippine Basketball Association (PBA) hold their games. Of course, it's also a popular concert venue and the stage for the annual Binibining Pilipinas beauty pageant.
Technically, the Dome is now known as the "Smart Araneta Coliseum." This is due to the naming rights deal with Smart Communications, Inc. The deal is supposed to last for five years and includes improvements to the venue.  The Araneta Coliseum by any other name is still the Araneta Coliseum...even if it's going to be called something else in formal annoucements.
ADVERTISEMENT - CONTINUE READING BELOW
9. Animal attraction. They say you can judge a city by how it treats animals. With the Philippine Animal Welfare Society (PAWS) Animal Rehabilitation Center (PARC) located at Aurora Boulevard, Katipunan Valley in Loyola Heights, it means QC is making an effort to protect its furry residents. PARC is, after all, "the first real animal shelter in the country."
PARC was set up in September 2000 with the help of funding from the International Fund for Animal Welfare (IFAW) and Meralco's Manolo Lopez. American architect Larry Litchfield designed the facility pro bono. Since then, PAWS has cared for hundreds of rescued dogs and cats at PARC, providing food, shelter, veterinary care, and affection of previously neglected, abused, or abandoned animals. At any given time, PARC houses around 500 cats and dogs. Its mission is to have them adopted.
10. EDSA edifices. The 1986 EDSA People Power Revolution was a major turning point in Philippine history. Accordingly, QC has three significant markers that arose from that milestone.
There's the 45-foot-high handcrafted brass structure called Bantayog ng mga Bayani along Quezon Avenue, which was cast to memorialize to those who struggled against the Marcos regime. The monument, which was carved by artist Ed Castrillo, depicts a fallen hero, being lifted up by a woman, representing Inang Bayan (Motherland), who looks at the future with upraised hand. Entwining these two figures is the Philippine flag, the emblem of national unity. At the base of the towering structure is an inscription taken from Jose Rizal's "Mi Ultimo Adios."


ADVERTISEMENT - CONTINUE READING BELOW
The most symbolic of the EDSA Revolution is, perhaps,  the Our Lady of EDSA Shrine, which is located at the crossroads of EDSA and Ortigas Avenue. The write-up about the shrine reveals: "The idea for a commemorative shrine was conceived by Cardinal Sin two days after the Marcos family fled into exile in 1986.  He approached the Ortigas and Gokongwei families who agreed to donate the prime corner lot where the nuns and ordinary men and women bravely stood in front of military tanks and offered flowers to the soldiers."  Architect Francisco Mañosa created the architectural and structural design for the church (with preparatory work from national artist Leandro Locsin and Architect William Coscolluela). The plaza boasts of 14 Stations of the Cross as rendered in bronze by National Artist Napoleon Abueva, while the bronze image of the Our Lady of Queen of Peace was sculpted by Virginia Ty-Navarro.
To round off the EDSA markers, there's the People Power Monument at the corner of White Plains and EDSA Revolution, which depicts the thousands of Filipinos who participated in the "bloodless revolution."  The sculpture, which is another Ed Castrillo creation, wasinstalled in 1993.
Art by Warren Espejo, with photos from various YouTube video clips.
Share this story with your friends!
---
Help us make Spot.ph better!
Take the short survey
Load More Stories