Senator Tito Sotto's plagiarized speech, Rolito Go lost and found + more lowlights
Plus, the Carabuena conundrum, the John Lloyd-Angelica-Derek situation, and more nutty tales.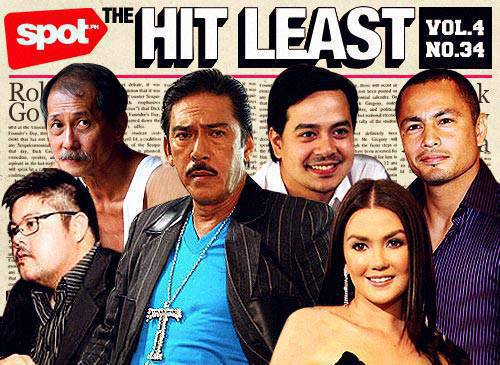 1. IN THE WAKE OF TWO SAN BEDA LAW STUDENTS DYING FROM HAZING INJURIES THIS YEAR, THE SENATE VOWS TO STRENGTHEN THE ANTI-HAZING LAW. Dare we hope that this will actually put a stop to the practice?
2. THE MMDA CREW FINDS A CORPSE AT ITS PUMPING STATION IN MANILA, BUT NOBODY KNOWS IF THE MAN DIED BECAUSE HE DROWNED IN THE DELUGE OR IF THERE'S FOUL PLAY INVOLVED. Because there are so many ways to die in this big bad city.
3. A MAN GETS INJURED AFTER HE FALLS FROM THE BUS HE WAS TRYING TO BOARD ON NORTH EDSA. Haste turns the trip home into a trip to the hospital. (Memo to commuters: The objective is to make it home alive, not to make it home first.)
4. A DOCTOR ALLEGEDLY ADVISES REP. GLORIA ARROYO TO SEEK A SECOND OPINION ABROAD ABOUT HER MEDICAL CONDITION. That awkward moment when you get the feeling that you're about to get screwed.
5. PAGASA EMPLOYEES PROTEST THE DELAY OF THEIR BENEFITS AND P-NOY GOES TO TELL THEM TO WAIT A BIT MORE. "There's a storm coming, Mr. Aquino. You and your friends better batten down the hatches, because when it hits, you're all gonna wonder how you ever thought you could live so large and leave so little for the rest of us." (With apologies to The Dark Knight Rises. Not that the President is Batman.)
6. ROLITO GO CLAIMS HE WAS ABDUCTED FROM PRISON AND HE'S NOW BACK IN POLICE CUSTODY. Should we submit this for the "It's more fun in the Philippines" campaign?
ADVERTISEMENT - CONTINUE READING BELOW
7. SENATOR TITO SOTTO CRIES DURING HIS ANTI-RH BILL SPEECH AT THE SENATE AND IT'S LATER DISCOVERED THAT THE SPEECH WAS PARTLY PLAGIARIZED. One thing's for sure-he's no Pinoy Henyo. ("Senator ba 'to?" "Hindi dapat!")
8. AS RUMORS OF THE JOHN LLOYD CRUZ-ANGELICA PANGANIBAN RELATIONSHIP (WHATEVER IT IS RIGHT NOW) CONTINUE TO SPREAD, ANGELICA'S EX DEREK RAMSAY SAYS HE'S HAPPY FOR HER AND EMPHASIZES THAT SHE WAS NOT A CHEATER. Yes, she's innocent, but you were technically married the whole time you were with her!
9. MOTORIST ROBERT BLAIR CARABUENA SLAPS AN MMDA TRAFFIC ENFORCER NAMED SATURNINO FABROS DURING A TRAFFIC ALTERCATION. Looks like somebody woke up on the wrong side of the world.
CONTINUE READING BELOW
Recommended Videos
10. DOJ SECRETARY LEILA DE LIMA IS OUT OF THE CHIEF JUSTICE RACE. If you really want to climb that high, there's always the Senate. (It's more fun there with plagiarists and action stars.)
Art by Warren Espejo, with photos from PEP.ph and GMA-7, as well as screenshots from various news clips.
Share this story with your friends!
---
Help us make Spot.ph better!
Take the short survey
Load More Stories