National Heroes' Day: Celebrating the Heroes of Habagat
Here's a salute to those who serve selflessly, rain or shine.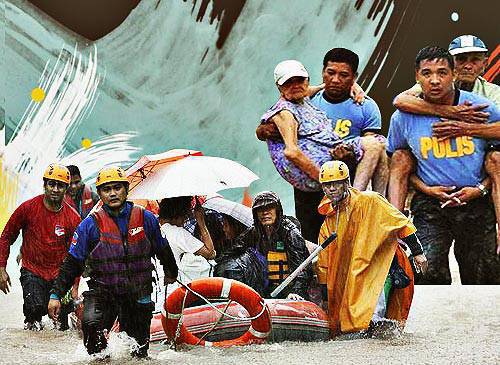 (SPOT.ph) If there's one thing that was proven by the Habagat floods earlier this month, it's probably the fact that we're at least better prepared to face disasters like Ondoy. PAGASA warned us about the heavy rains. Project NOAH was there keeping score. With the help of private organizations like the Philippine Red Cross, the DSWD, PNP, MMDA, AFP and the Coast Guard set out for rescue operations, pronto. Filipinos at home utilized the Internet and social media to get help to where it was needed. A meme quickly went viral: The Filipino spirit is waterproof. So here's our salute to the habagat heroes, the ones who made a difference during those early, ugly days of August!
Superstar Support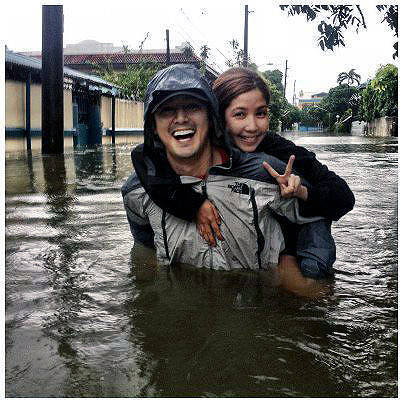 The aid given by our showbiz idols here and abroad was overwhelming. Marc Nelson took the time and waded through waters to help in rescue operations. Nora Aunor, Angel Locsin and Rhian Ramos helped pack relief goods while Divine Lee pulled friends to help in the distribution of relief goods in Rizal. International stars also shared their support for the Philippines through tweets, including Will.i.am, Ryan Seacrest, Michelle Branch and Andrew Garfield. Even Spanish basketball star Paul Gasol tweeted with "All my support to all the families that are suffering the terrible floods in the Philippines #PrayForThePhilippines."
ADVERTISEMENT - CONTINUE READING BELOW
Did you know? Neil Gaiman, author of Stardust and Sandman, also tweeted his concern for the country. He said, "Sending love and worry to the Philippines. (Will also send aid donation using #reliefPH info....)" Nice to see our hashtags at work!
PAWS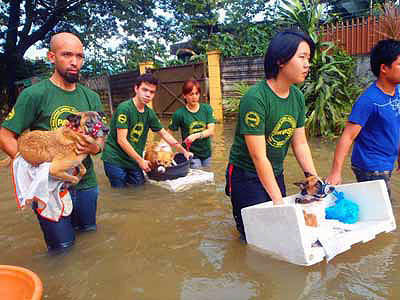 CONTINUE READING BELOW
Recommended Videos
People aren't the only ones that needed relief at the height of the habagat. When the rains poured and the floods came, PAWS set out to rescue pets that were abandoned by their owners or to respond to the call of families to save their beloved pets. Spread into two teams, PAWS was able to rescue several pets, and distribute 1200 packs of pet food for owners who preferred to stay in their flooded homes with their pets.
Did you know? According to PAWS, if you can't take your pet with you when fleeing from flood, it's best to let them out of their cages or leave them untied. This will give them a better chance at fending for themselves.
ADVERTISEMENT - CONTINUE READING BELOW
PAGASA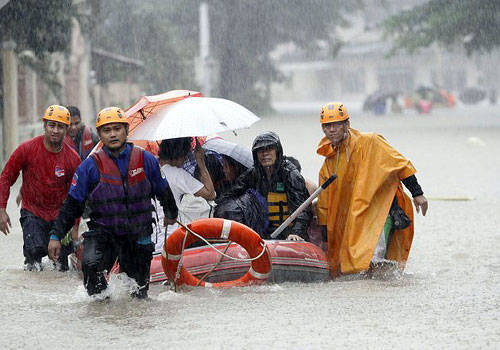 They did their job, and they did it well. The weather specialists over at PAGASA worked tirelessly to forecast the arrival of the habagat rains and raise warnings as they saw fit. We knew what to expect from these rains based on their sound research, and we now know that they're a government agency we should trust. It's a little ironic, though, that this city hero is currently facing problems with employees getting their benefits.
Did You Know? According to GMA News Online, PAGASA's Doppler Radar was able to detect that the heavy downpour on August 7 was partly caused by a mesocyclone, also called "the mother of tornadoes," entering the Philippines. This mesocyclone brought the heavy rains and strong winds into the country.
The MMDA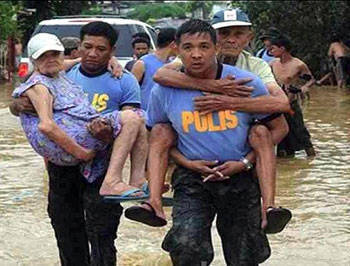 ADVERTISEMENT - CONTINUE READING BELOW
Now let's give some love to one of the most visible government agencies on the social media space. The MMDA sprang into action during the habagat season mainly by posting on their Twitter page, posting flood warnings, posting information about where people can get help and encouraging people online to tweet information about those that needed rescuing with a hashtag #ReliefPH. These, paired with rescue operations in Tatalon, Commonwealth, and Roxas made the MMDA a true habagat hero.
Did You Know? After the rain and floods subsided, the MMDA set to work clearing up Roxas Boulevard. According to a report by DZMM, they gathered up to 300 tonnes of trash that filled the street. #WasteManagement
The Philippine Red Cross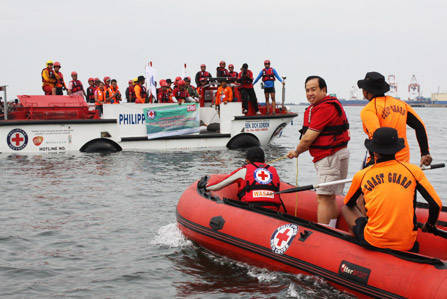 Our Facebook News Feeds were flooded with the images of the coolest cars on the planet. We had to stand up and cheer when the Philippine Red Cross rolled out the amphibian trucks, a hybrid of ship and truck that is strong enough to face any flood and loaded with blankets and tarps. The dedicated volunteers of the Red Cross worked 24/7 on rescue and relief operations while facing the floods without fear. Expertly led by Chairman Dick Gordon, they were able to save thousands of lives in the middle of strong downpours.
ADVERTISEMENT - CONTINUE READING BELOW
Did you know? According to Journal Online, while riding the amphibian trucks along Ayala Avenue, Dick Gordon rescued a man from a stranded ambulance on a bridge, despite having been told that there was no longer anybody inside. The man had been suffering from a brain illness and was seizing when they found him.
The Internet (especially Social Media)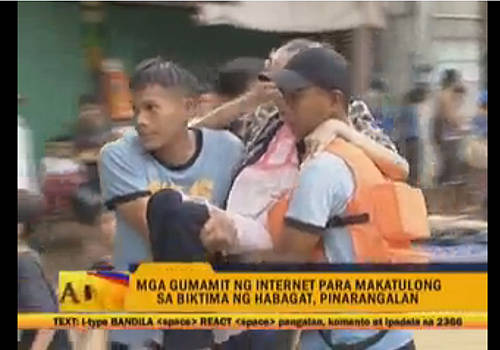 Watch the video here.
It's interesting to note that the Philippines has been unofficially named "the social networking capital of the world," according to a report by the Manila Bulletin. It's good to know that we've learned to use our tech savvy ways in the face of disaster. When habagat struck the country, netizens wasted no time in sharing photos and warnings of the onslaught of rains. We were also able to create a relief and donation center map, and a rescue request form for those who needed rescuing. Others flocked to Twitter for updates, sharing information on people that need help via hashtags. Filipinos used the Internet to organize and assimilate information in ways that we hadn't seen before.
ADVERTISEMENT - CONTINUE READING BELOW
Did you know? Even the government has recognized the power of social networking. After habagat, the Twitter accounts of various agencies asked people to report potholes on the road to the DPWH with the humorous hashtag #lubak2normal.
The Filipino Spirit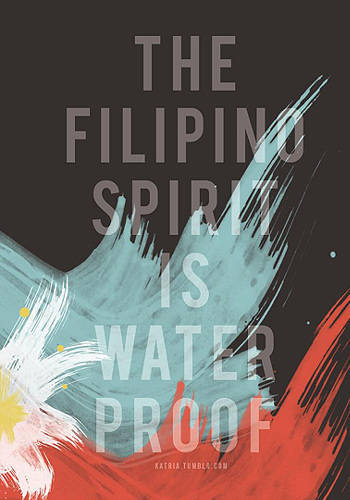 The world around us may have been filled with water, but it was the resilient nature of the Filipino spirit that shone through. Even Snow Patrol frontman Gary Lightbody acknowledged the strength of the Filipino spirit during their concert on August 9, 2012. He praised us for our "grace, kindness, and triumph of the human spirit," and said, "you're all an inspiration to the world." As always, we Filipinos couldn't help but smile. TV cameras shot people smiling while treading through floods. Undeniable was the still-cheerful vibe everywhere.
Did you know? A photo from GMA News shares that there was a couple who got married in the middle of the crazy weather! Elementary school teacher Herniele Ruazon and Ram Campo's waterworld wedding photo was shared in social networking sites when the rains were getting stronger. How's that for true love?
ADVERTISEMENT - CONTINUE READING BELOW
The Philippine Coast Guard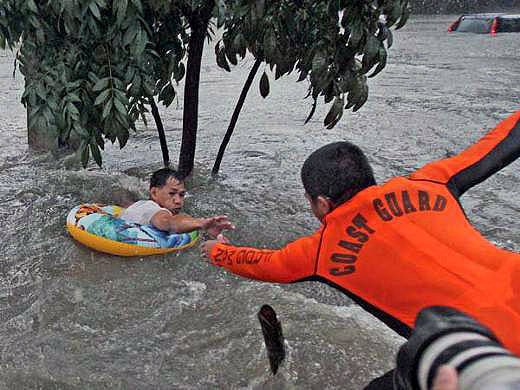 According to this report by the Inquirer, The Philippine Coast Guard only had very minimal equipment at the ready when habagat struck. Seven rubber boats and three trucks hardly seem like enough to rescue an entire region, but with only these, they were able to save up to 3,000 people from the deluge. Now, that's heroism for us. Special mention also goes out to the Armed Forces and the Philippine National Police, who also helped in resue operations, working well with the different private organizations like the Philippine Red Cross.
Did you know? The Coast Guard will acquire over P521 million worth of equipment in the next six months, including jetskis, flares, rubber boats and radios. They deserve it!
Project NOAH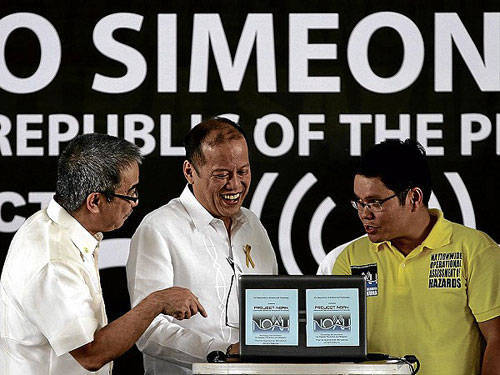 ADVERTISEMENT - CONTINUE READING BELOW
Just one month before the rains fell on Manila, President Aquino launched Project NOAH, or Nationwide Operantional Assessment of Hazards. Operating under the DOST, Project NOAH is a website that allows users to see rainfall predictions for areas all over the Philippines, providing a great forewarning system for areas that are likely to get flooded. During habagat, Project NOAH's accuracy was tried and tested as they, with PAGASA, were able to forewarn the Marikina area of the heavy rainfall and rise in water levels. Their goal was to bring weather forecasting to the 21st century, and we're glad to see that they were able to do just that. Check out Project Noah and see what it's all about. We hear they're coming up with an app soon!
Words of wisdom: We spoke with Project NOAH head Mahar Lagmay about Project NOAH's role during the recent habagat. He told Spot.ph, "The rains recorded reached 1007 mm in 3 days, Ondoy was only 455 mm over the span of 24 hours. But each day of Aug 6 to 8 they topped the list of highest rainfall amount per day since 1960. This was really quite an unusual event of rainfall in Manila!" He added, "Despite the record danger level, Marikina was successful in evacuating people. The element of surprise was not there. Government was able to inform the people. But even though there was advice, there were still those who didn't listen, participate, or prepare for necessary action. Disaster preparedness works both ways, there's advice and people who follow them. Without both, the mitigation plans would not have worked. Marikina was a success story for the people and I congratulate them for knowing what to do and putting it to action. The people, the LGUs, they all knew what to do, and the casualties were few. Preparedness is very important, as well as advice of the government." According to him, "We need the cooperation of the people and the timely advice of the government. That's how disaster preparedness works."
ADVERTISEMENT - CONTINUE READING BELOW
Photos from The Philippine Red Cross,  PAWS,  Juice.ph, Pep.ph, BBC and katria.tumblr.com
Share this story with your friends!
---
Help us make Spot.ph better!
Take the short survey
Load More Stories