Tito Sotto keeps talking, Rolito Go gets busted + more lowlights
Plus, Annabelle Rama chugs shampoo, Freddie Aguilar's broken vault, and other nutty tales.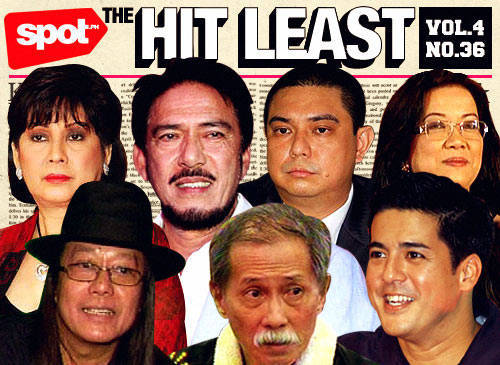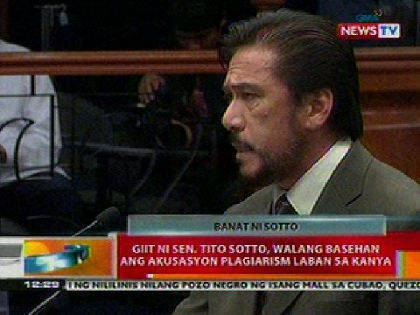 ADVERTISEMENT - CONTINUE READING BELOW
CONTINUE READING BELOW
Recommended Videos
1. SENATOR TITO SOTTO WHINES THAT HE'S A VICTIM OF CYBERBULLYING AND POINTS OUT THAT PLAGIARISM IS NOT A CRIME IN THE PHILIPPINES. Unfortunately, stupidity isn't a crime either.
2. ENLISTED PERSONNEL OF THE ARMED FORCES OF THE PHILIPPINES REPORT THAT SOME OF THEIR THINGS WERE STOLEN FROM THEIR BARRACKS IN CAMP AGUINALDO-AND IT'S NOT THE FIRST TIME IT HAPPENED. If in-your-face robbery can happen on AFP turf, then we're all screwed.
3. A ROBBERY GROUP IS ARRESTED AND ONE OF ITS LEADERS IS ALLEGEDLY A RETIRED SARGEANT OF THE PHILIPPINE ARMY. That's a hell of a way to retire, sir.
4. MUSICIAN FREDDIE AGUILAR LOSES ₱500,000 FROM HIS BEDROOM VAULT IN WHAT THE POLICE CALL AN "INSIDE JOB" ROBBERY, BUT HE INSISTS HE WAS THE ONLY ONE WHO KNEW THE COMBINATION. Well, apparently not.
5. AGA MUHLACH, WHO'S RUNNING FOR CAMARINES SUR CONGRESSMAN IN 2013, REPORTEDLY DECLARED THAT HE KNOWS A LOT MORE THAN MANY OF THE PEOPLE WHO ARE ALREADY IN CONGRESS. Question: "What's worse than an actor with political plans putting his foot in his mouth?" Answer: "The fact that the actor may be right."
ADVERTISEMENT - CONTINUE READING BELOW
6. IMPEACHED CHIEF JUSTICE RENATO CORONA GETS HIT WITH TAX EVASION CHARGES BY THE BUREAU OF INTERNAL REVENUE. And just when he thought his ordeal was over...
Load More Stories