The RH Bill: One Month Later a.k.a. The Tito Sotto Show
Is the long-delayed legislation close to being birthed or is it in limbo once more?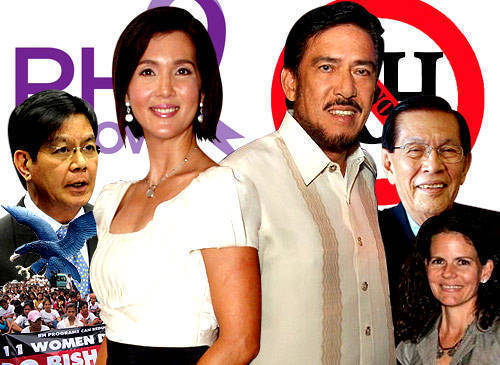 (SPOT.ph) It's been exactly one month since the House majority voted to end the Reproductive Health (RH) Bill debates so it could move on to the next phase in the legislative process-which is the period of committee and individual amendments.
Formally known as House Bill 4244 ("An Act Providing for a Comprehensive Policy on Responsible Parenthood, Reproductive Health, Population and Development, and For Other Purposes"), the RH Bill it has been put through the legal and the so-called moral wringer since 1998. That's 14 years...and counting. Bottom line: This sure isn't over yet and the fight is only going to get even uglier. The last 30 days have been the most exciting the RH Bill has seen, what with all the memes mushrooming on social media, anti-RH Bill folks blaming the pro-RH Bill people for last month's floods (true story!), and of course, Tito Sotto's erm, ongoing meltdown.  Let's all brush up what has happened so far.
The RH Bill debate was terminated. This only means we must brace ourselves for more debates.
August 6, 2012. Despite the fact that August 7 was publicized as the day when members of the House of Representatives would vote to continue or end the RH Bill debates, the voting was moved to a day earlier. President Benigno "Noynoy" Aquino III-as well as both the critics and supporters of the RH Bill-agreed to end debates on the measure and move the legislative process forward. Admittedly, even some RH Bill supporters wondered why the voting was expedited. In any case, this only marked the beginning of yet another lengthy process. Let's just hope it won't take another 14 years.
ADVERTISEMENT - CONTINUE READING BELOW
August 7, 2012. As heavy rain and flooding beset Metro Manila and surrounding areas, Zambales Rep. Mitos Magsaysay-who is known to be against the RH Bill-tweeted: "Heaven must be crying... We have to undo what has been done..." A number of netizens assumed she was implying that the bad weather was a result of the expedited voting that transpired on August 6. In an ABS-CBNNews.com article, Magsaysay clarified: : "I was shocked that an innocent comment about undoing the effects of the abuses suffered by Mother Nature in the hands of mankind would be taken so far out of context. I was not even asked about what I meant before it was all posted online." Yes, folks, Twitter is now the root of all smackdowns.
CONTINUE READING BELOW
Recommended Videos
August 10, 2012. A Philippine Daily Inquirer article revealed that in Tagum City, Davao del Norte 4,390 women have availed of free tubal ligation procedures since the city implemented its own reproductive health program six years ago. In the face of Church criticism, the city has-since 2006-set aside at least ₱1.5 million each year for the reproductive health program. This had us asking: "Why can't we just make like Tagum City and get on with it?"
August 13, 2012. At 7:40 a.m. InterAksyon.com posted the pro-RH Bill statement signed by 160 faculty members of the Ateneo de Manila University. More Ateneo faculty members signed the statement later on.
Sen. Tito Sotto delivered a moving speech. Too bad he plagiarized parts of it.
August 13, 2012. In the afternoon, Tito Sotto-a very talented comedian who is also a senator-delivered his turno en kopya contra speech at the Senate. He shed copious tears as he pointed out that his reason for opposing the RH Bill is really quite personal. According to David Dizon of ABS-CBNNews.com: "(Sotto) said his wife, actress Helen Gamboa, first gave birth to a girl in January 1973. Since Gamboa was working in TV and movies, she took the advice of a doctor-friend and started taking contraceptives. After a year, she again conceived and gave birth to Vincent Paul on March 13, 1975. Doctors at the Makati Medical Center said the boy had a weak heart and needed blood transfusions almost daily." Sotto then added: "(My son) was born but he never left the hospital. The Makati Medical Center said he died because my wife used contraceptives. Even her doctor admits to the fact, Dr. Carmen Enverga-Santos."
ADVERTISEMENT - CONTINUE READING BELOW
August 15, 2012. Alfredo R. Melgar's article, "Sotto's method of legislation is inexcusable," was posted on the Filipino Freethinkiers website. He pointed out that at least one lengthy passage in Sotto's speech was plagiarized from U.S. blogger Sarah Pope, whose blog is called The Healthy Home Economist.
August 15, 2012. Sen. Tito Sotto delivered the second part of his turno en kopya contra speech at the Senate. He revealed the brand of the birth control pills that his wife had taken in 1975. He identified Diane, a brand of birth control pills distributed by Bayer Schering Pharma.
August 16, 2012. Journalist Raissa Robles posted an article on her blog titled, "Did Sen. Sotto copy from 5 bloggers?" (The title speaks for itself.) Robles credited her readers for spotting other  plagiarized parts in Sotto's speech.
In 1977, Tito Sotto had a sense of humor about family planning. These days, he's still a comedian...who just happens to be in the Senate.
August 16, 2012. Sen. Tito Sotto appeared on ANC's morning show Headstart and answered questions about his plagiarism. He quipped, "Bakit ko naman iku-quote 'yung blogger? Ang kinu-quote ko si Dr. Natasha Campbell-McBride (Why would I quote the blogger? I was quoting Dr. Natasha Campbell-McBride)." He was explaining that he didn't copy from Sarah Pope, but only citing the same doctor that Pope had cited in one of her posts.
August 16, 2012. Sarah Pope wrote a post on her blog titled "On plagiarism, the pill, and presumptuousness." In it, she said, "A thief is a thief, Mr. Senator. Denying it doesn't get you off the hook; it just makes you a lying thief." She also said that Sotto's speech only twisted her words.
ADVERTISEMENT - CONTINUE READING BELOW
August 16, 2012. Things got worse for Sen. Tito Sotto when later on this day his chief of staff, Atty. Hector Villacorta, admitted that they had indeed copied Sarah Pope's past blog post. In this instance, Villacorta outdid himself with his original excuses. (Note: The word, "original," is used sarcastically here.) So, get yourself some chips and read the ABS-CBNNews.com article, "Sotto's office admits copying U.S. blog." This Villacorta dude is highly entertaining.
August 17, 2012. An article published on Philstar.com ("Sotto erred in birth control pills claim?") pointed out that Diane, the birth control pill brand that Sen. Tito Sotto had blamed for the death of his son in 1975, was only out in the market in 1978. Unless Sotto traveled to the future, there was no way the said pill could have been the culprit for his tragedy.
August 20, 2012. Kristine L. Alave of The Philippine Daily Inquirer reported that Bishop Leandro Medroso, "called for an investigation of the [160] Ateneo faculty members who signed a statement declaring support for the controversial reproductive health (RH) bill being pushed by the Aquino administration in Congress." The report said that Medroso expressed this during an interview broadcast over the Church-run Radio Veritas. He pointed out that the teachers "may [likewise] face investigation for heresy." In the report, Medroso was identified as "the permanent council member of the Catholic Bishops' Conference of the Philippines (CBCP) and chairman of the Episcopal Commission on Canon Law."
August 20, 2012. Ateneo de Manila University issued a memo wherein it clairified its stance on the RH Bill. In it, Ateneo president Jose Ramon T. Villarin, S.J. talked about the faculty members who had signed a pro-RH Bill statement. He said, "Though the University must differ from their position for the reasons stated above, I appreciate their social compassion and intellectual efforts, and urge them to continue in their discernment of the common good." What he was saying was, though the university (as an entity) had to oppose the RH Bill because of its affiliation with the Church, it wasn't condemning those who had different views. Sadly, not everyone could fully digest the complexity of Villarin's well-written and enlightened memo.
ADVERTISEMENT - CONTINUE READING BELOW
August 22, 2012. Cathy C. Yamsuan of The Philippine Daily Inquirer reported that during a breakfast forum Sen. Tito Sotto's chief of staff Atty. Hector Villacorta, "said it was a common practice among Senate staff members to scout for bills that a previous Congress had failed to enact into law and repackage them as their bosses' pet measures." Villacorta also explained that "researchers in Sotto's office tried to download a copy of Dr. Nastasha Campbell-McBride's book but failed" so they resorted to lifiting the text from Dr. Campbell-McBride's book that was quoted in Sarah Pope's blog post." To top it all off, he also quipped, "Even our image was copied from God. We are all plagiarists."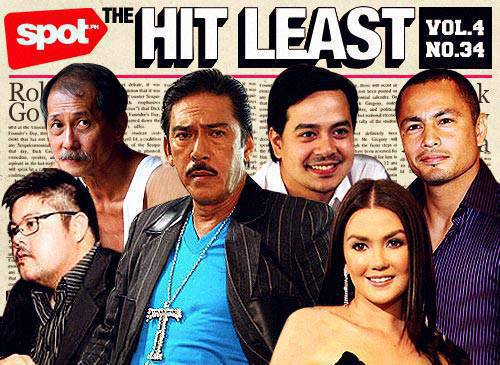 Tito Sotto's plagiarized speech headlined SPOT.ph's lowlights last August 17.
August 22, 2012. According to an ABS-CBNNews.com report, when Sen. Miriam Defensor Santiago was asked for her opinion about Sen. Tito Sotto's plagiarism, she quipped: "(The) speechwriter must have overlooked/forgot to include the word 'allegedly'.  But this is not the academe where plagiarism is a mortal sin.  We should give leeway in politics, as long as later on the source is acknowledged."
ADVERTISEMENT - CONTINUE READING BELOW
August 23, 2012. The family of the Dr. Carmen Enverga-Santos-whom Sen. Tito Sotto identified as his wife Helen Gamboa's obstetrician in his anti-RH Bill speech-posted a statement on Facebook saying that the late doctor would have backed the RH Bill. We got permission from Dr. Enverga-Santos' daughter, Lea, to publish their statement. She had written: "As one of Dr. Carmen Enverga-Santos' children, [I must say] we were all surprised to hear her name brought up by Sen. Sotto during the deliberations on the RH Bill. Anyone who knew her, including her family, colleagues in the medical field, her medical students, friends, confessor, as well as her patients, knows that she would have supported the RH bill and would have openly expressed her support for the bill because of her concern for our country's problems with overpopulation and its subsequent impact on poverty, quality of life issues, and the health of all mothers."
August 25, 2012. InterAksyon.com published an open letter addressed to the pro-RH Bill Ateneo de Manila University faculty members written by former Manila mayor Lito Atienza. Atienza, who is against the RH Bill, had been mentioned in their statement. Atienza wrote: "Specifically, the Ateneo faculty members took issue with my official actions as mayor of Manila, a position I held for three terms, during which the long-neglected capital city enjoyed unparalleled economic growth and fiscal health, alongside human development."
August 29, 2012. David Dizon of ABS-CBNNews.com reported that Sen. Tito Sotto slammed the netizens who criticized him for plagiarizing parts of his anti-RH Bill speech. The report quoted Sotto, who said, "Ako na po yata ang kauna-unahang opisyal na naging biktima ng cyberbullying. Buti na lang mayroon na tayong batas na tinatalakay diyan (I think I'm the first public official to be a victim of cyberbullying. It's a good thing there's a proposed law that will deal with that)." Sotto also added: "There is no crime of plagiarism in the Philippines. Kahit na hanapin niyo sa Revised Penal Code, Intellectual Property Code. o sa Special Penal Laws, wala kayong makikitang krimen na plagiarism (You can go through the Revised Penal Code, the Intellectual Property Code, or the Special Penal Laws and you won't find anything that classifies plagiarism as a crime)." Meanwhile, a Sun.Star article reported: "Upset with allegations that he copied parts of his speech against the Reproductive Health (RH) bill, Sen. Tito Sotto asked the Senate to delete from the records the quotes allegedly taken from the blog of American Sarah Pope."
ADVERTISEMENT - CONTINUE READING BELOW
August 29, 2012. Writer Miguel Syjuco, author of Ilustrado, wrote a scathing commentary on Sen. Tito Sotto's antics which got published in The New York Times. It's titled "A plagiarist's rant against birth control."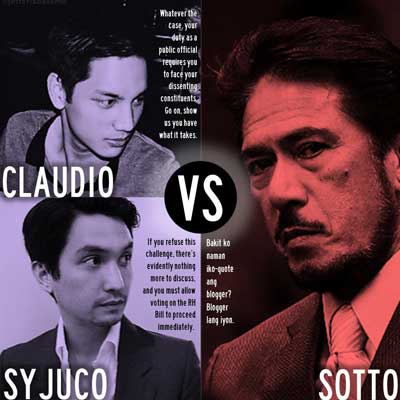 A meme found on Leloy Claudio's Facebook page.
August 30, 2012. Journalist Raissa Robles, via her blog on ABS-CBNNews.com, pointed out that Senator Tito Sotto was able to crack jokes about family planning just a couple of years after his son died. Sotto had alleged that contraceptive pills had caused his late son to have a heart defect. Robles' post, titled "Sen. Sotto endorsed family planning two years after the death of his son" is in the form of a letter addressed to Sotto. Robles gives credit to one of her followers for digging up a YouTube upload (see the video embedded on this page) of the humorous album, Tough Hits, that Sotto had made with his brother Vic Sotto and fellow comedian Joey de Leon. The Tough Hits segment was dubbed "The Family Planning Department."
ADVERTISEMENT - CONTINUE READING BELOW
September 1, 2012. GMA News Online published an open letter addressed to Sen. Tito Sotto written by academic Leloy Claudio and writer Miguel Syjuco. In it, they challenged the senator to a "tag team debate." That meant Sotto could bring along a bishop to engage in a debate with them. Naturally, Sotto rejected the challenge and said he would only engage in a debate with people who have been elected.
September 3, 2012. GMA News Online reported that Sen. Pia Cayetano "branded as 'irresponsible and a delaying tactic' the possible postponement of the deliberations on the controversial Reproductive Health (RH) bill in the Senate." Some reports alleged that her statement was meant for Sen. Juan Ponce Enrile and Sen. Tito Sotto, who are known as staunch anti-RH Bill advocates. Enrile and Sotto denied delaying the bill.
So here we are now.
September 4, 2012. Forty-five De La Salle University faculty members (and four alumni) release their pro-RH Bill statement. It is titled "The RH Bill is pro-life."
September 4, 2012. Andreo Calonzo of GMA News Online reported that "Cagayan de Oro Rep. Rufus Rodriguez shouted at members of the House secretariat, whom he accused of miscounting the number of lawmakers inside the plenary hall." (The head count was 155, but Rodriguez said it was only 111.) The report quoted Rodriguez, who alleged that "the supposed 'misinformation' was a ploy by pro-RH lawmakers to start tackling amendments to the RH bill on the floor."
September 5, 2012. Cathy Yamsuan and Leila Salaverria of The Philippine Daily Inquirer reported that "Senator Panfilo 'Ping' Lacson believes a majority of senators, at least 14 by his count, will vote in favor of the reproductive health (RH) Bill." However, Lacson did not name names.
ADVERTISEMENT - CONTINUE READING BELOW
They might as well call this A Filipino Horror Story.
September 5, 2012. Sen. Tito Sotto delivered his third turno en kopya contra speech at the Senate. Shortly after his latest performance, netizens pointed out that a huge chunk of his latest speech was a direct translation of the 1966 speech of the late United States Senator Robert F. Kennedy. An ABS-CBNNews.com article revealed: "Social media user Michel Eldiy called out Sotto, accusing him of only translating parts of a speech originally delivered by the late U.S. Senator Robert F. Kennedy. Eldiy said on Twitter that she noticed something wrong in Sotto's speech in Filipino." The report quoted Eldiy, who explained, "I knew 'maliliit na galaw' sounded like an awkward translation of something originally in English. So I Googled 'ripples courage." And, voila! She found it. Sotto, as usual, laughed off the accusation.
September 6, 2012. People woke up and expected more Sen. Tito Sotto shenanigans. He has become hands down the star of this crazy show. This article was finished at 9 a.m. Who knows what wonderful things Sotto will come up with before the day is over. And the RH Bill? We'll have to wait and see as usual.
Art by Warren Espejo, with screenshots from various video clips of news agencies, bloggers, fans, and other netizens.
Share this story with your friends!
---
Help us make Spot.ph better!
Take the short survey
Load More Stories