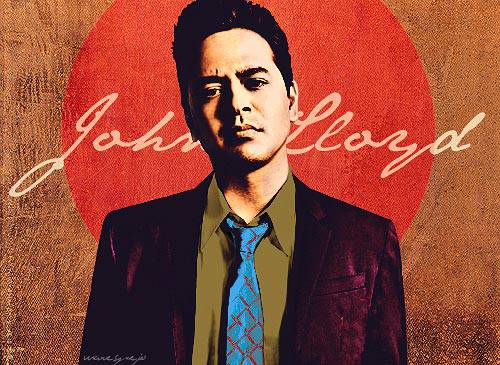 (SPOT.ph) We assume too much about John Lloyd Cruz. We used to assume he had made a habit of getting carried away with his drinks and then getting carried out of a bar, drunk out of his wits. Today, we assume he falls in love too often, sometimes even when he's still carrying on with a still-unbroken relationship. Which is what we assumed had taken place when his last romance fell apart, and the name Angelica Panganiban started floating about in the rumor mills. We've been hearing about the John Lloyd-Angelica connection since April this year, so when a collage of their "perfect Sunday" appeared on Instagram only a few weeks before his new movie The Mistress was to open, we assumed, too, that its appearance had been timed to create noise around the film. I know: we've been very, very bad assumptionistas-the types who get caught smoking on campus with our skirts too short.
ADVERTISEMENT - CONTINUE READING BELOW
So we got a scolding from John Lloyd two Sundays ago. In a two-part The Buzz segment which in the beginning felt like an episode of Inside The Actor's Studio, with Boy Abunda the willing James Lipton. With heartbreaking seriousness, they discussed The Mistress as if it were the new Lars Von Trier. And then after a commercial break, Boy asked, almost apologetically, the one question we assumed he'd been meaning to ask from the beginning, the answer to which was the only reason we stayed home that Sunday afternoon.
In so many words, John Lloyd admitted there is something special going on between him and Angelica. But before that, and with even more words, poured out something that put us assumptionistas in our rightful place. Regarding his private life, he said, we can voice out our opinions, and maybe share it with people equally opinionated, but, he added, "In the end you have to realize na hindi kayo parte ng mga buhay ng mga taong ito. I mean, ano alam niyo para makapagbuo kayo at makapagkalat kayo ng kuwento?"
He's right, I thought. A little pompous, but right. He has the right to his own privacy and, like the rest of us, doesn't appreciate people talking behind his back. But he is a celebrity, you might argue, public property. But he's given us enough movies that made us feel good, so puwede ba ibalato na natin 'to sa kanya? Besides, when he signed up for this job at 14, he never thought the invasion of his personal space was part of the bargain.
John Lloyd just wanted to be an actor-in the beginning just because it would help the family, and over the years because he has come to see his profession as a craft. He did not want to be a celebrity, and the rumors and intrigues and song and dance numbers that came with it. He signed up to perform an act but didn't want to be with the circus.
ADVERTISEMENT - CONTINUE READING BELOW

I met John Lloyd in 2003, right at that moment he was about to join the A-list, that rarefied circle inhabited at that time by Piolo Pascual and Jericho Rosales. Over the years I have interviewed him countless times, in the studio, on the set, in his house, on the phone, and even attempted to do it on Skype-his suggestion-while he was on holiday in Paris with Shaina. In his younger days-he's turning 30 next year-acting was this big thing for him, possessed of this yearning to play offbeat characters in movies that demanded more of him than to look good, and made audiences want to feel something other than "feel-good." But the actorly projects seemed too long in coming.
He never tired of asking for them in the beginning. He asked and asked, but his studio just kept giving him more and more of the same romantic lead parts. In the end, to put it in Hollywood terms, he is the Tom Hanks who never got to do his Philadelphia.
ADVERTISEMENT - CONTINUE READING BELOW
But in the past few years, he has become more and more a Hugh Grant, happily taking on all the leading man roles without a trace of worry in his vast forehead. He has come to view his reality in a new perspective: that this succession of romantic lead roles actually ask so much more of him, because he has to create, in each and every rom-com script that come his way, a totally fresh character. He started to see that Palits, the boy who fell in love with his childhood friend in Close to You, can be different from Popoy, the guy who gets shattered to pieces when her longtime girlfriend breaks up with him in One More Chance. Or that Miggy Montenegro, the snobbish publisher who falls in love with an editorial assistant in A Very Special Love, has nothing in common with Apollo, the guy who left his bride at the altar only to fall in love with her again in My Amnesia Girl.
ADVERTISEMENT - CONTINUE READING BELOW
John Lloyd works his magic in each of these roles, makes us fall in love with him, convinces us to take his side no matter what, brings out the incestuous mothers in us when he cries like a baby (and darn, he always cries like a baby), and makes us want to give up our careers to become that editorial assistant who, one fateful night, gets to drop by his house, find out he's sick, and with a hot towel and instant noodles, nurse John Lloyd Cruz into wellness.
But then that's the thing: no matter that Cathy Molina insists he is different in each flick, and that he might find himself in different situations in each of them, we only really see John Lloyd. Because there is really only one peg they keep bringing to each and every film set: the disarmingly cute, sensitive, funny, family-oriented guy who is, essentially, well, John Lloyd. It's a role he can play over and over, yes, and who knows if we will ever tire of watching him perform this amazing sleight-of-hand. Give me a John Lloyd rom-com any day and I'd be happy to part with my hard-earned P160.
ADVERTISEMENT - CONTINUE READING BELOW
But I'm excited about The Mistress, too. Not for me, really. I'm excited about it for him. Because he seems very taken with the project, and when he first told me about it in June, he seemed very impressed with the script. Also because we want to assume deep inside he has never let go of his dream to play something out of character, and his role in the mistress appears to be just that: a suave, worldly lothario who will stop at nothing to get the woman he wants.
ADVERTISEMENT - CONTINUE READING BELOW
Not that we don't want him ever doing the romantic comedy routine ever again. We are still waiting for the Sarah-John Lloyd big screen reunion, which has already started grinding before it had to be shelved temporarily to make way for The Mistress. It's a genre that has given John Lloyd so much success financially, and it has sealed his stature as the most bankable star not only in the ABS-CBN fold but in the whole of local entertainment. How can you argue with that kind of success? These days, John Lloyd Cruz seems to have no problem with it.    



Share this story with your friends!
---
Help us make Spot.ph better!
Take the short survey
More Videos You Can Watch
Load More Stories