Wicked Words: 12 Controversial Editorials and Open Letters
When some people speak their minds, they stir up a hornet's nest.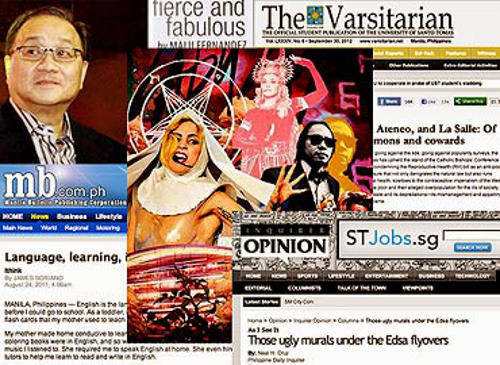 (SPOT.ph) In theory, democracy allows us to weigh in on anything. However, there are some opinions that cause near-riots. Thus, in light of recent developments, we've compiled a list of the most controversial editorials and open letters in recent memory. They range from the ridiculous to the enlightening, the petty to the profound, the self-righteous to the satirical. All the same-their authors dared to push the envelope by putting their thoughts out there.
Note: They are arranged in chronological order, from the oldest to the latest.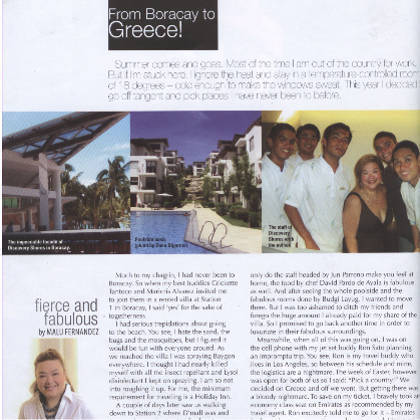 ADVERTISEMENT - CONTINUE READING BELOW
"From Boracay to Greece" by Malu Fernandez
Point of origin: This was an entry in Fernandez's Fierce and Fabulous column in People Asia's June 2007 issue.
Under fire: The piece featured the author's recollection of being in a flight which seemed to have a lot of OFWs as passengers. Apparently, she didn't like being stuck in close quarters with them.
Killer excerpt: "On my way back, I had to bravely take the economy flight once more. This time I had already resigned myself to being trapped like a sardine in a sardine can with all these OFWs smelling of AXE and Charlie cologne while Jo Malone evaporated into thin air. I heaved a sigh, popped my sleeping pills and dozed off to the sounds of gum chewing and endless yelling of 'Hoy! Kumusta ka na? At taga sa'n ka? Domestic helper ka rin ba?' I thought I had died and God had sent me to my very own private hell."
ADVERTISEMENT - CONTINUE READING BELOW
Bottom line: Fernandez's mistake was that she dared to put in writing the thoughts that she should have just kept to herself. Let's face it-she doesn't have a monopoly on these politically incorrect musings. To be fair though, there are a lot of other rowdy crowds on planes.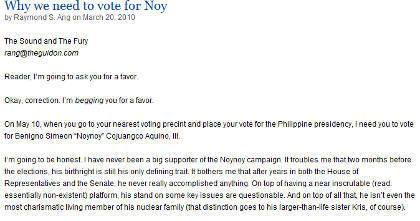 "Why we need to vote for Noy" by Raymond S. Ang
ADVERTISEMENT - CONTINUE READING BELOW
Point of origin: The Guidon, Ateneo de Manila University's student newspaper. The article was posted online on March 20, 2010.
Under fire: The editorial was a passionate argument about voting for then-senator Noynoy Aquino as president because any vote against him would be like a vote for then-presidentiable Senator Manny Villar, whom the editorial had obviously branded as the bad guy.
Killer excerpt: "I'm not asking you to vote for Noynoy because I think he's the best, most qualified candidate. He really isn't, not by a long shot. In my opinion, it's Gilbert Teodoro, with maybe Dick Gordon in second place. I have a lot of friends with a lot of opinions and while we never seem to agree on who the best candidate is, I think we all agree that objectively speaking, it's just not Noynoy Aquino. But the thing is, I'm voting for him anyway. Why am I asking you to vote for Noynoy? I'm asking you to vote for him because of the alternative. At this point, it's safe to say that Gordon, Teodoro, the always ineffable Erap Estrada, campaign spitfire Jamby Madrigal, and any other presidentiables are all essentially saling pusa candidates. 2010 has long revealed itself to be a two-man race, a race that some say pits 'Good' versus 'Evil,' a race between Manny Villar and Noynoy Aquino. Wherever your non-Villar loyalties lie, you need to vote for Noynoy because a vote for Gordon, Teodoro, Madrigal, and even Estrada (if you're inclined to do so), is a vote for Villar."
ADVERTISEMENT - CONTINUE READING BELOW
Bottom line: It is-to say the least-quite an interesting way to convince people to vote for someone. Many people didn't like the fact that the editorial seemed to be inferring that voting for a "sure win" was better than voting for the most qualified candidate.
"Language, learning, identity, privilege" by James Soriano
Point of origin: It was published in the Manila Bulletin's August 24, 2011 issue.
Under fire: The broadsheet columnist talks about using English and Filipino.
Killer excerpt: "Filipino, on the other hand, was always the 'other' subject-almost a special subject-like PE or Home Economics, except that it was graded the same way as Science, Math, Religion, and English. My classmates and I used to complain about Filipino all the time. Filipino was a chore, like washing the dishes; it was not the language of learning. It was the language we used to speak to the people who washed our dishes."
ADVERTISEMENT - CONTINUE READING BELOW
Bottom line: The columnist got accused of being elitist-and it didn't help that August was "Buwan ng Wika." Many people deemed it an intentional case of bad timing.
"It's the economy, student" by Gloria Macapagal-Arroyo
Point of origin: The nine-page essay was disseminated by the camp of Gloria Macapagal-Arroyo sometime in January 2012.
Under fire: It seemed like Arroyo's way of slamming Aquino, who was her former student.
Killer excerpt: "Neither the President nor anyone else can truly expect to govern the next five years with nothing but a sorry mix of vilification, periodically recycled promises of action followed by lethargy, backed up by few if any results, and presumptuously encouraging gossip about one's love life in which no one can possibly be interested. Given the electoral mandate that he enjoyed in 2010- the same size as mine in 2004, as predicted by every survey organization at that time-our people deserve more, and better, from him."
ADVERTISEMENT - CONTINUE READING BELOW
Bottom line: It's the reaction of a predecessor who feels that her successor is using her as a scapegoat for (as she puts it) his alleged shortcomings.
"Lady Gaga, Satanista!" by Lourd de Veyra
Point of origin: This was published in De Veyra's SPOT.ph blog, This is A Crazy Planets on May 28, 2012.
Under fire: This blog post should have come with this tag: "By the way, this is satire." A lot of people didn't quite get that De Veyra was actually mocking the people who had branded Lady Gaga a Satanist.
Killer excerpt: "Wala kaming pakialam kung ikaw ang pinakamalaking contributor sa charity nung nakaraang dalawang taon.  Ang Satanista ay Satanista. Malamang ginagawa mo lang yang mga charity-charity na 'yan para ikalat ang ebanghelyo ng kadiliman. Nasa Bibliya mismo ang kasagutan! Ika nga ng 2 Corinthians 11:14:  'And no wonder! For Satan himself transforms himself into an angel of light.' (We don't care if you've been named the top contributor to charity for the last two years. A Satanist is a Satanist. We bet you just did that to spread the gospel of darkness. The answer is in the Bible! According to 2 Corinthians 11:14: 'And no wonder! For Satan himself transforms himself into an angel of light.'"
ADVERTISEMENT - CONTINUE READING BELOW
Bottom line: It's that awkward moment when one person's level of sarcasm is so advanced that some people think he has actually gone over to the anti-Gaga side.
"Those ugly murals under the EDSA flyovers" by Neal Cruz
Point of origin: This was published as the Philippine Daily Inquirer columnist's entry for the June 12, 2012 issue. The column is called As I See It.
Under fire: Cruz made it known that he thought the attempts at Metro Manila street art were all ugly, singling out a paint company's avant garde take on plumbing pipes.
Killer excerpt: "Metro Manila, with certain exceptions, is ugly enough as it is, why make it uglier with those monstrous murals? The one at Cubao shows nothing but the ugly undersides of buildings and flyovers with plumbing and pipes very prominent among them. What for? You know what those plumbing fixtures do in real life? They carry the -, you know what, from all the residences and buildings all around. The undersides of flyovers are ugly enough with them so dark. What they need is light, not ugly murals."
ADVERTISEMENT - CONTINUE READING BELOW
Bottom line: They say that beauty is in the eye of the beholder. Unfortunately, it seemed that this particular beholder would rather have gouged out his eyes.
An open letter to Sen. Juan Ponce Enrile: On love and lust and leaps of logic" by Dr. Margie Holmes
Point of origin: This was posted on Interaksyon.com on August 6, 2012. At the time, the Reproductive Health (RH) Bill debates were heating up.
Under fire: Holmes-who first gained fame for dishing out advice on sex issues-slammed Senate President Enrile's anti-RH stance.
Killer excerpt: "I take it personally because you said you wanted me to be happy. Gusto niyo po happy ako? With all due respect, Senator Enrile, hindi ako happy pag nakikita ko na maraming gustong maghanapbuhay walang mapasukan at pag nababasa ko ang paghihirap ng mga OFW na sumusulat sa akin (You want me to be happy? With all due respect, Senator Enrile, I am not happy when I see that many people want to work but there are no vacancies and when I read about the trials of the OFWs who write to me). It would be simplistic of me to blame all this on not having passed the RH Bill earlier, but giving people the right to choose how, and indeed if, they want to space and/or limit their families will surely help alleviate these conditions. I take it personally because, in the end, the political is personal and the personal political."
ADVERTISEMENT - CONTINUE READING BELOW
Bottom line: Naturally, Holmes was lauded by pro-RH Bill supporters for having the balls to address a man who is considered by many as the proverbial "sharpest tool in the shed" at the Senate.
"Solve small problems first, Mr. Singson" by Ramon Tulfo
Point of origin: This was Ramon Tulfo's article for his Philippine Daily Inquirer column, On Target. It was published on August 15, 2012.
Under fire: The title may be referring to Department of Public Works and Highways Secretary Rogelio Singson-but the first two segments of the column are about the valiant efforts of Senator Tito Sotto versus the Reproductive Health Bill.
Killer excerpt: "Speaking of Sotto being Catholic, he and this columnist were classmates in Grade VII at the Colegio de San Juan de Letran, an all-boys, Catholic-run school. Sotto was the youngest among his classmates to finish elementary school because he was accelerated twice for his high grades. People who think Sotto is of average intelligence have another think coming."
ADVERTISEMENT - CONTINUE READING BELOW
Bottom line: This column entry may not have gone viral-but maybe it will now. It came out before Sotto's plagiarism was discovered so we can almost forgive the columnist's staunch defense of the comedian-turned-lawmaker. You could say it's downright shocking that Sotto was considered very smart at some point in his life. Then again, a lot of things can happen between grade school and middle age.
"OPM is dead, so sue me" by Leloy Claudio
Point of origin: This was published on GMA News Online on August 28, 2012.
Under fire: Claudio pronounced the death of Pinoy music. Naturally, many people objected.
Killer excerpt: "I fear the instinctive defensiveness of many old hands about the death of OPM belies a lack of willingness to have a discussion about structural issues that impinge on the arts. Of course people will always make music, but that isn't a sign of life. Until the government and the media industries decide that local audiences deserve better, OPM will stay dead. And if I'm being whiny, sue me."
ADVERTISEMENT - CONTINUE READING BELOW
Bottom line: If OPM no longer does it for him, then so be it. He's entitled to make a sweeping generalization about the Pinoy music scene. Those who don't agree with him can always tune out.
"Thoughts on dating a carless guy" by Jeanette Ipapo-Tuason
Point of origin: This was published in the Business section of the Philippine Daily Inquirer on September 12, 2012.
Under fire: It's all about snagging a guy with a car because a guy who doesn't have one is simply not desirable. Yes, the writer was being serious.
Killer excerpt: "If you have a cougar tendency, eyeing a carless boylet is forgivable. In fact, be prepared to give not just a lift, but also phone loads, clothes, etc., but if he's closing in on 30 and doesn't have wheels yet, then maybe he is either not in a hurry to secure stability or just extremely unlucky. Having a car is like the first order of business as soon as the first hair of puberty grows; puberty to the 30s is long enough to be able to make enough money for a form of transportation if they were hardworking and smart enough. There are of course exceptions to the rules, like a transient Brazilian-Japanese model or a billionaire-gone-green, bicycle-riding guy, just make sure your return on investment in kind is worth your fuel and time. "
ADVERTISEMENT - CONTINUE READING BELOW
Bottom line: The diagnosis? Myopic consciousness. Enough said.
Tycoon Manny Pangilinan's "break-up letter" to Ateneo de Manila University president Fr. Jett Villarin, S.J.
Point of origin: This letter was dated September 21, 2012. It was posted online by Denis Lucindo-Philex Vice President for Business Development-on the same day.
Under fire: This was how Pangilinan formally cut ties with the university that had enjoyed his generosity for years. He cited the marked difference in opinion when it came to the RH Bill and mining.
Killer excerpt: "I believe we have come to the irretrievable point where it is best and appropriate to draw the line in the sand, to conclude that we have little or no common interest, and to say that I'd look like a fool helping an institution which opposes my conviction diametrically and unequivocally ("non-negotiable"). The logical consequences of this are: (i) each of us can pursue our advocacies freely without having to be sensitive with regard each other's feelings; (ii) my complete and total disengagement from the Ateneo-something which, after reflection, I must confess I welcome with some relief at this stage. Time to call it a day."
ADVERTISEMENT - CONTINUE READING BELOW
Bottom line: Don't you wish people broke up with you this way? Pangilinan itemized his reasons for cutting ties with Ateneo and that was that. He proved that it was possible to "break up" with someone without so much drama.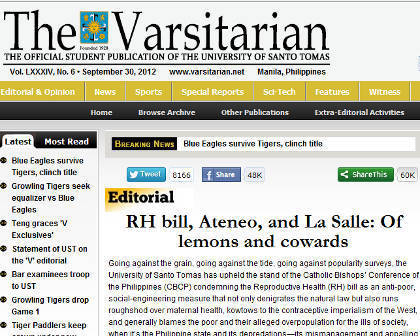 "RH Bill, Ateneo, and La Salle: Of lemons and cowards" by UST's The Varsitarian
ADVERTISEMENT - CONTINUE READING BELOW
Point of origin: This was published sometime around October 2012 on The Varsitarian, the student paper of the University of Santo Tomas UST).
Under fire: It's the case of a group from one Catholic university slamming the groups of teachers from two other Catholic universities for supporting the RH Bill, a law which the Church has tagged as a major sin.
Killer excerpt: "The Ateneo and La Salle professors therefore have been treated with kid gloves by the Jesuits and the Christian Brothers. Although they're religious and members of Catholic orders, the Jesuits and Christian Brothers have failed to uphold orthodoxy and defend the Church. As far as the RH bill and support for it among their faculty are concerned, they're lemons. And as far as the Pro-RH Ateneo and La Salle professors are concerned, they're dishonest and don't have the courage of their intellectual conviction. Contradicting the bishops and defending the RH bill, they have clung on to their faculty membership in Catholic institutions. They want to have their cake and eat it, too. They're intellectual mercenaries, nothing more, nothing less."
ADVERTISEMENT - CONTINUE READING BELOW
Bottom line: Do you believe in the "Walang basagan ng trip" code? If you don't, you'll love reading this editorial.
CONTINUE READING BELOW
Recommended Videos
Share this story with your friends!
---
Help us make Spot.ph better!
Take the short survey
Load More Stories