P-Noy vs. Rep. Teddy Casiño, Kris Aquino vs. Lucy Liu + more lowlights
Plus, Rihanna's back with Chris Brown and other nutty tales.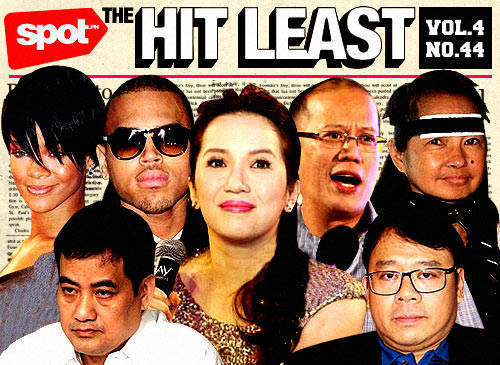 1. MANILA ARCHBISHOP LUIS ANTONIO TAGLE IS APPOINTED CARDINAL BY POPE BENEDICT XVI, CBCP MAKES THE MISTAKE OF TAGGING HIM AS "THE WORLD'S YOUNGEST CARDINAL." (AT 55, HE'S ACTUALLY JUST THE SECOND YOUNGEST SINCE THERE'S A CARDINAL WHO'S ONLY 53.) Who is the Saint of Fact-checking?
2. IN AN INTERVIEW IN NEW ZEALAND, P-NOY SAYS THE OVERZEALOUS FOCUS ON HUMAN RIGHTS ABUSES IS PART OF THE LEFTIST COMMUNITY'S PROPAGANDA, ADDS THAT THEIR SENATORIAL CANDIDATE ONLY HAS 2.6% OF THE POPULATION VOTING FOR HIM. In response, Bayan Muna Partylist Representative Teddy Casiño, identified as "a leftist senatorial bet," said, "Let me remind the president that before his mother died, he did not even rate in any survey nor was considered by anyone to be of presidential calibre." (Wasak!)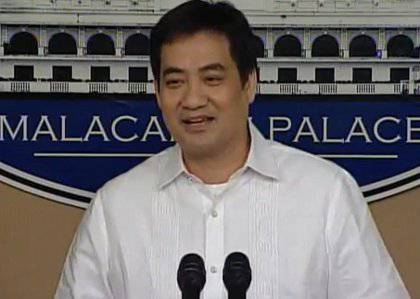 ADVERTISEMENT - CONTINUE READING BELOW
3. NATURALLY, PRESIDENTIAL SPOKESPERSON ATTY. EDWIN LACIERDA DEFENDS HIS BOSS AND TELLS TEDDY CASIÑO "NOT TO TAKE IT PERSONALLY." No matter how you say it, Sir, it sure seems like you're dismissing human rights violations just like that.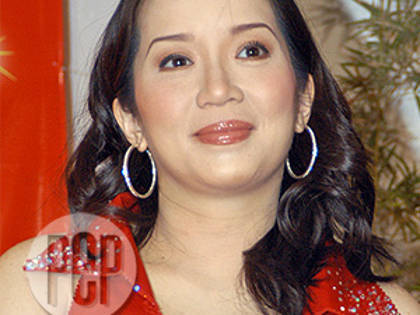 4. KRIS AQUINO SAYS LUCY LIU'S "I'LL START TO LOOK A LITTLE FILIPINO" QUIP WAS "MEAN" AND ADDS THAT CELEBRITIES "SHOULD WATCH WHAT THEY SAY." But Lucy Liu's welcome to talk all she likes if she's going to reveal that she got chlamydia from her still-married ex or something of such magnitude.
ADVERTISEMENT - CONTINUE READING BELOW
5. RIHANNA AND CHRIS BROWN ARE BACK TOGETHER AGAIN. Like a moth to a flame, indeed.
6. WHILE HE WAS IN NEW ZEALAND, P-NOY JOKED, "OUR FELLOW FILIPINOS WHO ARE CORRUPT USE LUXURIOUS CARS, SO EXPENSIVE AND FAST. BUT WHEN THEY WANT TO ESCAPE, THEY USE A WHEELCHAIR." SO, REP. GLORIA MACAPAGAL'S CAMP, VIA ATTY. FERDINAD TOPACIO, CRIED FOUL. In full-on balat sibuyas mode we ask: "Isn't this offensive to legit wheelchair users as well?" (But, yeah, we laughed for 1.2 seconds.)
7. ACTOR MATT EVANS IS OUT OF THE PASIG CITY JAIL AFTER PAYING THE ₱200 BAIL. That's so cheap it's almost funny. (Plus, he may have dethroned Baron Geisler as Pinoy Showbiz's Bad Boy.)
9. TONS OF GARBAGE EXPECTED DURING THE ALL SAINTS' DAY AND ALL SOULS' DAY HOLIDAYS. Because the living are more dangerous than the dead.
ADVERTISEMENT - CONTINUE READING BELOW
10. SOCIAL MEDIA IS BEING BLAMED FOR THE INCREASED TRANSMISSION OF HIV IN THE COUNTRY. It's not as if the virus can log on to Facebook and infect people digitally. (Practice safe sex, friends.)
Art by Warren Espejo, with photos from PEP.
CONTINUE READING BELOW
Recommended Videos
Share this story with your friends!
---
Help us make Spot.ph better!
Take the short survey
Load More Stories