SPOT.ph's Top 10 Viral Videos of 2012
These are the clips that practically everyone watched and re-watched.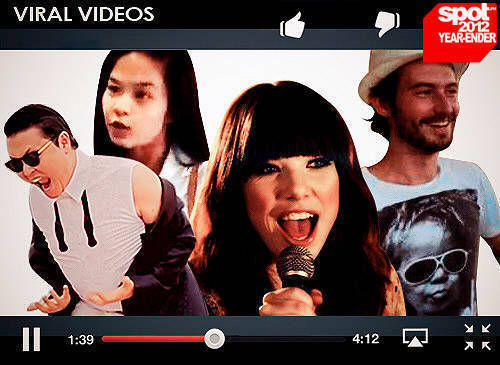 (SPOT.ph) There's no doubt that in our Internet diet, videos are still the go-to main course. This year, we've decided to list those that were spawned by Pinoys and those that either riled up or impressed us, whether we liked it or not.
10. The "Anna Banana" Video
Yes, the fictional character Derek Lorenzo's song-and-awkward-dance video for his beloved "Anna Banana" was manufactured for the PLDT myDSL ad campaign. But that did not stop kids and teenagers from making their own videos and uploading them to YouTube to join the "Be Derek's new 'Anna' Contest." It also helped that the "Anna" the original video was dedicated to came out with a video of her own, wherein she rejected Derek for, among other things, "dancing like a monkey." If there's anything more shareable than a catchy jingle, it's heartbreak.
9. The "Zombie Attack Flash Mob at Resorts World" Video
Just in time for Halloween, hip hop dance crew Philippine Allstars got "zombified" and did their thing at Resorts World Manila. Even if it was clear that they weren't really the walking dead, a lot of people still screamed their lungs out. The video was conceptualized, directed, and edited by Derek Wanner.
8. Taylor Kitsch on The Late Show With David Letterman
In the March 1, 2012 broadcast of The Late Show With David Letterman, the X-Men Origins: Wolverine co-star unthinkingly assented when Letterman asked him if he had gone to the Philippines to shoot the Oliver Stone film Savages. Kitsch had actually gone to Indonesia to shoot the movie. Nevertheless, he went on with his "airport nightmare" story. He even revealed that an "immigration office" had attempted to take his iPhone. Indonesian authorities later owned up to the incident.
ADVERTISEMENT - CONTINUE READING BELOW
7. The "20 Reasons I Dislike The Philippines" Video
Sometime in March 2012, a YouTube video uploaded by user xharlan03x and titled "20 Reasons Why I Dislike Philippines" featuring an expat identified as Jimmy Sieczka got violent reactions from netizens. The video was later removed from YouTube. Sieczka later apologized for the video, which had irked many Pinoys who were in denial about the things he had enumerated in his video, which included Pinoys' obsession with whitening products, impossible traffic, and filthy streets.
6. Lucy Liu on The Late Show With David Letterman
This clip became viral after some Pinoys expressed that they were offended by the comment that Liu uttered during her October 11 appearance on Letterman's show. She had been there to promote the series Elementary. Letterman had asked Liu, who is of Chinese descent, if she liked running indoors or outdoors. Liu had innocently quipped, "I run on a machine. It's easier for me. Also if I get really dark, I'll start to look a little Filipino, it wouldn't match. If I start getting darker, you know what I mean? I can get really dark if I'm in the sun too much." The fact that Liu got so much flak for her matter-of-fact remark is puzzling, as whitening products are, indeed, quite popular in the Philippines. Nevertheless, Liu apologized for her comment.
5. The "Call Me Maybe" Video
Although making videos of you and your friends dancing to "Call Me Maybe" didn't start in the Philippines, we certainly contributed more than our fair share to the global repository of videos of friends dancing to "Call Me Maybe." The first Pinoy-made "Call Me Maybe" video to go viral featured "It Girls" Georgina Wilson, Anne Curtis, Solenn Heussaff, Isabelle Daza, and Liz Uy. Their take on the video served as a teaser for Preview's June 2012 issue. Pretty soon, other models, people from advertising agencies, and entire casts of noontime variety shows were doing the same thing, although with varying degrees of dancing skill. Eventually, the video reached gasgas level.
ADVERTISEMENT - CONTINUE READING BELOW
4. The "Robert Blair Carabuena Goes Ballistic" Video
In terms of going viral, videos of people going ballistic and behaving inappropriately in public are like the I Love You virus that infected PCs in 2000, except there is little love in cases like this. Take, for example, Robert Blair Carabuena who was caught on tape manhandling a Metro Manila Development Authority traffic constable. When the video made the news, people responded with, if not creativity, then righteous and somewhat misplaced indignation. Carabuena was suspended from his job at a tobacco company, got charged with assault, and lost his driver's license.
Earlier in November, college student Paula Jamie Salvosa stepped into the Santolan station of the LRT and into Internet history. A video of her upbraiding a security gave birth to a hashtag that trended worldwide. It was spoofed on Showtime and by YouTube star Petra Mahalimuyak (Ashley Rivera), among others. The video has even "infected" foreigners, or at least some Americans, with a copycat video of two U.S. Army men doing a bad imitation of the incident. More importantly, the "Amalayer incident" has raised serious questions, especially in the media, on how to handle people who misbehave in public. Should Filipino netizens wait to get the other side of the story before getting all, as the Internet says, butthurt? Should the media devote so much time to covering things like viral videos? Indeed, should the media cover stuff like that at all? One thing is sure, though, we should all think twice before ever calling anybody a liar...or commuting in Metro Manila.
ADVERTISEMENT - CONTINUE READING BELOW
2. The "Gangnam Style" Video
The global popularity of South Korean musician PSY's "Gangnam Style" is a mystery. That Filipinos were quick to come up with their own versions of the video, not so much. Of the thousands of videos that Pinoys made in response to the original, two stand out. Bogart the Explorer from Davao City's version was among the first and is certainly the most popular with more than 1.3 million views. Then, there was one with Senator Tito Sotto's wife, actress Helen Gamboa, doing the dance. (Enough said.)
1. The "Random Girl at SM Megamall" Video
In July, YouTube user Yuan Juan chanced upon a then-unidentified young girl who appeared to be trying out the Magic Sing demonstration set-up at SM Megamall. He then uploaded the video. Soon enough, a lot of people got to watch the clip and were bowled over by the then-unidentified young girl's amazing voice. The girl, who was wearing a T-shirt and shorts, as well as carrying a red backpack, had sung "And I Am Telling You," a song from the Broadway musical Dreamgirls. The girl later got in touch with Juan. Her name is Zendee Rose Tenerefe. Just how viral did her video get? Well, "viral" enough to get her on The Ellen Degeneres Show and score her a record deal just months after her SM Megamall performance. We all love a homegrown Cinderella story.
Art by War Espejo, with screenshots from video clips.
Load More Stories