SPOT.ph's Top 10 Viral Videos of 2012
These are the clips that practically everyone watched and re-watched.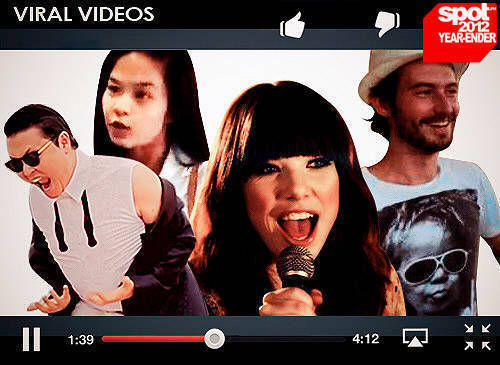 (SPOT.ph) There's no doubt that in our Internet diet, videos are still the go-to main course. This year, we've decided to list those that were spawned by Pinoys and those that either riled up or impressed us, whether we liked it or not.
10. The "Anna Banana" Video
ADVERTISEMENT - CONTINUE READING BELOW
Yes, the fictional character Derek Lorenzo's song-and-awkward-dance video for his beloved "Anna Banana" was manufactured for the PLDT myDSL ad campaign. But that did not stop kids and teenagers from making their own videos and uploading them to YouTube to join the "Be Derek's new 'Anna' Contest." It also helped that the "Anna" the original video was dedicated to came out with a video of her own, wherein she rejected Derek for, among other things, "dancing like a monkey." If there's anything more shareable than a catchy jingle, it's heartbreak.
9. The "Zombie Attack Flash Mob at Resorts World" Video
Just in time for Halloween, hip hop dance crew Philippine Allstars got "zombified" and did their thing at Resorts World Manila. Even if it was clear that they weren't really the walking dead, a lot of people still screamed their lungs out. The video was conceptualized, directed, and edited by Derek Wanner.
ADVERTISEMENT - CONTINUE READING BELOW
8. Taylor Kitsch on The Late Show With David Letterman
In the March 1, 2012 broadcast of The Late Show With David Letterman, the X-Men Origins: Wolverine co-star unthinkingly assented when Letterman asked him if he had gone to the Philippines to shoot the Oliver Stone film Savages. Kitsch had actually gone to Indonesia to shoot the movie. Nevertheless, he went on with his "airport nightmare" story. He even revealed that an "immigration office" had attempted to take his iPhone. Indonesian authorities later owned up to the incident.
7. The "20 Reasons I Dislike The Philippines" Video
Sometime in March 2012, a YouTube video uploaded by user xharlan03x and titled "20 Reasons Why I Dislike Philippines" featuring an expat identified as Jimmy Sieczka got violent reactions from netizens. The video was later removed from YouTube. Sieczka later apologized for the video, which had irked many Pinoys who were in denial about the things he had enumerated in his video, which included Pinoys' obsession with whitening products, impossible traffic, and filthy streets.
ADVERTISEMENT - CONTINUE READING BELOW
6. Lucy Liu on The Late Show With David Letterman
This clip became viral after some Pinoys expressed that they were offended by the comment that Liu uttered during her October 11 appearance on Letterman's show. She had been there to promote the series Elementary. Letterman had asked Liu, who is of Chinese descent, if she liked running indoors or outdoors. Liu had innocently quipped, "I run on a machine. It's easier for me. Also if I get really dark, I'll start to look a little Filipino, it wouldn't match. If I start getting darker, you know what I mean? I can get really dark if I'm in the sun too much." The fact that Liu got so much flak for her matter-of-fact remark is puzzling, as whitening products are, indeed, quite popular in the Philippines. Nevertheless, Liu apologized for her comment.
5. The "Call Me Maybe" Video
ADVERTISEMENT - CONTINUE READING BELOW
Although making videos of you and your friends dancing to "Call Me Maybe" didn't start in the Philippines, we certainly contributed more than our fair share to the global repository of videos of friends dancing to "Call Me Maybe." The first Pinoy-made "Call Me Maybe" video to go viral featured "It Girls" Georgina Wilson, Anne Curtis, Solenn Heussaff, Isabelle Daza, and Liz Uy. Their take on the video served as a teaser for Preview's June 2012 issue. Pretty soon, other models, people from advertising agencies, and entire casts of noontime variety shows were doing the same thing, although with varying degrees of dancing skill. Eventually, the video reached gasgas level.
Load More Stories