Fighting Words: Top 10 Manny Pacquiao Quotes
We list our favorite Pacman punchlines.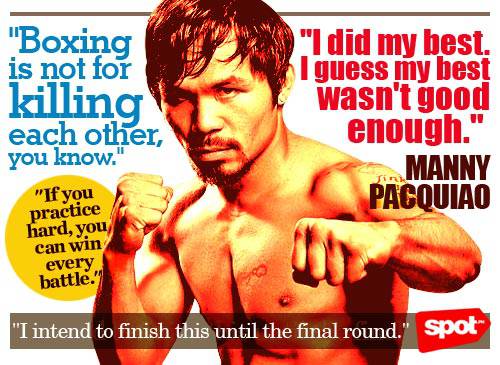 (SPOT.ph) Boxer-lawmaker Manny Pacquiao is a man of a few words-but that doesn't mean he doesn't throw out some punchlines or killer statements every now and then. In anticipation of his fourth smackdown with Mexican fighter Juan Manuel Marquez, we've listed 10 interesting Pacman quips.

Shakira Forever. Did you know that Manny Pacquiao's favorite training soundtrack consists of Shakira's songs. Yes, all of them.
ADVERTISEMENT - CONTINUE READING BELOW
"If you have a Math test on Tuesday, you are not going to do very well if you study Science on Monday. You have to study for Math. It's the same thing in boxing. You can't just go to the gym and work out everyday and hit bags. That's not enough. You need to study tapes of your opponent. You need to design and develop different game plans for you opponent. You just need to be prepared." -on preparing for a fight, in a 2009 Media Day interview in Los Angeles a few days before his fight against Miguel Cotto
"I consider myself a student of boxing, a philosopher so to speak, and my philosophy is to keep learning." -in a 2009 news conference


"I did my best. I guess my best wasn't good enough." -on his much-disputed split decision loss to Timothy Bradley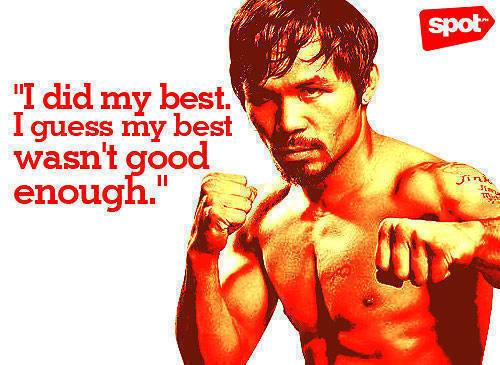 ADVERTISEMENT - CONTINUE READING BELOW
"If you practice hard, you can win every battle." -in a 2011 interview, as he was gearing up for his face-off against Shane Mosley

"I remember, as a little boy, I ate one meal a day and sometimes slept in the street. I'm not shy to tell of my life because I want to give inspiration and show how Manny Pacquiao went from nothing to something. It is an honor to me that the people feel about me the way they do. I know that millions of people are praying for me, and that gives me strength. It inspires me to fight hard, stay strong, and remember all of the people of my country trying to achieve better for themselves. I do my best to bring happiness and a feeling of honor to all the people in the Philippines. My fight is not only for me but for my country. Every fight, I dedicate to my country." -quoted in "Manny Pacquiao: A Fighter for the Ages" by Thomas Hauser

ADVERTISEMENT - CONTINUE READING BELOW
The Greatest. Manny Pacquiao is already being hailed as one of the best fighters ever.
"When I committed my life to the Lord, I gave up many things that were not in keeping with what the Bible teaches. Boxing is a job and I do not look at it as anything more than that. It will not affect my job." -in an interview as he prepared for his smackdown with Timothy Bradley

"I intend to finish this until the final round." -on a tax evasion complaint against him by the Bureau of Internal Revenue (The case has since been dismissed.)
Recommended Videos
Load More Stories