SPOT.ph's Top 10 Smackdowns of 2012
We list the ones who got down and dirty this year.
(SPOT.ph) Once again, we're highlighting the explosive encounters that made headlines this year. This time around, we've chosen blow-ups that range from word wars to "things that got physical." Our picks for 2012 involve a variety of individuals who were probably just having a very bad day when they got into their respective fights. Note: In cases where the personality is so controversial that he or she has had more than one smackdown, we picked just one incident that we feel topped the others.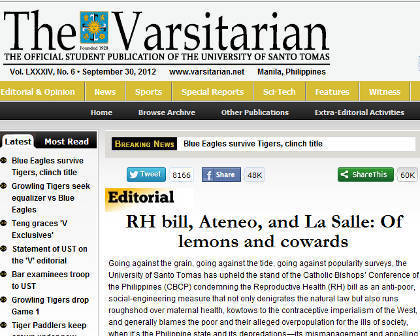 10. UST'S THE VARSITARIAN vs. THE PRO-RH BILL TEACHERS OF ATENEO & LA SALLE
Sometime around October 2012, The Varsitarian, the student paper of the University of Santo Tomas (UST), published the editorial, "RH Bill, Ateneo, and La Salle: Of lemons and cowards." It essentially slammed the groups of teachers from the two other Catholic universities for supporting the RH Bill, a law which the Church has tagged as a major sin. One of the "hot" excerpts of the piece reads: "The Ateneo and La Salle professors therefore have been treated with kid gloves by the Jesuits and the Christian Brothers. Although they're religious and members of Catholic orders, the Jesuits and Christian Brothers have failed to uphold orthodoxy and defend the Church. As far as the RH bill and support for it among their faculty are concerned, they're lemons. And as far as the Pro-RH Ateneo and La Salle professors are concerned, they're dishonest and don't have the courage of their intellectual conviction. Contradicting the bishops and defending the RH bill, they have clung on to their faculty membership in Catholic institutions. They want to have their cake and eat it, too. They're intellectual mercenaries, nothing more, nothing less." It's worth noting that the editorial also had UST students and graduates shaking their heads.


ADVERTISEMENT - CONTINUE READING BELOW
9. ATTY. FERDINAND TOPACIO vs. BEA BINENE AND HER MOM
This tale is so convoluted that we were fortunate enough to come across The Manila Times' Tessa Mauricio-Arriola September 28 article, where she explains what caused the conflict. She wrote: "[Early in 2012], the 14-year-old GMA Network talent and her mother Carina Binene found WLS-FM DJ Dan 'Papa Dan' Villanueva at their doorstep allegedly begging for a place to stay. Bea had become friends with the 29-year-old disc jockey of GMA Network's FM radio station, since he would often host many of her mall shows with fellow Kapuso stars. [As such], they allowed him to stay in their guesthouse (situated several meters away from the main house)." Villanueva ended up staying for seven months, at which point Carina sent an email to friends to ask for advice on how to "evict" him. Mauricio-Arriola explained: "One of the recipients of said email was Atty. Ferdinand Topacio (lawyer of former president Gloria Arroyo and her husband Mike). Another group of recipients of the email were the executives and legal team of GMA Network, who immediately took action on the situation by talking to Papa Dan. He eventually left the Binene compound on August 31." However, on September 3, Atty. Topacio reportedly went to the Philippine National Police (PNP) Criminal Investigation and Detection Group (CIDG) to file charges against Villanueva on behalf of Bea and her mom. The case didn't stand because it lacked the complainants' signatures. Soon enough, the Binenes announced that that "Atty. Topacio is not and has never been" their lawyer. This irked Topacio, who, in turn, demanded a public apology from the Binenes.
CONTINUE READING BELOW
Recommended Videos
ADVERTISEMENT - CONTINUE READING BELOW
8. PIDO JARENCIO vs. NORMAN BLACK
Basketball rivalry spilled onto the sidelines of the UAAP championship games between Ateneo de Manila University and the University of Santo Tomas. Peeved at what he saw as bad calls during the first game in a best-of-three series, UST coach Pido Jarencio quipped "Kailangan ba mag-e-English ako para paburan ako? Ganoon ba labanan dito? Nasa Pilipinas tayo, dapat tayong mga Pilipino mahalin niyang mga iyan (Do I have to speak English so they'll give me a favorable decision. Is that how it goes here? We're in the Philippines, they should love Filipinos)." Ateneo coach Norman Black took exception, saying he shouldn't make Ateneo's win "like it's a 'He's American and I'm Filipino' thing. I think it's unprofessional and I think it's below the belt. I found it mean." "Look, I'm a black American coach who was born in Baltimore on the south side of the United States in 1957, so I know what discrimination is all about. I grew up knowing how it is to be refused service in a restaurant," Black said. Jarencio kind of congratulated Black and his team after Ateneo beat UST and scored their fifth straight win. An InterAksyon.com article quoted Jarencio, who said, "Basketball lang ito. Kanya-kanya lang ito kung paano makakalamang (This is just basketball. We each figure out how we can get ahead)."
7. PRESIDENT NOYNOY AQUINO vs. REP. TEDDY CASIÑO

According to a Sunstar Manila article, it all started when Aquino said in an interview that "the senatorial bet backed by leftist groups currently has 2.6 percent of the population voting for him which is very, very little" and that leftist groups were only "very good at propaganda." Bayan Muna party-list Rep. Casiño, who is running for senator under the Makabayan Coalition in the 2013 polls, responded by sending this message to Aquino through the press: "Let me remind the President that before his mother died, he did not even rate in any survey nor was considered by anyone to be of presidential calibre. In fact, he only became senator because of his lineage and the heroic efforts of his mother and (father). So before he derides me or any candidate for that matter for rating low in the surveys, he should look at himself first."
ADVERTISEMENT - CONTINUE READING BELOW
6. AKBAYAN vs. ANAKBAYAN
On the morning of October 16, these two groups figured in a heated exchange that turned into a tussle. According to ABS-CBNNews.com, Akbayan had been holding a press conference at Max's on Maria Orosa St., Manila. Around five members of Anakbayan had managed to slip into the venue. While Akbayan leaders were speaking, they suddenly interrupted them. GMA News Online reported: "They held a photo of Akbayan Rep. Walden Bello while chanting 'Tuta ng gobyerno' and 'Akbayan, fake party-list.'" Bottom line: Anakbayan was accusing Akbayan of being "pro-administration." Needless to say, things got ugly.
5. CRISTY RAMOS vs. AZKALS ANGEL GUIRADO & LEXTON MOY
ABS-CBNNews.com reported that former Philippine Olympic Committee (POC) president and current match commissioner Cristy Ramos-daughter of former President Fidel V. Ramos-filed a complaint with the Asian Football Confederation (AFC) Disciplinary Committee because she was allegedly disrespected and sexually harassed by Philippine Azkals players Angel Guirado and Lexton Moy when she was inspecting their acceditation cards and kits shortly before the friendly game between the Azkals and the Malayan Tigers on February 29. Ramos formally filed the complaint on Friday, March 2. Ramos had revealed in her complaint: "Lexton Moy (No. 25) stood by my right side and said in a loud voice 'Must be a B cup,' to which the players laughed loudly. As I was the only female in the room, he was apparently referring to my bra size. Angel Guirado (No. 12) stood in front of me purposely just wearing his briefs and made no attempts to wear shorts or cover his underwear." Guirado and Moy disputed Ramos' claims, but she stood her ground. However, a few months later, InterAKTV (via InterAksyon.com) reported that the Philippine Football Federation Disciplinary Committee had cleared Guirado and Moy against the sexual harassment charges filed by Ramos.
ADVERTISEMENT - CONTINUE READING BELOW
4. ANNABELLE RAMA vs. CHITO ALCID

Yes, we know Rama has had more than one smackdown partner this year-but this one stood out for obvious reasons. On the evening of July 13-at the wake of Comedy King Dolphy, which was held in one of the rooms at the Heritage Memorial Park in Taguig City-Rama caused a scene when she reportedly went after showbiz reporter Chito Alcid. PEP reported that some witnesses revealed that Rama had gone after Alcid with a "sharp object," which some reports alleged was a bread knife. The report also revealed that Rama and Alcid have pre-existing tension between them, as Rama has charged Alcid with libel. The PEP report added that Rama logged onto Twitter sometime after the incident and addressed Alcid with this tweet: "Ito ang tandaan mong hayop ka, wag mong pakialaman ang mga anak ko dahil wala silang kasalanan sa iyo (Remember this, you animal, don't mess with my kids because they haven't done anything to you)."
3. DAVAO CITY VICE MAYOR RODRIGO DUTERTE vs. RYAN YU
Ryan Yu is identified in Philippine Daily Inquirer correspondent Germelina Lacorte's article as the "alleged leader of a (Davao) car theft syndicate." The report revealed that Duterte had gotten irked because "Yu had implicated his son Paolo in illegal operations." The report noted that Yu was known for dropping names in order to get ahead. The tough-talking Duterte ended up announcing a reward for the capture of Yu...dead or alive. The report quoted Duterte, who had said, "(I'll give) ₱2 million to those who can capture him alive, another ₱2 million to who can capture him dead, and if you can hand over to me his head, I will shell out additional ₱1 million as additional reward. You can put his head in a freezer, hand it over to me and I will personally hand the money to you." Naturally, human rights groups denounced Duterte's tough talk.
ADVERTISEMENT - CONTINUE READING BELOW
2. SENATOR JUAN PONCE ENRILE vs. SENATOR ANTONIO TRILLANES IV
A disagreement between Enrile and Trillanes over a proposal to split the province of Camarines Sur erupted into a full-on word war that even disclosed details of back-door talks with China over a territorial dispute. Trillanes, in a privilege speech, announced he was quitting the Senate majority bloc after his concerns over a bill to split Camarines Sur were allegedly ignored by Enrile at a caucus. "I got out of that caucus feeling trampled upon by a bully determined to get his way," he said in a Philippine Daily Inquirer report. He said Enrile might have been giving in either to pressure from Camarines Sur Rep. Luis Villafuerte Sr. or from former President Gloria Macapagal-Arroyo, whom he said had been pushing for passage of the bill during her term. "Either way, I have lost trust, faith and confidence in Senator Enrile's capability to lead the Senate along the path consistent with the reform agenda that I espouse," he said. Enrile tried to take the floor to answer Trillanes's allegations but the senator walked out of the session hall after his speech. This prompted Enrile to call him a coward. Enrile then accused Trillanes of treason in his back-door talks with China over the disputed Panatag (Scarborough) Shoal. Citing notes that were supposedly made by Philippine Ambassador to China, Sonia Brady, Enrile said Trillanes "was protecting the Chinese" and "was alarmist." According to Enrile, in another Inquirer article, Trillanes told China that "no one cares about Panatag Shoal in the Philippines" At one point, Enrile also called Trillanes the "Phantom of the Opera." The word war between the two has quieted down but it is clear that the Senate is not as happy a place as Enrile would like it to be.
ADVERTISEMENT - CONTINUE READING BELOW
1. SENATOR TITO SOTTO AND ATTY. HECTOR VILLACORTA vs. SARAH POPE AND COMPANY
ABS-CBNNews.com reported that on August 16, Senator Tito Sotto's chief of staff, Atty. Hector Villacorta, "admitted that they copied the work of an American blogger in the lawmaker's turno en contra speech on the reproductive health (RH) bill." The report quoted the message that Villacorta posed on the Facebook page of Sarah Pope: "I understand you felt slighted that your blog was not attributed to you which became part of the speech of the senator. Let me say that after asking my staff, indeed, your blog was used but only in quoting also from the same book of Dr. Campbell-McBride." Villacorta further covered up for Sotto by adding: "What have we done to deserve your incriminating words? The senator did not lift it himself, we did. Did you want us to tell him to admit what he did not do? Who would you like to crucify for this oversight?"
If Villacorta thought Pope would back down, then he must have been surprised when she gave as good as she got. According to the report, this was Pope's response to Villacorta:
"That is the issue and it was indeed plagiarism. If his staff did it, he condoned it.  He is responsible for your actions.   My blog was quoted, not Dr. Natasha Campbell-McBride. I put her work in my own words and you copied my words.
A woman needs to know that the Pill can indeed harm her but this is NO REASON to take away this choice from her in the first place.
ADVERTISEMENT - CONTINUE READING BELOW
I do not agree with Senator Sotto's position on this issue and he twisted the message of my blog to suit his own purposes against the women of the Philippines.
Your lame comment does not make me feel any better."
Then, in a blog post, Pope called out Sotto after he denied copying her work. Pope wrote: "A thief is a thief, Mr. Senator. Denying it won't get you off the hook.; it just makes you a lying thief."  Pope then addressed Pinays with this passage: "Women of the Philippines: I am terribly sorry my blog was used and twisted against you. You deserve the choice to use The Pill if you want or need to based on your particular circumstances. While I want you to know that this choice has health consequences, I in no way would ever condone taking this choice away from you!  Mabuhay!"
But, of course, Pope was just one of the many people who slammed Sotto for his unapolegetic plagiarism. Heck, even the late U.S. Senator Robert Kennedy's daughter, Kerry, later joined the fray, slamming Sotto for plagiarizing her father's speech.
Special mention:
The smackdown between journalist Ramon Tulfo and Raymart Santiago, Claudine Barretto, and company happened on May 6 at the Ninoy Aquino International Airport (NAIA) Terminal 3. The fracas has been immortalized via memes. But we figured it's worth mentioning that it also spawned this "sub-smackdown."
BEN, ERWIN, AND RAFFY TULFO vs. RAYMART SANTIAGO AND CLAUDINE BARRETTO
On May 6, jounalist Ramon Tulfo got involved in a now-infamous melee with Santiago, Barretto, and company. Tulfo had attempted to take a video of Barrettto supposedly berating a Cebu Pacific employee at the Ninoy Aquino International Airport (NAIA) Terminal 3 due to their luggage being left behind because of overloading. Tulfo's perceived video-taking allegedly did not sit well with Santiago, Barretto's husband, and so a fight broke out. Santiago and Barretto's companions also joined the fray. Tulfo got hurt. His brothers Ben, Erwin, and Raffy responded by issuing a not-so-friendly statement directed at Santiago, Barretto, and company on their TV5 news and public affairs program, T3. Soon enough, InterAksyon.com reported that the Movie and Television Review and Classification Board (MTRCB) slapped a three-month suspension on T3 and also imposed a fine of ₱100,000 on the program. Another InterAksyon.com report revealed later on that "Judge Bayani Vargas of the Regional Trial Court of Quezon City Branch 219 issued a temporary protection order (TPO) in favor of the Santiago couple (Raymart Santiago and Claudine Barretto) against brothers Ben, Raffy, and Erwin Tulfo, hosts of the Tv5's T3." The report noted that the Tulfo brothers were mandated to maintain "a 500-meter radius from Santiago and Barretto." The report added that the TPO also "ordered the Philippine National Police to assign security personnel to the Santiagos."
ADVERTISEMENT - CONTINUE READING BELOW
Art by Warren Espejo, with screenshots from various news clips and photos from PEP.ph and SPIN.ph

Share this story with your friends!
---
Help us make Spot.ph better!
Take the short survey
Load More Stories