Doomsday Dinners
We asked some popular personalities: if the world were really ending tomorrow, what would you have for your last meal?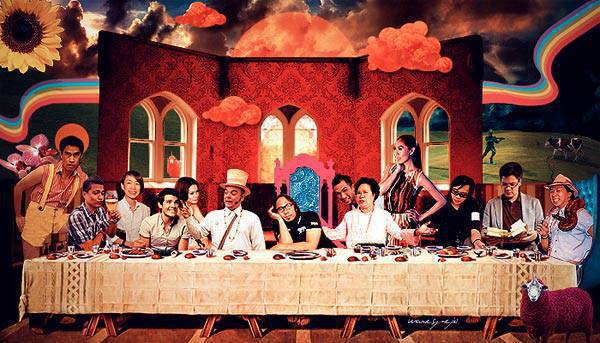 (SPOT.ph) The world is ending. Again. No, really. And for once we seem to have divine beings on our side because it's the universe, or fate, or whatever you'd rather call it that's going to do us in this time. This has an ancient civilization's knowledge to fortify its street cred, with the Mayan calendar stopping four days before Christmas of this year. How arbitrary and quite frankly, insensitive. What about our hams and fruitcakes?
ADVERTISEMENT - CONTINUE READING BELOW
CONTINUE READING BELOW
Recommended Videos
While we're all preparing to party like it's the end of the world, are we all ready for feasting before the end of the world? We've pitched The Last Supper question to your favorite celebrities. We know this is more appropriate for Holy Week but we might not make it to next year and we'll take any excuse to eat merrily.
Lourd de Veyra, writer/SPOT.ph blogger/broadcaster: Pa-iba-iba. Ngayong gabi, sweet and sour shrimp balls at madaming madaming kanin. Kung kaninang lunch ka nagtanong, monggo.
Igan D'Bayan, writer/artist: Peksilog: Peking duck, singangag at itlog.
Ebe Dancel, musician: Yabu! Yabu! Yabu! Yabu with my whole family.
Erwan Heussaff, Esquire Philippines Food and Drink columnist/blogger: I wouldn't have a meal, I'd have a feast: truffle mashed potato, Cebu lechon, beef belly, venison steaks, a whole turkey, some Kansas-style pork ribs, a bottle of single cask single malt whisky, and a banana.
ADVERTISEMENT - CONTINUE READING BELOW
Liz Uy, celebrity stylist: Lechon with hot rice and Mang Tomas! After that I can die na!
Carlos Celdran, artist/activist: Pritchon. A whole one. No questions asked. With hot white deadline rice. Frozen Brazo de Mercedes to cap it off.
Anton del Rosario, athlete: My last meal would be consisting of sushi-break-pizza-break-Kobe steak-break-hot fudge sundae and coffee. I'm a fat guy at heart!
Apples Aberin, model/writer: I think I'd go for a weirdly mouth-watering combination of sushi (hamachi and salmon), grilled Wagyu beef, fresh oysters, lechon and Japanese rice! More importantly, I'd invite all the people I love most to enjoy the feast with me.
Jessica Mendoza, DJ/FHM.com.ph columnist: I am torn! Between as much specialty sushi as I could possibly eat, or a steaming plate of tapsilog. Both?
Gino Quillamor, DJ: Easy answer. Crispy pata, steak with garlic butter sauce, rice, Coke and an entire box of Belgian chocolates...or maybe two.
ADVERTISEMENT - CONTINUE READING BELOW
Chico Garcia, DJ: Since breakfast is my favorite meal of the day, [I'd go to] a breakfast buffet at any hotel and eat platefuls of cold cuts, bacon, ham, sausages, eggs, garlic rice, bead and butter. Then cake and ice cream and coffee after.
Miriam Defensor-Santiago, senator: The world still has 4, 500 billion years of life left, but if the world will end, I will go on a hunger strike so there will be no last meal.
ADVERTISEMENT - CONTINUE READING BELOW
Becky Kho, editor-in-chief, ELLE Decoration Philippines: I would love to have one perfectly baked, fresh-out-of-the-oven pain au chocolat, like the one I recently had in a French-style bakery in Seoul.
Peejo Pilar, editor-in-chief, Men's Health: There's nothing more sumptuous and desperate than having a roast suckling pig before your untimely demise. Like the crunchy and juicy pre-skewered pig on your table, I will be dying in a blaze of glory with my mouth wide open. Not filled with an apple, but more of the shock of suddenly kicking the bucket. But a lechon for me would be the ultimate last supper. Not only is a 10 kilo pig (note: good for 25-30 people. Oh yes.) one of the most delicious things you can eat, the total fat content would be enough to put you in a cholesterol induced coma or at least knock you out long enough not to care about what tomorrow may bring. Who could join me in this dizzying feast? I think my wife and family will be joining me in stuffing our faces before Armageddon. All former vegetarians are welcome.
ADVERTISEMENT - CONTINUE READING BELOW
Kim Atienza, broadcaster: I would like to eat the biggest rib-eye steak with all the fat and all the white rice I can eat! I have been on a low-fat diet and brown-rice diet for many years now.
Ramon Bautista, professor/endorser/ultimate slacker/professional pogi: 'Yung high protein na, high fiber pa...tuna tsaka oatmeal, ganun. Para pagdating ko sa langit, may abs ako.
Erwin Romulo, editor-in-chief, Esquire Philippines: A big, great juicy burger and ice cold beer. Actually, almost anything with beer. Meat and beer.
Lisa Gokongwei Cheng, president, Summit Media: The Miso Chashu at Ukokkei with my husband and two sons.
Lara Parpan, editor-in-chief, Women's Health: The world is ending? So what? I'll still be grateful. I'd have a good old Thanksgiving dinner with my twin sister and my family-Mom will make her awesome roast turkey with bread/celery/walnut stuffing, buttery garlic mashed potatoes, cranberry compote, apple-pumpkin-pecan pies with gobs of whipped cream on top and the best wines to match which we will start quaffing the day before. I'd love to have top Ironman champion Chrissie Wellington and her family and the Barack Obamas over as well to join my family for dinner.
ADVERTISEMENT - CONTINUE READING BELOW
Myrza Sison, editorial director, Cosmopolitan Philippines: I'd go for (1) carb-and-crab overload-a gigantic alimango fried in salted egg, chunks of pure crab fat eaten straight off the shell, aligue rice and aligue pasta; (2) fat, huge, juicy oysters cooked every which way-topped with caviar on a bed of vermicelli, and tempura'd with wasabi, and in an oyster omelette; (3) tubs of gorgonzola gelato and salted caramel ice cream, boxes of white truffle macarons-instant happy death!
Lea Salonga, Tony-award-winning actress: Oh I love food of any kind, but my last meal would have to be with my entire family.
Divine Lee, celebrity: Lechon!
Load More Stories