Political Christmas: Gift Suggestions for 10 Politicians
Match each politico with the perfect present.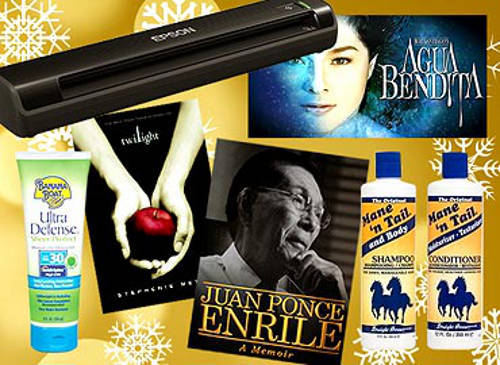 (SPOT.ph) With only a few months before the campaign season officially starts for the May 2013 polls, politicians are already finding ways to make their presence felt by the public. Some of them have starred in movies or advocacy announcements, while some have surely distributed presents to woo their targeted constituents. This Christmas season, we thought of giving presents to politicians. Hypothetrically, of course. In the spirit of brainless, tongue-in-cheek fun, we picked 10 Pinoy politicians who will hopefully smile over our imaginary presents. To make things more fun, answer this Matching Type spoof text. (Just go to the next page for our answers.)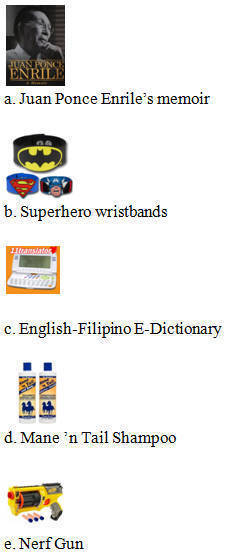 ADVERTISEMENT - CONTINUE READING BELOW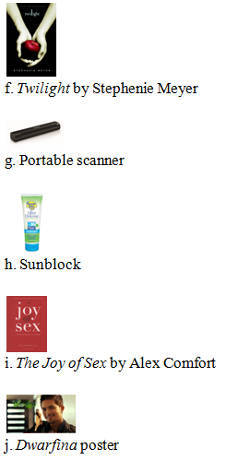 CONTINUE READING BELOW
Recommended Videos
Just go to Page 2 for our answers.
1. d. (Mane 'n Tail Shampoo for P-Noy) Even his sister, Kris Aquino, recently pointed out (on national TV, of course) that his hair challenge has made him look older. We're not going to tell the guy to resort to anything drastic. Instead, we're only wishing that he take care of the hair he has left by using shampoo that's touted as a sort of tonic for people with thinning hair. If it's good enough for horses, it's good enough for humans. Horses have great manes, maybe humans could regain theirs if they used the same shampoo.
ADVERTISEMENT - CONTINUE READING BELOW
2. g. (A portable scanner for Sen. Tito Sotto) Ever since his plagiarism debacle, people have been poking fun of Sotto's similarity to a photocopier. But why get compared to a photocopy machine when there are nifty portable scanners available? It's time for the senator and his staff to get a batch of these tools so they can easily reproduce documents that may help them write speeches later on.
3. f. (Twilight for Dick Gordon) Since he's running for senator in the 2013 polls, former senator Gordon, who's known as one of the most active Philippine National Red Cross advocates, could use the "inside info" on the most famous bloodsucking couple in pop culture. Knowing the Bella-Edward love story may also get him closer to younger voters. At least, it's consistent with his constant call for people to donate blood.
4. b. (Superhero wristbands for Erap Estrada) The former president was identified as a wristband freak years ago. He can resurrect the fashion statement as he runs for mayor of Manila with these kick-ass wristbands. At least, he won't be accused of glorifying gangsters anymore. Back-up present? There's always the Agua Bendita DVD set.
5. h. (Sunblock for VP Jejomar Binay) Despite the fact that he already has a delightful tan, Binay still has to protect himself from sunburn. There's a difference between tan and toasted, you know.
6. a. (Enrile's autobiography for Gov. ER Ejercito) Ejercito, who's being tagged as the "Biopic King" of the MMFF, need not look far for his next project. If he can pass himself off as both Asiong Salonga and Emilio Aguinaldo, then, heck, he can play Juan Ponce Enrile easily.
ADVERTISEMENT - CONTINUE READING BELOW
7. j. (A Dwarfina poster for Sen. Chiz Escudero) Do we even need to explain this?
8 i. (The Joy of Sex for Manong Johnny) As one of the most vocal protesters of the phrase referring to a "safe and satisfying sex life" in the RH Bill, perhaps, Enrile only needs to be reminded that, yes, sex can be joyful. It's not supposed to as tedious as a Senate session, Manong.
9. e. (Nerf Gun for Sen. Miriam Santiago) In lieu of her famous tirades, which end up making her blood pressure shoot up, Santiago should just be equipped with a Nerf Gun so she can shoot idiots who dare cross her path. It beats anger management seminars.
10. c. (An English-Filipino talking electronic dictionary/translator for Sen. Lito Lapid) Why keep making excuses about not knowing English when technology has produced devices that will make your life easier? Unless Lapid also can't read or write, this handy helper can work wonders for him.
Art by Warren Espejo, with photos by PEP and publicity shots released to the public by product manufacturers
Share this story with your friends!
---
Help us make Spot.ph better!
Take the short survey
Load More Stories