SPOT.ph's Lowlights of 2012: The Year in Bad News
The events that made us cringe.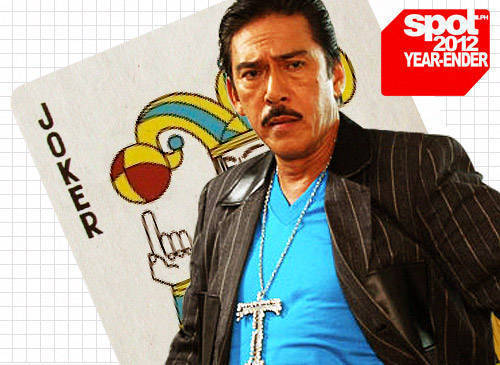 (SPOT.ph) As the year winds down, we figured it's time to clean house and exorcise the bad vibes of 2012. We listed 10 events that created a ripple effect of disappointment and, at times, rage. In other words, these are the people or encounters that had the capacity to cause collective sadness or shame.
ADVERTISEMENT - CONTINUE READING BELOW
CONTINUE READING BELOW
Recommended Videos
10. NAIA takes a beating anew. In October this year, the Ninoy Aquino International Airport (NAIA) Terminal 1 was named the worst airport in Asia by travel website Sleeping In Airports. Aside from the airport's lack of sleeping areas, the website pointed out: "With its collapsing ceilings, overcrowding, rampant bribery, and taxi drivers scamming travellers on fares, its easy to understand why 'disappointed' and 'unbelievable' are just a few of the words travellers use to describe Manila's Terminal 1. The airport also has to contend with other persistent problems such as the invasion of birds and snakes.
9. The CBCP keeps it up. The Catholic Bishops Conference of the Philippines has been on a roll this year. They've done everything from telling couples that they should remain chaste on Valentine's Day, threatening pro-RH Bill lawmakers, theorizing that calamities are God's way of punishing RH Bill supporters, endorsing Breaking Dawn Part 2 for being "pro-life," and then comparing President Noynoy Aquino to the man who gunned down children in Connecticut. The entity made sure that they got ample airtime to (presumably) spread the word of the Lord. We ask God to forgive them for they seem to know not what they do, as well as cut them slack for the things that they've done and have failed to do. Then again, we're pretty sure they're about to do more of whatever it is they think they're doing.
ADVERTISEMENT - CONTINUE READING BELOW
8. Dolphy dies and his wake is defiled. As if it weren't bad enough that the country's beloved King of Comedy was dead, an altercation between talent manager Annabelle Rama and showbiz scribe Chito Alcid disrupted the wake held in one of the rooms at the Heritage Memorial Park in Taguig City on the evening of July 13. PEP reported that some witnesses revealed that Rama had gone after Alcid with a "sharp object," which some reports later revealed was a bread knife. Dolphy's grief-stricken family were gracious enough not to fan the flames of the inappropriate encounter. In fact, Dolphy's son, Eric Quizon, said the late comedian would probably have just shrugged off the incident, as Rama is known to be a volatile personality. Indeed, the Rama-Alcid encounter would have been just another showbiz tiff-but since it happened at Dolphy's wake it becomes a certified showcase of extreme bad taste.
ADVERTISEMENT - CONTINUE READING BELOW
7. Arnold Clavio starts a race debate. PEP.ph reported that in the March 13 broadcast of Unang Hirit, host Arnold Clavio fired off a tirade against the Philippine Azkals. This was because two members of the team-Lexton Moy and Angel Guirado-were being accused of sexual harassment by Cristy Ramos. (The case has since been dismissed.) Ramos, the daughter of former President Fidel V. Ramos, serves as match commissioner for the Federation Internationale de Football Association (FIFA). In one of Unang Hirit's segments, Clavio had addressed the Azkals, saying, "Talagang aral na sa inyo 'yan. Ang yayabang n'yo. Akala n'yo porke't dinadagsa kayo ng mga fans, ang gaguwapo n'yo, e. Parang God's gift to women (Let it serve as a lesson to all of you. You're all so arrogant. You think because you have fans that you look so good. Like God's gift to women)." He also added: "Hindi naman kayo Filipino. Nagpapanggap lang kayong kayumanggi. Hindi kayo dito lumaki, mahirap yun. Insensitive (You're not Filipinos. You're only pretending to be brown-skinned. You didn't grow up here, that's hard. Insensitive)." Clavio's comments started a heated debate among netizens, some of who vehemently insisted that being Filipino also involved "looking like one." The narrow-minded definitions were unbelievable. Clavio later apologized for his racist remarks. But, heck, the excrement had already hit the fan.
ADVERTISEMENT - CONTINUE READING BELOW
7. The Corona impeachment trial. From January 16 to May 29 (with a month-long break inserted), 44 agonizing Senate sessions were devoted to the impeachment trial of former Chief Justice Renato Corona. While some lawmakers took the proceedings seriously, it was clear that some of them didn't mind appearing clueless about it. Once such person was Senator Lito Lapid, who, at some point, referred to a pie chart as "picha pie." Then, there was Representative Niel Tupas Jr., who seemed to earn the ire of Senator Miriam Defensor Santiago, who, in turn, was irked by ear-covering move of Atty. Vitaliano Aguirre. The outcome of the trial may have been a relief for President Noynoy Aquino, but the public was stressed out by the whole saga. The amusing highlights failed to make up for the cringe-worthy moments.
Load More Stories