Manong Johnny snubs Miriam's Christmas gift, Bong Revilla does a Sotto + more lowlights
Plus, Baron Geisler and Derek Ramsay are BFFs, P-Noy's baby dreams, and more nutty tales.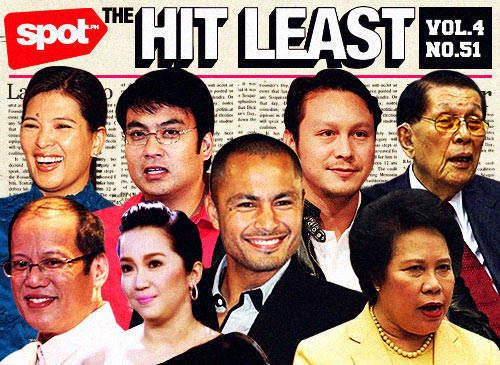 1. YET ANOTHER QUEZON CITY ROBBERY IS CAUGHT ON CCTV. Caught on video is good, but we need them caught for real, too.

 

 

2. SENATOR JUAN PONCE ENRILE RETURNS SEN. MIRIAM SANTIAGO'S CHRISTMAS GIFT BECAUSE HE SAYS HE WON'T ACCEPT PRESENTS FROM SOMEONE WHO DOESN'T CONSIDER HIM A FRIEND. Somebody's venturing into The Land of Second Childhood.

 

 

3. BARON GEISLER REVEALS THAT DEREK RAMSAY IS HELPING HIM STAY SOBER AND OUT OF TROUBLE. We hope you two never break up.

 

 

4. SENATOR BONG REVILLA SAYS THAT HE AND HIS WIFE, CONGRESSWOMAN LANI MERCADO, LOST A BABY GIRL DUE TO CONTRACEPTIVES. Sorry, but it only seems like you Sottomized Sotto.

 

 

5. PRESIDENT NOYNOY AQUINO, 52, SAYS THAT IF HE GETS MARRIED, HE'D LIKE TO HAVE FIVE KIDS. We offer hypothetical sympathy to your hypothetical wife and kids.

<> <>6. KRIS AQUINO SAYS THAT SHE AND HER EX-HUSBAND, BASKETBALL PLAYER JAMES YAP, ARE NOT GOOD FRIENDS. This isn't because one of you has an MMFF movie coming up, is it?

ADVERTISEMENT - CONTINUE READING BELOW

<>  <>  <> <>7. VIC SOTTO TALKS ABOUT HIS ROMANCE WITH PAULEEN LUNA. Like we always say, "It's amazing how so many people open up when they have an upcoming MMFF movie." <>  <>  <> <>8. THERE WAS ACTUALLY A DEBATE ABOUT WHETHER THE 13TH MONTH PAY SHOULD BE GIVEN BEFORE OR AFTER DECEMBER 24. You know, there are people who'll find ways to spend it all even before it arrives. <>  <>  <> <>9. TEENAGE PREGNANCY IS ON THE RISE IN PLACES WHERE THE HEALTH CENTERS STOPPED GIVING OUT CONTACEPTIVES. This will warm the hearts of all rabidly anti-RH Bill bishops. <>  <>  <> <>10. INSTAGRAM STIRS UP CONTROVERSY WITH ITS TERMS OF SERVICE. This is why we should stick to scrapbooks. <>  <>Art by Warren Espejo, with photos from PEP and screenshots of images from UNTV.
Load More Stories