Hello, 2013: Start-the-Year-Right Survival Tips
Zen your way into the New Year and "omm" to these feel-good start-the-year tips and tricks.
(SPOT.ph) All digits and limbs accounted for? Good. Now that impeding doom is not upon us, let's scrub off the remnants of 2012 and spray on some eau de 2013. Things always feel good on New Year's Day and we'd like to help put that nice feeling in a crisper and extend its freshness with a dash of halfsense. We'd say nonsense but we do try to be helpful.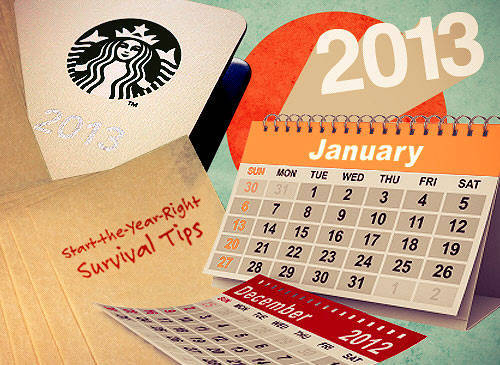 For people who received an excessive amount of gifts
Start by categorizing the gifts you received: biodegradable and oxy-biodegradable. The latter are things that'll just rot in your closet. Unloved, forgotten, and frankly, better of with someone new. The former will last longer and won't rot until you find something more amusing.
Recall who the biodegradable gifts are from and sticky-note their names on the boxes and bags. With that done, go through the list of friends you have on any social networking site and start matchmaking your them with your excess presents. Make sure the second receiver and the original giver are not from the same circle of friends. Refer to the sticky note.
ADVERTISEMENT - CONTINUE READING BELOW
Try to keep a clean conscience and don't dump an unwanted gift on a friend's lap. Re-gifting is not a sin but it should be thought of as a relocation project, sending items that would otherwise just be gathering dust to where they might find true happiness. Feel free to go through your house for any possession that looks in need of a new home too.
For people who will be receiving post-holiday gifts
Be suspicious of your friend. He or she might be recycling gifts.
On a sincere note, for everyone who did receive gifts for the holidays, find some nice paper and write thank you notes. We're all resolute in being better people, so ride that wave and make someone feel nice for making you feel nice. Watch it spiral into a chain of mushy appreciation. This might be also a good preparation for the upcoming love month. It's one less thing to ask for forgiveness during Holy Week. Always look ahead and move forward.
CONTINUE READING BELOW
Recommended Videos
On getting back to your usual rhythm
Your. Brain. Has. Stopped. Working. Hala.
While some people find the long break invigorating and refreshing and they're ready to get back to work and conquer mountains (what are they on?), don't feel bad if you're too sluggish and figuratively hung over from the whirlwind of merriment.
If you're still gripped in the claws of laziness, cheerfully suggest to a few friends from work  to have lunch out first. Invite your boss, so no one can call you out on it. You can go to new Kichitora in Megamall. If you work a little far from there, this means you kill time traveling.  You'll get to practice your negotiating skills too, if you're met with hesitation. Extra-points for either new skill acquisition or skill improvement.
ADVERTISEMENT - CONTINUE READING BELOW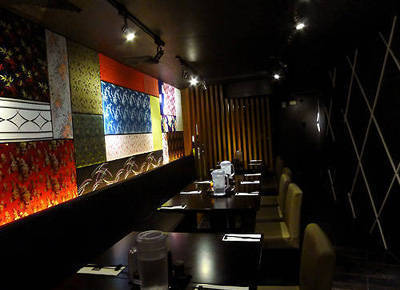 Perfect interiors for some catching up, yes?
Exchange holiday stories, both horrible and hilarious. Claim that this is good bonding for the team, which is true. The chitchat will get you back in a nice mood and you'll inevitably gravitate towards talking about work anyway, so it'll get you in that go-getter mood again. Hopefully.
Students, do the same thing. Gather up your friends and complain together. It'll make you feel good first and then it'll make you, still hopefully, realize that whining doesn't look very cool at all. Good motivation for getting on with your life and just doing things.
For extra freshness
Another wonderful thing about New Year is it's a good excuse for both you and someone you haven't spoken to or gotten along with in the last year to exchange some banal platitudes. Greet someone you've had some volitile interactions with. More than making you look good and polite, it'll make you feel good for being the better person and they will be cornered into at least being civil. If they choose to leave your greeting hanging in the air, the jury can't call you out on not trying anymore. Case closed.
ADVERTISEMENT - CONTINUE READING BELOW
On saying a proper goodbye to 2012
On this very day last year, you made a list of things you were going to do. Find that list. Look at your shelf and note the books you haven't read or movies you haven't made time for.
We're not going to encourage you to finish that book or stay up until February to watch 300 of the 365 movies you promised yourself you were going to watch. What you really need to do is make sure that you're setting your goals correctly. This is another year that you're still not a rock star. You're still not Beyonce. Aw.
But fret not. Take a look at that list and add everything you did last year. Be honest. You'll find that you're always doing silly things that do make you feel good and everything is still alright. You are strongly encouraged to take a long, hard look at what you feel are real accomplishments. Think of what really made you feel good last year. Keep doing that.
You can always donate to PAWS, should you need to feel like a better person instantly. We're serious.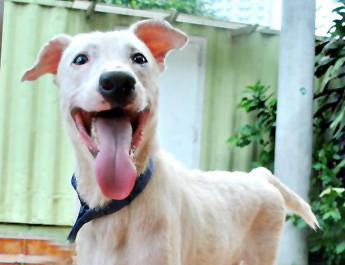 ADVERTISEMENT - CONTINUE READING BELOW
This is Bo and he will atone for your sins.
On your Christmas decorations
Please take them down. Please.
On resolutions
Don't make them. If you must, at least make realistic ones. Yes, we know that it's exceptionally tempting because everything feels new and fresh. Yes, we know that you really want to loose all that extra hugging space you packed around your waist during the holidays. We just don't want you to set yourself up for disappointment.
Instead of having a New Year's Resolution, start with something you want to do for the month of January. Every month is a fresh start, which means that instead of having one promise you'll likely to break by April or maybe even March, you'll have twelve acts you can commit yourself to with a lot less pressure in a more manageable amount of time. And you have more chances of beating, or rather, besting yourself.
For everyone without a Starbucks planner
Don't worry, we have you covered. We made a list of alternatives to that here. Grab one right now. Go. Now.
Share this story with your friends!
---
Help us make Spot.ph better!
Take the short survey
Load More Stories