Young artists showcase creativity at the Avida Land Christmas 3D Street Painting Competition
Avida Land held the second 3D Street Painting Competition as part of its CSR portfolio last December 8 at the Avida Towers Centera grounds in Mandaluyong City. This year's theme was "Pasko Natin: Ang Diwa Ng Pasko Sa Pilipinas" and the winners received the following prizes: First Prize - Glass trophy and P75, 000; Second Prize - Glass trophy and P50, 000; and Third Prize - Glass trophy and P30, 000.
The group Yoopee Ep-Ay from the University of the Philippines in Diliman bagged the First Prize with "Pasko na Santa Claus."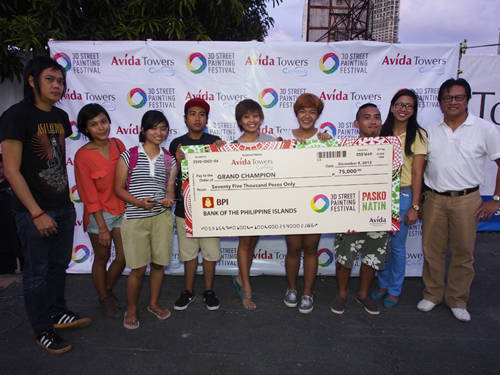 Yoopee Ep-Ay group from U.P. Diliman composed of Nico Macabuhay, Jason Pasion, Chloe Dellosa, Gianneluisa Gonzales, Roman James Soleño, and Annie Concepcion.
The Second Prize went to Polytechnic University of the Philippines' Creative Artists Group for their entry, "Diwa ng Pasko." The AC TEAM, also from UP Diliman, was given the Third Prize for "Paskong Pinoy."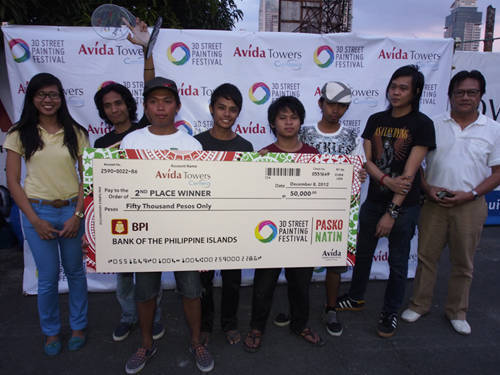 ADVERTISEMENT - CONTINUE READING BELOW
PUP's Creative Artists Group with members Joel Chavez, Neil Defeo, John Mark Saycon, Melanio Bulauitan, and Louie Ermetanio.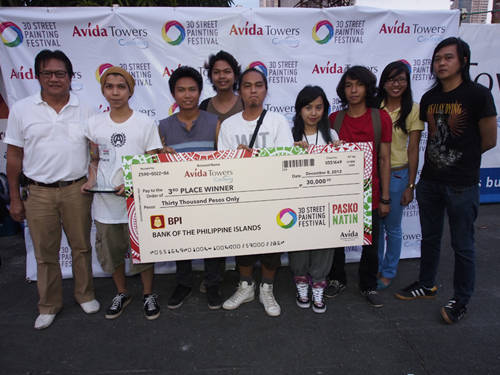 AC TEAM of UP Diliman composed of Janus Nunez; Rollie Florano, Hyacinth Laoke, Ferd Failano, Kean Barrameda,and Andrew Rimpola.
According to Tess Tatco, Avida Marketing Manager, their company is very supportive of projects that help promote and foster Filipino culture.
"We are very thankful that our Filipino artists, from professionals to students, have been very supportive of our competition for the past two years. When you look at their entries, you'll really see the creativity and talent of our Filipino artists. You will really feel the Filipino Christmas spirit. We encourage the public to go to the Avida Towers Centera site and see these artworks for themselves," said Tatco.
She adds that Avida's business is creating sustainable communities that allow Filipino families to thrive. The company wants to ensure that the cultural and social values that are distinctly Filipino gets nurtured and passed on to the next generation. This 3D Painting Competition underscores the importance of what the Chritmas spirit is for Filipinos: unity, family, togetherness, and hope amid adversity.
ADVERTISEMENT - CONTINUE READING BELOW
The finalists' artworks were judged by esteemed jurors National Artist for Visual Arts Fil Dela Cruz, Filipino visual artist and art critic Igan D' Bayan, and Anne Baylon, Associate Marketing Manager of Avida Land Corp.
The Yoopee Ep-Ay of UP Diliman presented a Pinoy version of Santa Claus, which won them the competiton. "Pasko na Santa Claus" shows Santa dressed as a Filipino farmer instead of the traditional Western image of a fat man in a red suit. Pinoy Santa wears a hat of woven nipa leaves. The sleigh becomes a cart drawn by two carabaos.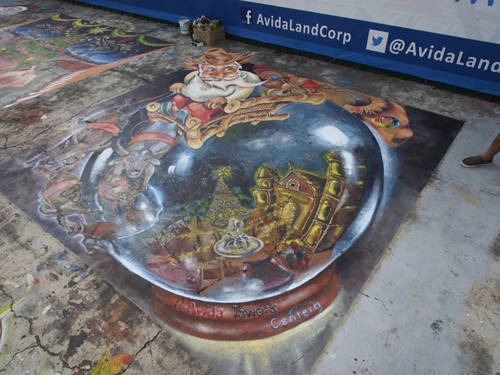 Pasko na Santa Claus by Yoopee Ep-Ay
On the other hand, PUP's Creative Artists Group rendered in 3D a happy Christmas scene in "Diwa ng Pasko" where Filipinos are busily but cheerful sprucing up homes and establishments with parol (Christmas lanterns) and other decorations.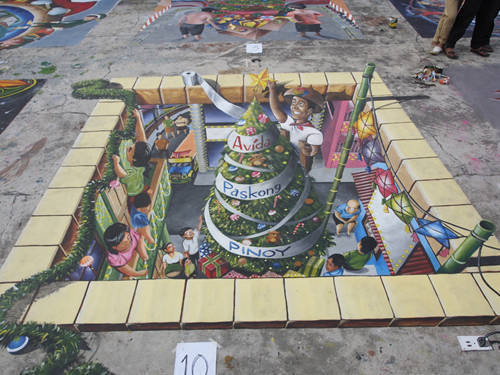 ADVERTISEMENT - CONTINUE READING BELOW
Diwa ng Pasko by Creative Artists Group
For the AC TEAM of UP Diliman, the Filipino Christmas spirit is best experienced in the simbang gabi, an early morning mass attended by families from December 16 to Christmas Day. Their artwork  illustrates the tradition of faith and family togetherness in the Philippines.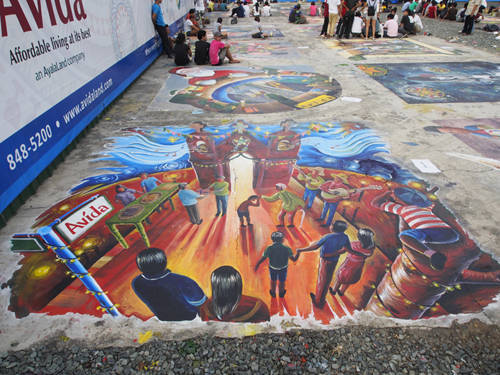 Paskong Pinoy by AC Team
Images of the artworks in the finalists' roster are posted on Avida Land's Facebook page (AvidaLandCorp) and the actual 3D paintings are now exhibited at the Avida Towers Centera site. The artworks are open for public viewing during office hours, from 8AM to 5PM daily.
To get to Avida Towers Centera, just turn right from EDSA (northbound lane) into Reliance Street in Mandaluyong City and go straight ahead till you reach the site's location at the corner of Mayflower Street.
Load More Stories