SPOT.ph's Highlights of 2012: The Good Things That Happened This Year
We list 10 feelgood tales that inspired us.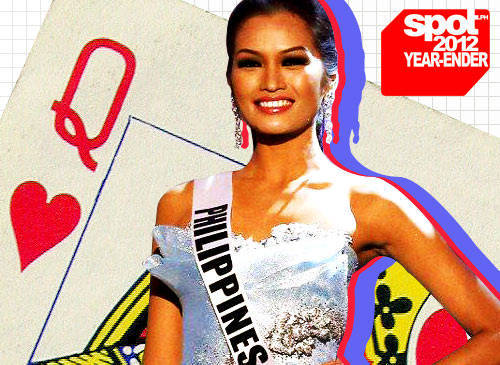 (SPOT.ph) Good news is always a welcome respite from the not-so-great ones that seem to overpower headlines. We're all for giving everyone a reality check-but there's no doubt that we welcome stories that highlight the best in all of us. There were a lot of good things that happened to Pinoys this year and we've picked 10 that made us all sit up and take notice. These are stories that celebrate the lighter side of life. They also teach us that winning doesn't necessarily depend on titles.

ADVERTISEMENT - CONTINUE READING BELOW
CONTINUE READING BELOW
Recommended Videos
10. The Supreme Court goes green. Weathering the Corona impeachment trial and the search for the next Chief Justice, the SC still managed to issue the Efficient Use of Paper Rule, which, according to a report written by Edu Punay of the The Philippine Star "requires all courts and all lawyers to cut down on the use of paper in legal pleadings and decisions to help protect the environment." According to the report, "all pleadings, motions, and similar papers intended for the consideration of all courts and quasi-judicial bodies under the supervision of the SC written in single space with a one-and-a-half space between paragraphs, using an easily readable font of the party's choice in 14-point size, and on a 13-inch by 8.5-inch white bond paper." The report also added that "aside from limiting the use of paper, the Supreme Court has also ordered parties in cases to submit electronic copies of their pleadings and documents either by e-mail or on a compact disc."
ADVERTISEMENT - CONTINUE READING BELOW
9. Pinoy athletes gave their best at the Olympics and Paralympics. We sent 11 delegates to the Olympics and nine to the Paralympics. Despite the controversy over their supposed lack of training and other issues plaguing Philippine sports, these under-appreciated athletes put their hearts and souls into their respective sports. If anything, their guts and willingness to take one for the Philippines should serve as a wake-up call to lawmakers to give Pinoy athletes the support that would enable them to become world champions. But, win or lose, we're cheering them on.
The Raissa Laurel & Reiner Subijano wedding uploaded by Derek Yee on Vimeo.
8. Raissa Laurel got married. Laurel became the subject of banner stories when she was injured in the September 26, 2010 bar exam bombing. She was then a law student at San Sebastian College. She had to have both her legs amputated because of her injuries. (There was another female law student who was also injured in the blast who ended up with one of her legs amputated. However, it was only Laurel who was open to revealing her name and talking about her ordeal.) Instead of being seen as the victim of senseless violence, Laurel went on to graduate from law school, pass the bar exams, and work for Senator Koko Pimentel. Through it all, it seemed that she never wavered in her belief that the world was still a good place. On December 2, 2012, Laurel wed her long-time boyfriend Reiñer Subijano, who had already proven  that he would be at her side for better or for worse.
ADVERTISEMENT - CONTINUE READING BELOW
7. Hero dog Kabang gets a new face. On December 14, 2011 in Zamboanga City, the a two-year-old female dog threw herself between a speeding motorcycle to save the lives of two girls-Dina Bunggal, then 11 years old and daughter of Kabang's master, and her cousin Princess Diansing, then three years old. Kabang lost the top of her muzzle in the crash. News about Kabang's ordeal touched the hearts of strangers all over the world. Her owner, Rudy Bunggal, refused to have Kabang put down because he was so grateful to her for saving his daughter from harm. Fortunately, people from 18 countries sent cash donations which amounted to around $22,000. So, this year, the dog was flown to the US to undergo reconstructive surgery.
6. We have our first female Chief Justice. Gian Geronimo of GMA News Online reported that on August 24, President Benigno Aquino III "chose Associate Justice Lourdes Sereno as the new chief justice replacing Renato Corona who was convicted by the Senate impeachment court in May (this year)." An InterAksyon.com article written by Chichi Conde noted: "Sereno, 52, is the youngest member of the High Court. She was appointed by President Aquino in August 2010. She will potentially occupy the seat of Chief Justice until the mandatory retirement age of 70, giving her a potential 18-year-term."
ADVERTISEMENT - CONTINUE READING BELOW
5. The RH Bill finally gets passed. After almost 15 years of being kicked around, House Bill No. 4244 (An Act Providing for a Comprehensive Policy on Responsible Parenthood, Reproductive Health, and Population and Development, and For Other Purposes), was finally passed late in 2012. Amid prophesies of doom and the most scathing diatribes from its critics, the bill's staunch advocates rallied for helping the Filipino public make informed choices.
Load More Stories