Go Figure: A peek into the world of nude modeling
What's it like to pose without a single stitch of clothing? A nude modeling "regular" gives us a personal account.
(SPOT.ph) Posing nude is like being in the shower, where you're naked and it's alright. There's less moisture and movement involved but more people are participating. Fun, right?
Artistic nudity has been around since prehistoric times. Clothes weren't invented yet, so that makes sense. The human figure has been at the center of countless works of art and yet it remains a rather underground and controversial subject. Maybe because we like covering things up? In more ways than one?
As such, there are a lot of misconceptions floating about. So if you've ever wondered what it's like to bare it all, look no further. This right here is a personal account of the experiences of a tiny figure model: me.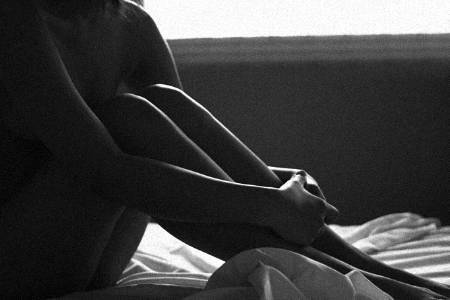 This is the nudest that the article will get.
The All-Important Why
There is always that initial shock or, at least, surprise when people learn that someone has posed nude. This is typically followed by a concerned "why?" and there is a variety of answers to that. Some people like scandalizing people, some people do it professionally, some do it for the artwork and some people just like doing it. I just like doing it. I hate to disappoint, but it was really not a big deal or a big decision. It came easy to me so it became sort of a hobby.
ADVERTISEMENT - CONTINUE READING BELOW
The technical term for my hobby of choice is figure modeling, which means that I am primarily viewed as lines and shapes. Before the opportunity for nudity presented itself, the idea that a bare body doesn't have to be viewed sexually was already in my head. Nude doesn't always mean erotic.
Be Prepared
So if you're going to ask the "what is it like?" question, the answer is that it's quite comfortable. My first experience was with Art Ventures, a group of artists who fairly regularly get together at Conspiracy Garden Café on Saturdays to keep their skills sharp. I was there on time and punctuality served me well as I was able to chitchat with the artists first and got the feel of the place. We had time so we talked about what I would do before I took my clothes off, and when I finally did, I knew where and how to position myself.
CONTINUE READING BELOW
Recommended Videos
Was I nervous? Did I feel embarrassed? Not at all. The happy thing about figure modeling is there is no pressure to look a certain way. If you're going to do it to improve your self-esteem, it's a pretty good direction to take. The artists are enthusiastic about the variety of form so my humble figure and features are on equal standing with conventionally sexier women. They were saying things like "You have good proportions" and "I like that your eyebrows are unkempt." They also say things like "I really want to capture your eyes. Ang interesting nung medyo pagka-duling mo."
ADVERTISEMENT - CONTINUE READING BELOW
You know it's art when looking a little cross-eyed becomes an interesting feature.
Zen Modeling
I do get apprehensive if there are awkward sexual remarks said during or even after a sketching session or a shoot but chatter is usually limited to casual and safe topics. Keeping very still can be a challenge for some, but it's a fairly handy skill you can acquire if you commute daily. Think of being in a cramped jeep and you're barely sitting on anything so you concentrate on your balance and meditate.
Figure modeling is a more comfortable version of that and you're freer to muse about the meaning of life and other existential dilemmas. It's easier to hold the position if you can see how far along the artists are with their sketches so I let my eyes wander to them occasionally. Otherwise, I'm in my own world having quality "me" time.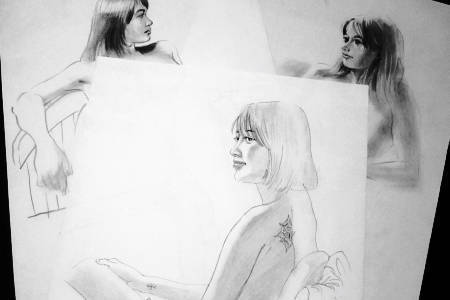 ADVERTISEMENT - CONTINUE READING BELOW
Some people expect their exact liking on paper but unexpected interpretations of yourself is a nicer treat
Protecting Yourself
What is actually really hard about figure modeling is talking about it, especially with people who don't understand. When something comes naturally to you, telling someone how to do it or what it feels like tends to be tricky. Aside from that, there's a stigma that artists and models deal with. Artists get accused of being perverts and models get accused of being attention-seeking... uh, paid members of the pleasure industry.
The unfortunate thing is that some models do give a kernel of truth to that and yes, some artists are flirty bordering on malicious. It's not a bad idea to be more discerning when it comes to the people you deal with because while you might not think that the body needs to be sexualized all the time, you can't account for whatever goes on in other people's heads.
After Art Ventures, I was given the chance to do a shoot. I was referred by the same friend to a photographer because of the lady bits on my upper torso. Even for me, this was most unusual, but you can always tell that an artist has some decency if they want to get to know you first before they book you.
Why is that important, you ask? Personality plays a more important role than being pretty when it comes to the fine art of fine art, especially when it comes to private sessions. Artists with clean intentions will pitch a peg or show their portfolio and then preferably, you meet up to see if you can work together. Don't make a deal with someone you don't feel comfortable with and similarly, the artist has the right to pass if you're not what's needed for the session or shoot. Even without money being exchanged, being professional keeps the creeps away. Yes, the art world is like the real world where people have evil intentions.
ADVERTISEMENT - CONTINUE READING BELOW
The Aftermath
What happens after sessions or shoots? At Conspiracy, merriment ensues. There's eating and conversation and sometimes singing is involved. There's hardly any talk about the sketching that happened, more of discussions on current events or sharing of anecdotes. On the other hand, if all goes well during shoots: you get a new friend. Yay!
There are perks and perils, much like every other hobby out there that looks scary to people who don't have an inclination for it but is relaxing for those who do like it.
I hope that the mysticism of what it's like to pose nude is dispelled, if only a little. There's a more romanticized and glamorous take on it but to me, it's just people with the same passion getting together.
The work of Art Ventures intermittently line the walls of Conspiracy Garden Café.  An official exhibit will be held by the group in February 2013, featuring the work done during the Saturday sketching sessions. Selected pieces will be up for sale.
Photos by Brendan Goco, sketches by Dario Noche.
Share this story with your friends!
---
Help us make Spot.ph better!
Take the short survey
Load More Stories