Urban Buzz: New things to love about Manila
Looks like the metro's getting a makeover, and so far, we're liking what we see.
(SPOT.ph) Oh Metro Manila, there are days when it it's just so hard to see where our relationship is going. But then you surprise us with these gifts that just make us swoon.
Everyone has had a love/hate feeling about Metro Manila but the years have proven that there's plenty of great places, great food, and great people to love to enjoy in this fine collection of cities. We've had some setbacks and maybe we're taking our time getting to our destination, but here is a list of changes that are happening and will be happening that makes us feel like someone is holding our hand and telling us, "Hey, it's alright. We'll work through this."
Cue more swooning:
Filipino-Developed AGT System
On December 2010, the plan for an Automated Guideway Transit (AGT) System in the University of the Philippines Diliman was revealed. The response to it has been, and continues to be, mixed, with people wondering if the location was optimal or the effect it would have on the trademark Ikot and Toki jeepneys.
ADVERTISEMENT - CONTINUE READING BELOW
The team has clarified that the train is not for the UP Diliman campus and the site acts primarily as a development ground for the AGT, which will be constructed in areas where it will be most efficient. The team is still working the details out but while that's being studied, a successful test run was conducted last December 2012. Things are looking up for the project but the more remarkable achievement isn't as obvious as the sleeker design of the tracks and the coaches. The country is (finally) utilizing its resources.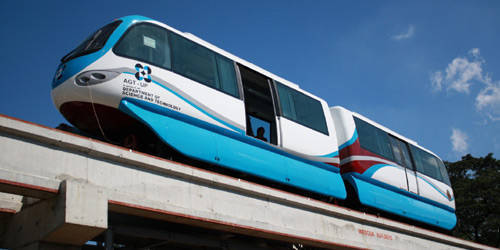 CONTINUE READING BELOW
Recommended Videos
The development and construction of the AGT is about the fifth of the current cost, specifically because it is being built here. More than that, the greater benefit that we will all enjoy from this project is the enhancement of the local knowledge on transportation technology. The two years that it took for the test run to happen might seem like a long time for some but taking our time to invest in actual research is a true hallmark of progress.
ADVERTISEMENT - CONTINUE READING BELOW
EDSA's Vertical Garden
Late last year, steel frames were installed along the tunnel walls of P. Tuason, Shaw Boulevard and Ayala. This was, apparently, in preparation for the Re-greening Project under MMDA Resolution No. 11-01.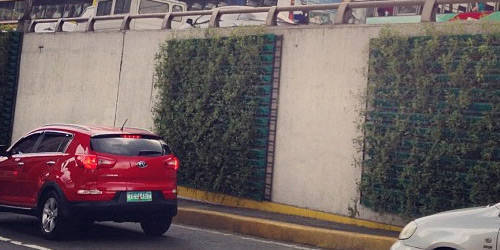 It's very hard to be against plants because let's face it, plants are nice. MMDA's efforts to make the streets a little more pleasant to look at aren't always been met with appreciation but how can anyone not like plants?
According to Chairman Francis Tolentino, this is only the start. The Re-greening Project also includes repairing sidewalks and installing plant boxes in 900 lamp posts along EDSA. It's been proven in other cities, most notably in New York, that urban aesthetics has a huge effect on how people treat their environment. A clean environment encourages clean behavior.
MRT's Directional Arrows
This could be the best possible addition to urban train experience if people follow it. The floor of the platform of every station now has very simple indicators where people should stand.
ADVERTISEMENT - CONTINUE READING BELOW
Much as it's nice to believe in the good we all have deep in our hearts, rush hour devolves people into brutish, space-hungry entities made of elbows and leather bags. It's initially amusing to watch people yell and bicker but having to claw your way out of the car with adrenalin pumping in your blood because you might miss your stop isn't exactly the best way to start your day.
The change is very simple and subtle, and on good days the sight of people organized in neat lines will make your heart skip a beat. Humans are designed to find symmetry and order attractive. This is a fact.
Unfortunately, it is so simple that some people can't be bothered to understand that the arrow pointing towards the train is where they should be standing. Still, we're hopeful that the act of lining up in an organized fashion without blocking the door for the alighting passengers will catch on and develop into a habit.
MMDA's "ABC" Bus Segregation Scheme
Initially causing a lot of confusion, MMDA's Bus Segregation Scheme is the most unappreciated given to us during the holidays.
We the people are now free! We are no longer slaves to the whims of chance! Gone are the days when the bus conveniently stops anywhere and everywhere like an oversized cab. Well, almost gone. MMDA has been remarkably strict about the designated stops for buses. Some drivers and passengers have been just as stubborn in resisting this new scheme but for once, the fault lies in the passengers because follwing the scheme would greatly affect the flow of traffic in EDSA.
ADVERTISEMENT - CONTINUE READING BELOW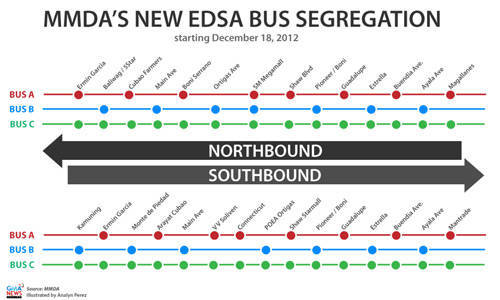 Separating the stops for A and B buses minimizes the unfriendly competition for passengers and regulates the places where people can get off. The obvious finally hit the right people in the face and with a little more time to get used to the scheme, this looks like a proper a solution to the congestion problem.
It also works for people who need to get to a specific place, without having to make unnecessary stops on the long stretch that is EDSA. The brilliant thing is that MMDA assigned "C" buses, which still covers the entire avenue for people who need a long, dramatic ride.
There's a spark of optimism that perhaps, the next move would be buses following a schedule. For now though, there is great joy to be had in the injection of order in the chaos.
Binondo Parking Meters
Parking meters! Yes, indeed, it would be nice to see places where there are parking meters as they are the clearest indication that it is not illegal to park in that space. This addresses double parking problems and would, hopefully, make the flow of traffic smoother. Bribing a parking meter will also prove to be a very difficult task. Binondo is the "training ground" for this new venture but if all goes well, we'll also be seeing parking meters in Luneta, Ermita, and Malate.
ADVERTISEMENT - CONTINUE READING BELOW
Circuit Makati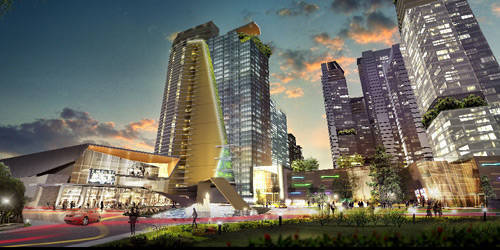 Put your fancy pants on because we're all going to Broadway!
Ayala Land is rebuilding the Santa Ana racetrack and transforming it into Circuit Makati, which yes, features a Broadway-type space called Circuit Theatre, an interactive walk in the form of Circuit Lane, and a two-hectare open grounds area that can accomodate 20,000 people.
It's a new district to explore which will offer new places to check out, new food to eat, and new events to go to. Who says nothing is happening here in the metro? Circuit officially launched January 15, and though the space is still "under construction," it's nice to see spots and hubs for entertainment and leisure being developed.
Photo for AGT from DOST-MIRDC. Photo for vertical gardens from Yves Gonsalez.
Share this story with your friends!
---
Help us make Spot.ph better!
Take the short survey
Load More Stories