Hot on Spot: The Last Temptation of Carlos Celdran
Guess who's getting crucified?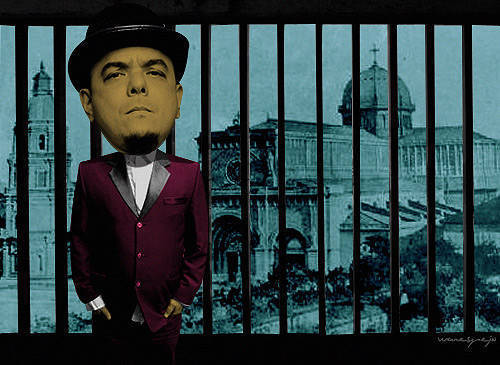 (SPOT.ph) As the debate over artist Carlos Celdran being deemed guilty of "offending religious feelings" rages on, we look back at how it all went down, discuss the things that are happening now, and speculate on future miracles-or lack thereof.
In the Beginning, There Was Damaso
On September 30, 2010, artist Celdran held a one-man protest against the Catholic Church by dressing up as Crisostomo Ibarra-the hero of Jose Rizal's Noli Me Tangere-and holding up a placard that said "Damaso" inside the Manila Cathedral. For those not in the know, "Damaso" referred to another Noli character, a friar who practically lorded it over everyone else.
ADVERTISEMENT - CONTINUE READING BELOW
Celdran disrupted an ecumenical service. According to a GMA News Online report, he had "held his protest in front of the Cathedral's main altar, a few meters away from Papal nuncio Archbishop Edward Joseph Adams, Gaudencio Cardinal Rosales, and other prelates." The report added that "Manila Mayor Alfredo Lim, government and police officials were also present during the gathering."
Celdran had shouted at the bishops. He said three things: "Damaso," "Stop interfering in politics," and "Stop meddling in government!" Celdran was taken away by the police and brought to Manila Police District Station 5, where he was jailed briefly. The next day, October 1, 2010, Celdran walked free after his family paid the ?6,000 bail.
The Garden of Rejected Apologies
According to an ABS-CBNNews.com report, Celdran later revealed that he had apologized to the Catholic Bishops' Conference of the Philippines (CBCP) "a couple of hours after the incident, but the CBCP had rejected his apology."
ADVERTISEMENT - CONTINUE READING BELOW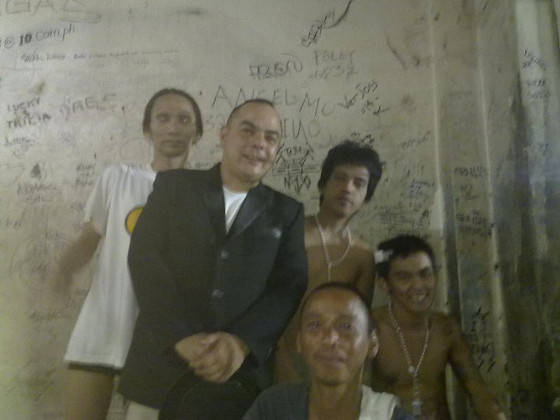 Chin up at all costs. This photo was uploaded on October 2, 2010 on the Free Carlos Celdran Facebook page by Celdran himself. He wrote the caption: "Me and some friends in jail."
Celdran, a reproductive health advocate, staged the in-your-face protest in an attempt to put a stop to the Church's meddling in the affairs of the state. In particular, he was-as many others were-exasperated that the Church continued to campaign against the Reproductive Health Bill (among other things). At that point, the RH Bill had been kicked around for over a decade-no thanks to the continued efforts of the Church to block its passage.
ADVERTISEMENT - CONTINUE READING BELOW
Shortly after the incident, Monsignor Nestor Cerbo, a rector at the Manila Cathedral, filed a complaint against Celdran for violating Article 133 of the Revised Penal Code. (See below.)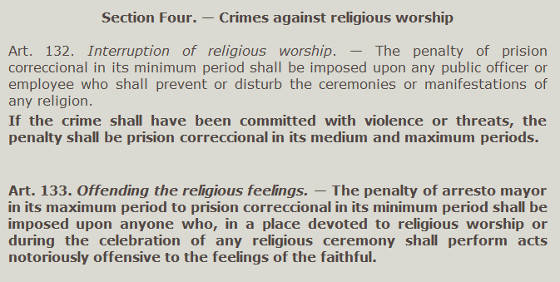 Ancient rule. This passage is from The Revised Penal Code of the Philippines, whose full text has been made available online by the folks behind the Chan Robles Virtual Law Library.
ADVERTISEMENT - CONTINUE READING BELOW
Thou Shalt Say Sorry
Nevertheless, Celdran formally apologized to the CBCP (and the Catholic Church in general). On February 27, 2011, with his case ongoing, Celdran posted a draft of his apology letter on his blog, Walk This Way. The letter was addressed to Cardinal Rosales.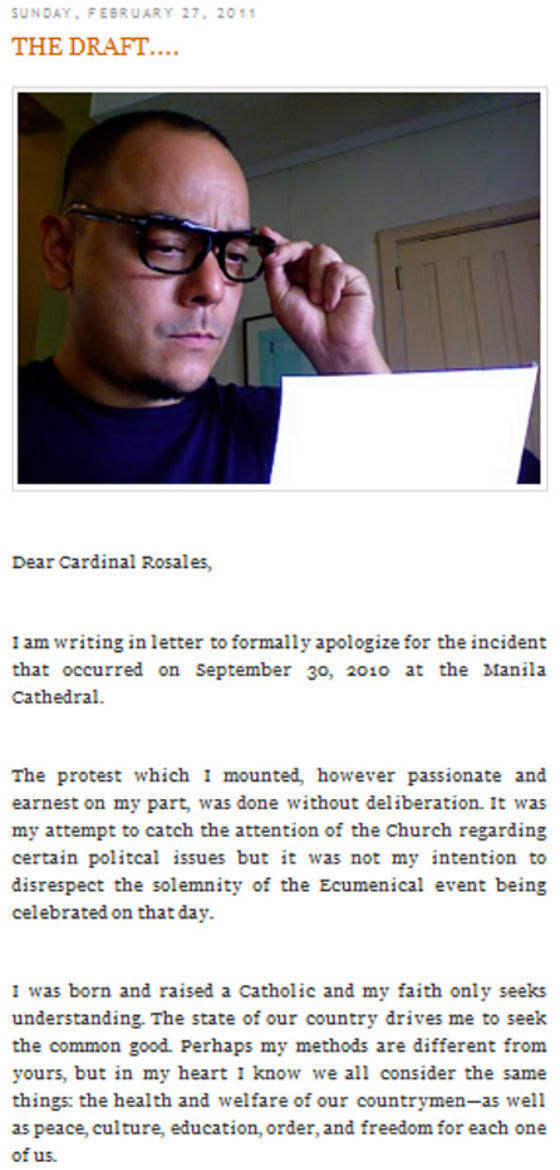 Divine writing. Here's an excerpt of Celdran's letter of apology. (It is, we dare say, very well-written.)
ADVERTISEMENT - CONTINUE READING BELOW
On March 11, 2011, Celdran revealed on his Facebook page that he had submitted his one-page letter to the CBCP the day before (March 10, 2011). He explained: "I submitted my one-page letter of reconciliation to the CBCP using the Holy Sacraments as my guide. The bishops are busy throughout Lent said their lawyer and need time to discuss my letter. I have to go back on trial on May 10, 2011."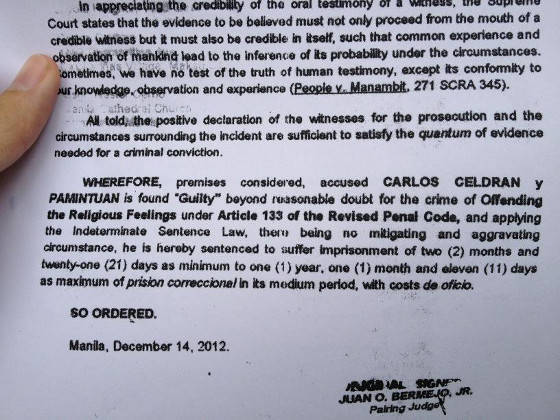 ADVERTISEMENT - CONTINUE READING BELOW
The decision. Celdran says he can live with this one, even as his supporters say it's unfair.
Judgment Day
Then, on January 28, 2013, Celdran himself broke the news that he had been found guilty by Judge Juan Bermejo Jr. of the Manila Metropolitan Trial Court (MTC) Branch 4. An Inquirer.net report quoted the statement that Celdran had posted on his Facebook page to accompany a shot of the court document. He said, "I am calm but I am going to fight this till the end."
Meanwhile, according to an InterAksyon.com report, Celdran's guilty verdict drew mixed reactions from netizens. Of course, that's to be expected. In predominanty-Catholic Philippines-where, oddly enough, many of the so-called faithful think nothing of texting, gossiping, or sleeping during masses-there will be hell to pay when you mess with the Church.
Amen to That
SPOT.ph asked lawyer and Philippine Internet Freedom Alliance member Argee Guevarra to weigh in on the issue. "(Carlos Celdran) was convicted on a Spanish-era penal provision. The Catholic Church though should not have sued Celdran as it just resurrects the 'Padre Damaso' image of an inquisitorial and intolerant, clerico-fascist character of what is supposed to be a modern Church," he said.
ADVERTISEMENT - CONTINUE READING BELOW
At this point, we can't help but point out the sheer irony of a Spanish-era law being used to convict a man who had donned a Spanish-era costume to express his discontent in 2010.
In any case, it seems that Celdran has found himself a supporter in President Benigno "Noynoy" Aquino III. The president said that while he sympathized with Celdran's position, he didn't agree with his "methodology." Still, Aquino urged the priests-as well as the Church's devoted followers who have expressed so much hate for Celdran-to channel "Christian charity and generosity." Aquino asked them to find it in their hearts to forgive Celdran for his transgression.
Load More Stories