Hot on Spot: The Most Creative Political Publicity Materials
We pick the most unexpected not-yet-campaigning thingamajigs.
(SPOT.ph) Even before the campaign season for the 2013 polls could officially commence on February 12, many Pinoy politicians and their spin doctors already got busy publicizing themselves. Some started putting out their so-called "advocacy ads" as early as a year ago. Others with lesser budgets had to get creative.
It would appear that ho-hum oversized tarpaulins, initials emblazoned in public areas, and larger-than-life signs on waiting sheds are passé. These days, politicians have to come up with novel approaches to their age-old practice of schmoozing the masses. Click the image below to view our gallery of some of the most interesting (for lack of a better word) "No, we're not campaigning yet!" items spotted and shared by amused or incensed netizens.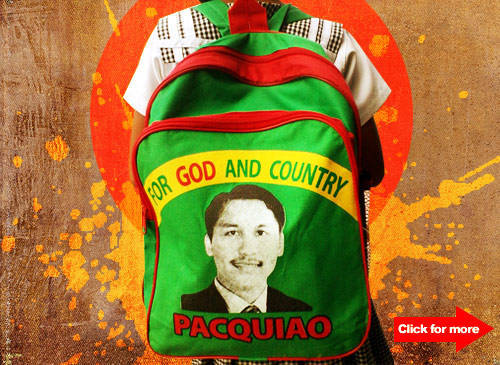 Political wachamacallits are always more fun in the Philippines! Click for more. (The man whose photo appears on the backpack featured in this collage is Ruel Pacquiao, brother of boxer-congressman Manny Pacquiao. Ruel is running for congressman of South Cotabato's 1st District. The image is a screenshot of a photo uploaded on the Anti-Epal Facebook page.)
ADVERTISEMENT - CONTINUE READING BELOW
Disclaimer: The photos featured in this gallery were selected based on variety and do not necessarily reflect SPOT.ph's opinion. The photos featured in this gallery were all uploaded online-via Facebook, Tumblr, Twitter, blogs, and other such sites-by various users, some of whom have wished to remain anonymous. SPOT.ph does not claim ownership of any of the said images. Please note that in cases where we could not determine who originally uploaded a photo, we refer to the website or social networking platform where we saw the photo uploaded. If you are or know the person reponsible for the photos whose original upload author is not identified, please contact us via our comments section or our Facebook page so we can cite you properly.
CONTINUE READING BELOW
Recommended Videos
Image credits: All images were sourced from Facebook, Tumblr, Twitter, blogs, and other such sites. (Please see disclaimer for more information.)
Share this story with your friends!
---
Help us make Spot.ph better!
Take the short survey
Load More Stories