(SPOT.ph) Los Angeles, 1949. There aren't many honest cops or politicians left in the city because sadistic mob boss Mickey Cohen (Sean Penn) has most of them in his pocket. And yet, a small band of police men led by Sgt. John O'Mara (Josh Brolin) and Jerry Wooters (Ryan Gosling) are determined to take Cohen down, knowing full well that this mission could very well be their last.

MTRCB Rating: R-13 due to profanity and violence.

PLUSES

The gleaming depiction of the City of Angels. Despite having to work with a limited budget (an estimated $60 million), production designer Maher Ahmad and cinematographer Dion Beebe manage to come up with a bewitching, romanticized representation of L.A. that will continue to feed the nostalgic fantasies of cinematic time travelers. From the titanic Hollywoodland sign to the neon-lit nightclubs, this is an idealized portrait of a dream-fueled city crying out to be saved from the corruption and decay of lawlessness.         

The A-list cast. As the good cops putting themselves and their loved ones on the line to bring Sean Penn's Mickey Cohen to justice, Josh Brolin, Ryan Gosling, Robert Patrick and Giovanni Ribisi all give affecting performances despite being saddled by ho-hum  dialogue. While most of the actors do well in their dramatic scenes, my favorite moment is a comedic one involving Terminator 2's T-1000, Robert Patrick. And in a movie dominated by men, Emma Stone is a fetching female presence.
ADVERTISEMENT - CONTINUE READING BELOW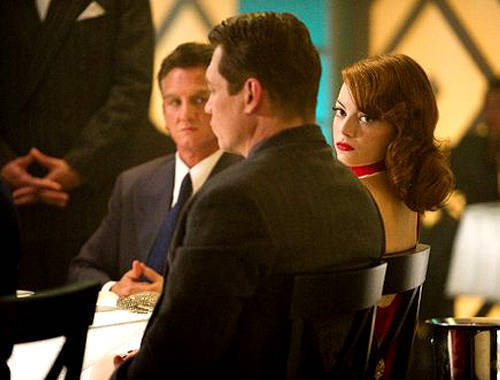 MINUSES

The attempts to rework the best ingredients from The Untouchables. Much of what's wrong with Gangster Squad has to do with its failure to be this generation's version of Brian De Palma's masterwork, The Untouchables. In fact, Gangster Squad tries to rehash nearly every beat and story ingredient that made De Palma's Prohibition-era movie so indelible. A scene where a child's death strengthens the resolve of the good guys to end the villain's reign of terror? Check. A sequence where a protagonist being sprayed with gunfire is crawling down a narrow corridor towards the camera (just the way Sean Connery did in The Untouchables)? Check. Heck, there's even a Latino shooter in the squad played by Michael Peña who serves no other purpose than to mirror the guy Andy Garcia played in the 1987 blockbuster.     

The forgettable set pieces. None of the blood-soaked action and/or kinetic chase scenes in Gangster Squad even comes close to the classic scene in The Untouchables showing the baby carriage in the Chicago train station. All Gangster Squad offers are a moonlit car chase and shootouts in Chinatown and in a posh hotel lobby that you'll quickly forget.
ADVERTISEMENT - CONTINUE READING BELOW
Recommended Videos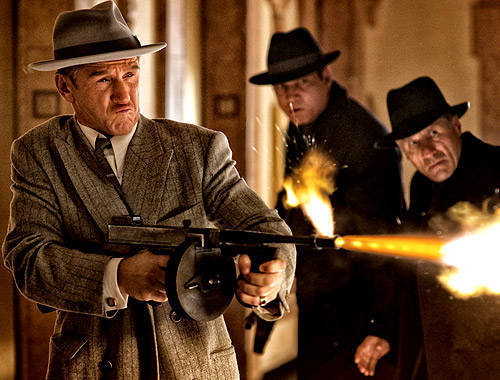 The delegating villain. As the seemingly untouchable villain in The Untouchables, Robert De Niro was probably better at being Al Capone than the real Capone himself. Who can forget the scene where De Niro wielded that baseball bat and put it to such emphatic use to show how ruthless he was?  In Gangster Squad, Sean Penn presides sadistically over L.A., ordering his minions to do his dirty work in all but one instance. And because he delegates rather than does the dirty deeds himself, Penn's Cohen is a less compelling and more forgettable villain. Not helping his cause is a makeup job that comes across as a half-hearted attempt to make Mickey Cohen look Oriental.

The laughable climactic confrontation. Gangster Squad also loses points for a silly climactic confrontation between Josh Brolin's O'Mara and Sean Penn's Cohen. It's a ridiculous exchange that gives macho posturing a bad name.               

IN BRIEF: A poor man's version of The Untouchables, Gangster Squad's solid production values and competent performances are compromised by lazy, unimaginative scripting.

Rating: 2 ½ out of 5 spots ••


ADVERTISEMENT - CONTINUE READING BELOW
Share this story with your friends!
---
Help us make Spot.ph better!
Take the short survey
Load More Stories