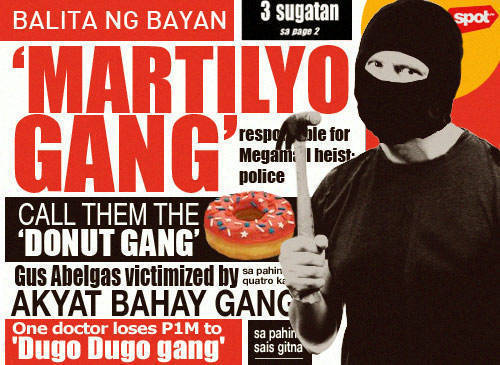 (SPOT.ph) Nobody likes feeling like they're living in the badlands and there's nothing funny about feeling unsafe. We do live in ridiculous times and make no mistake, we do not like the fact that people unite to form an alliance filled evil intentions. Gangs, gangs, gangs. What are we to do with you?
We will mock you, that's what we're going to do. We're going to leave the sticks and stones to those who desire to break bones but names? Names we'll use against you.
No-Nonsense Award: AKYAT-BAHAY GANG
MO: They climb into your house and steal things.
Merits of the Name: They're not fooling around, they just tell you what they're going to do to you. Well, your house. Leave some lights on and keep your house safe.
Most Recent Activity: January 22, 2013 in a fatal police encounter.
Operating Outside the Toolbox Prize: MARTILYO GANG
ADVERTISEMENT - CONTINUE READING BELOW
MO: Gang members (typically) use a hammer to break glass-enclosed display cases and start looting.
Merits of the Name: You would think that the Martilyo Gang is all about hammers, but no. In the latest heist, they used a pipe wrench to carry out the "breaking" part of the operation. We hope that someday they channel this creativity towards something more positive. May we suggest using hammers to build houses for Gawad Kalinga?
Most Recent Activity: January 26, 2013 in a brazen heist in SM Megamall.
Badge for Allusion: BASAG-ITLOG GANG
MO: A set of gang members throw eggs at car windshields to reduce visibility, forcing the driver to leave the vehicle, and presenting an opportunity for other members to start looting. What were you thinking?
Merits of the Name: Saying the name causes a reflex reaction for men to cover their dangly bits. We're glad they're not using rocks to break windshields but since egg-breaking against effigies of  corrupt politicians is a pretty popular form of protest, maybe the gang can rage against the machine instead and not steal from honest citizens?
ADVERTISEMENT - CONTINUE READING BELOW
Recommended Videos
Most Recent Activity: April 11, 2012 reported by GMA News.
Special Citation for Creating Confusion: BUDOL BUDOL GANG and DUGO DUGO GANG
MO (Budul Budol Gang): A group of people will pretend to be foreign tourists or some other variation, carrying with them a bundle of cash. They will claim to need to change currencies immediately and will convince the victim to exchange their money, jewelry, or cell phone for the bundle of cash. The swindlers leave and when the victim checks the bundle, it's all counterfeit money.
MO (Dugu Dugu Gang): A gang member calls a house and fakes an emergency, telling whoever is on the line that a family member has been in an accident and cash needs to be given to a lawyer or someone from the authorities. No one's really hurt, they just want the money.
Merits of the Name: It's not uncommon for people to mix up the MO of the Budol Budol Gang with that of the Dugo Dugo Gang. We think this is proof that these guys are truly masters in the art of confusion. Maybe they can just put on magic shows or perhaps they can use their hypnotic powers to convince people to do good.
ADVERTISEMENT - CONTINUE READING BELOW
Most Recent Activity: February 5, 2013 for Dugo Dugo Gang, and December 24, 2012 for Budol Budol Gang.
CHEEKY GEOMETRY AWARD: DONUT GANG
MO: Gang members drive around mall parking areas and steal spare tires.
Merits of the Name: They could have been the "Torus" gang, as the doughnut shape is technically a torus. That sounds mean and imposing but instead, their thieving ways have earned them a quite ridiculous monicker. Makes you think they're crazed cravers for baked goods, which they should magically turn into. Can't we all just eat and be happy?
Most Recent Activity: January 30, 2013 caught on CCTV.
Runner Up Shortlist:
Techno Gang
MO: Members of the Techno Gang pretend to buy from online sellers but during the meet-up, they force you into a car, take your possessions from you, and then leave you stranded on the streets.
Merits of the Name: Instead of sounding likes thieves from the modern age, the gang name makes it seem like they get down to a specific genre of music that is reminiscent of the synthesizer-heavy 80s.
ADVERTISEMENT - CONTINUE READING BELOW
Dura Gang
MO: While you're sitting comfortably in your preferred mode of public transportation, gang members spit on you, and during your moment of panic as you open your bag to find something with which to wipe your face, they slip their hand into your bag and take your wallet and/or mobile phone.
Merits of the Name: The Dura Gang is just gross and the name is appropriately disgusting.
Daga Daga Gang
MO: Also called the Acetylene Gang, these thieves dig a tunnel under the establishment from which they want to steal.
Merits of the Name: We're thinking that it's not really nice to name yourself after a pest but then again, if that's what you're being then we guess it's not such a bad deal to be called Daga Daga. However, in the rodent family, rats are easily caught as they leave a pile of dirt when they dig (unlike moles who do things neatly). Perhaps they need to rethink their name-or better yet, rethink their career path.
ADVERTISEMENT - CONTINUE READING BELOW
Share this story with your friends!
---
Help us make Spot.ph better!
Take the short survey
Load More Stories