MOVIE REVIEW: Hitchcock
A lot of surprises, but not nearly enough suspense
(SPOT.ph) At the premiere of North by Northwest in 1959, a reporter suggests that famed director Alfred Hitchcock (Anthony Hopkins), 60, should quit while he's ahead. To prove that he still has a few tricks up his sleeve, Hitchcock decides to take on the biggest gamble of his career and make Psycho, a story about a transvestite serial killer that no one else in Hollywood thinks will succeed. The pressures attached to the movie's production puts a heavy strain on his marriage to wife and unsung creative collaborator Alma Reville (Helen Mirren), who looks for the attention her husband denies her elsewhere.

Pluses
It's a juicy, insider's look at the making of an iconic movie. Like last year's Oscar-nominated My Week With Marilyn (which chronicled the troubled production of the Marilyn Monroe-Laurence Olivier collaboration The Prince and the Showgirl), Hitchcock lifts the veil on the behind-the-scenes drama that resulted in the seminal Psycho. Among the film's revelations is that Hitchcock relied heavily on his wife's inputs throughout his formidable filmmaking career.
Not only did she help him pick his projects, she also gave vital casting suggestions, served as a script doctor, and even helped edit his "final cut." If the film is to be believed (it's loosely based on the book, Alfred Hitchcock and the Making of Psycho by Stephen Rebello), it was her idea to kill the lead female character Marion in the first 30 minutes, and not halfway into the movie, as Hitchcock originally wanted. Bet you didn't know either that Psycho may have been the first American movie to feature a close-up of a toilet bowl as it was being flushed!

ADVERTISEMENT - CONTINUE READING BELOW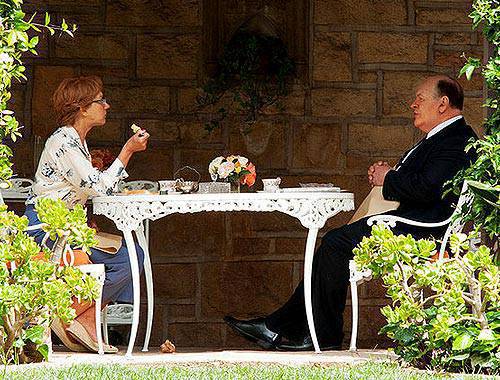 The mesmerizing Anthony Hopkins and Helen Mirren as Mr. & Mrs. Alfred Hitchcock. He may be a lot taller than the real Alfred Hitchcock, but Oscar winner Anthony Hopkins skillfully captures the filmmaker's macabre eccentricity in his portrayal. The beauty of the performance is crystallized in the scene where he's "conducting" an audience's reaction to the famed shower scene. As his devoted wife and unsung creative collaborator, Oscar winner Helen Mirren paints a sympathetic portrait of a woman hardly anyone knew about. Through her convincing performance, she shows what it must have been like to be the invisible, sometimes suffering partner of one of cinema's certified geniuses.


CONTINUE READING BELOW
Recommended Videos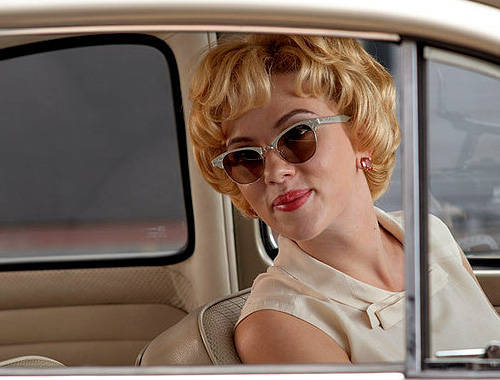 The vibrant production design, hairstyling and makeup. Hitchcock artfully whisks viewers to the Hollywood of 1959 and 1960, when the quaint technique of rear projection was still used, and films were cut on a moviola and shown in grand, stand alone theaters and not multiplexes. It was also the nostalgic age of the Volkswagen Beetle, secluded beach houses, typewriters, and vinyl records.  Props also to the film's gifted makeup and hairstyling artists, who helped physically transform Anthony Hopkins, Scarlett Johansson (as Janet Leigh), and the rest of the cast into doppelgangers of their true-to-life counterparts, earning Hitchcock's sole Oscar nomination while they were at it.       


ADVERTISEMENT - CONTINUE READING BELOW
The quotable quips. Throughout the film, Hopkins' Hitchcock rattles off a string of amusing one-liners which show how naughty and morbid he was.  To the supposedly gay Anthony Perkins, who addresses him as Mr. Hitchcock when they're about to start filming Psycho: "You may call me Hitch. Hold the cock."


On real life serial killer Ed Gein, whose story was the inspiration for Psycho: "My only wish is that Ed Gein looked a bit more like William Holden instead of Elmer Fudd."


To censors asking if the shower scene in Psycho will have nudity: "She won't be nude. She'll be wearing a shower cap."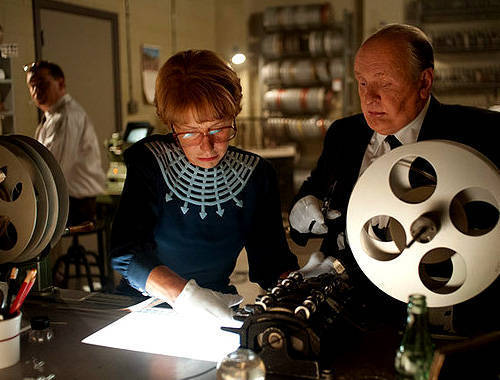 Minuses

The Ed Gein-Alfred Hitchcock interactions. A few scenes in the film show the director having imaginary conversations with Ed Gein (Michael Wincott), the serial killer whose true story inspired not just Psycho, but The Silence of the Lambs as well. However gutsy this creative device is, it doesn't pay off dramatically. The film would have been better had the time devoted to these scenes been given instead to more info about the Psycho shoot. For example, why was the film- a Paramount release- filmed on the Universal lot? And why was it shot in black and white?


ADVERTISEMENT - CONTINUE READING BELOW
There's hardly any suspense. My film professor told me that a good film has to have just the right combo of surprise and suspense to keep viewers interested from start to finish. By that reckoning, Hitchcock is only half successful because it has lots of surprises but not nearly enough suspense. Ironic, considering that Hitchcock is known by cineastes as the Master of Suspense.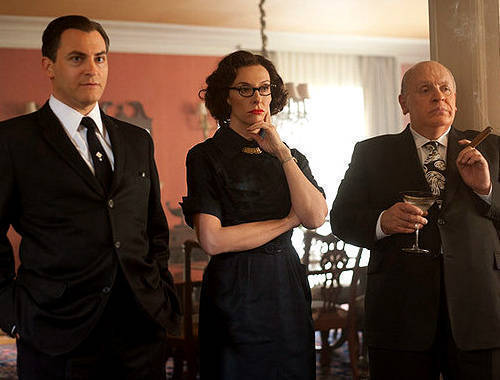 The surprises include a shocking murder in the first few minutes, and the numerous anecdotes pertaining to Psycho's journey to the big screen, including a prank played on Janet Leigh by Hitch on the last day of filming. As for suspense, director Sacha Gervasi tries to generate some in the scenes where Hitchcock suspects his wife is having an affair, but none of it simmers. We're also expected to worry along with Hitchcock when Psycho is becoming the stinker that naysayers predicted it would be, but we moviegoers already know that Psycho became Hitchcock's greatest hit, so that attempt to create tension falls flat as well.


ADVERTISEMENT - CONTINUE READING BELOW
IN BRIEF: Though Hitchcock is an entertaining and enlightening collection of anecdotes about the making of a masterpiece, the film itself is hardly a masterwork. The best thing that can be said of this film is that it will likely prompt some viewers to learn more about the brilliant man behind this flawed biopic.

Rating: 3 out of 5 spots •••
Share this story with your friends!
---
Help us make Spot.ph better!
Take the short survey
Load More Stories